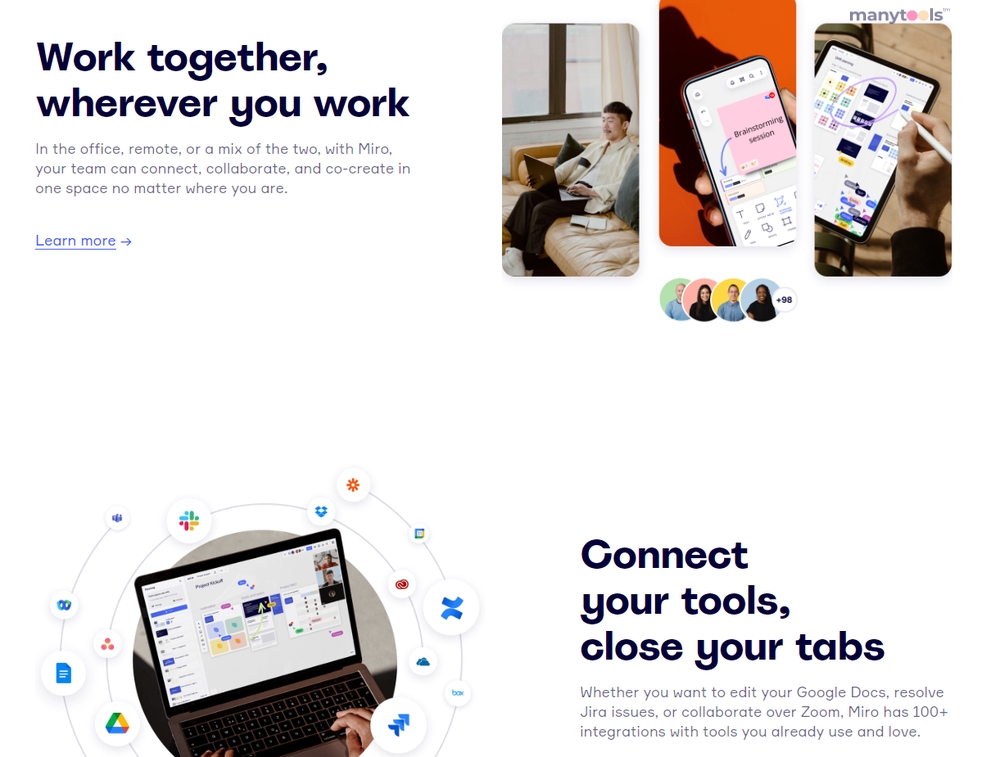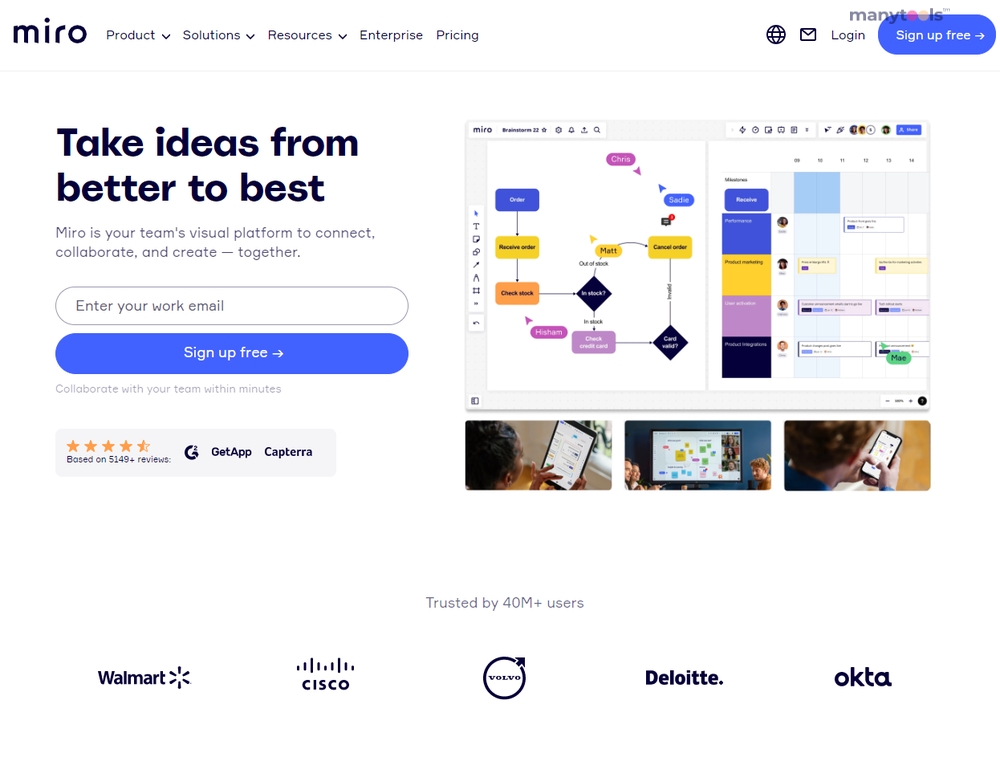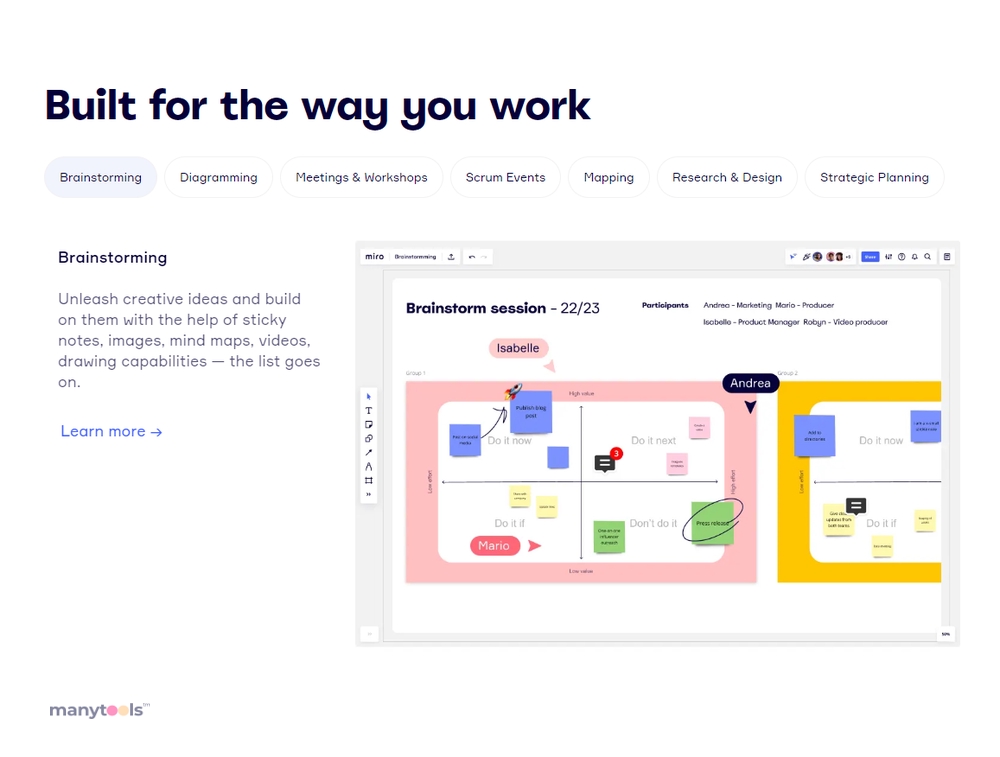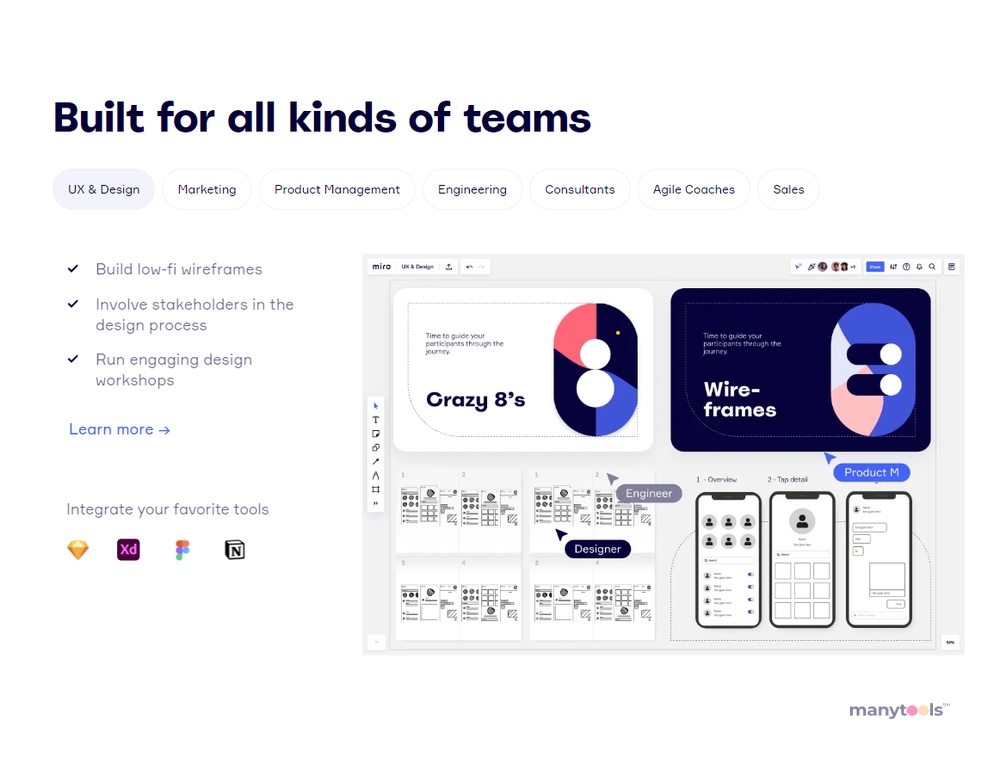 Miro: The Mind Map Master
Miro is a revolutionary tool transforming the way we brainstorm, strategize, and collaborate, particularly in the digital realm. This online platform is not just a mind map maker, but an invaluable asset for developers, designers, SEO specialists, and content creators alike.
The Heart of Collaboration
In an era where remote work and virtual collaboration are becoming the norm, Miro has positioned itself as a key player. The tool is not just about creating mind maps; it's about driving collaboration. Users can work simultaneously, leaving comments, and sharing feedback in real-time. This interactive process turns the often tedious task of brainstorming into an engaging, productive experience.
Simplicity Meets Flexibility
Ease of use is at the core of Miro's design. The intuitive interface allows users to quickly dive into their tasks, without the need for lengthy tutorials or technical expertise. Simplicity, however, does not mean limited functionality. Miro offers a flexible platform that caters to various needs, from project planning and strategizing to complex data visualization and analysis.
Actionable Insights at Your Fingertips
Miro is more than just a platform for organizing thoughts and ideas; it turns insight into action. By visualizing connections and correlations, users can derive actionable insights from their data. This unique feature sets Miro apart from other mind map tools in the market, making it a powerful resource for data analysts and strategists.
Unleashing Creativity
Creativity thrives in an environment where ideas can flow freely. Miro provides that environment with its limitless canvas, which allows for unrestricted exploration of ideas. This unrestricted creativity is a boon for designers, content creators, and anyone in the creative field.
Building a Learning Culture
Miro is not just a tool; it's a platform for learning and growth. With its collaborative features, teams can learn from each other, share knowledge, and build a culture of continuous learning. This makes Miro a valuable tool for growth hackers and organizations looking to foster a learning culture.
The Ultimate Resource for Digital Professionals
With its wide array of features, Miro has established itself as an essential tool for digital professionals. It's not just a mind map maker; it's a platform for collaboration, creativity, learning, and growth. Whether you're a developer or a designer, an SEO guru, or a content creator, Miro is a tool that can enhance your workflow and boost your productivity.
In the ever-evolving digital landscape, having the right tools can make all the difference. Miro is one such tool, offering a unique blend of functionality and simplicity, collaboration, and creativity. It's not just about making mind maps; it's about enabling professionals to work smarter, not harder.
Miro effectively covers all aspects, from the inception of an idea to its presentation, while facilitating collaboration with colleagues throughout the process, making it particularly beneficial for hybrid workers.
Full Miro Reviews and Its Best Mind Mapping Alternative
Miro serves as a valuable online whiteboard tool for web teams and creative individuals to brainstorm and collaborate. This article presents an in-depth review of Miro, providing you with all the relevant information about the platform. Furthermore, we introduce MindOnMap, an excellent mind-mapping tool, as an alternative to Miro.
Miro Review: Is This Whiteboard Tool Worth It?
Miro is an essential digital collaborative whiteboard for creative teams, especially during the pandemic when remote work has made physical meetings around a whiteboard challenging. Utilizing Smart Meetings, Miro's visual collaboration tool simulates in-person work experiences. Regardless of your team's location, Miro simplifies collaboration by allowing multiple users to work on the same canvas simultaneously. In summary, Miro is a must-have for team members and managers alike, as its lightweight design and extensive template collection make collaboration seamless.
Other Tools Like
Miro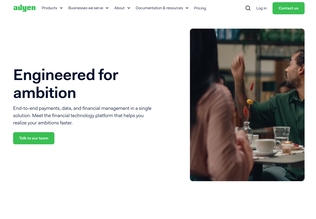 Adyen
adyen.com
Paid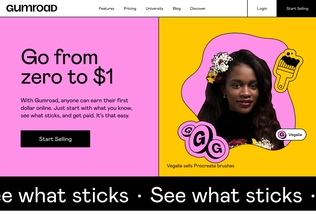 Gumroad
gumroad.com
Paid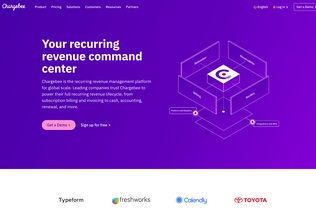 Chargebee
chargebee.com
Trial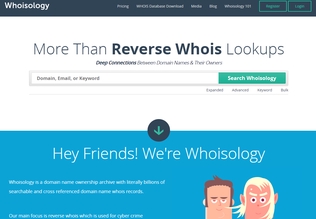 Whoisology
whoisology.com
Trial
Comments