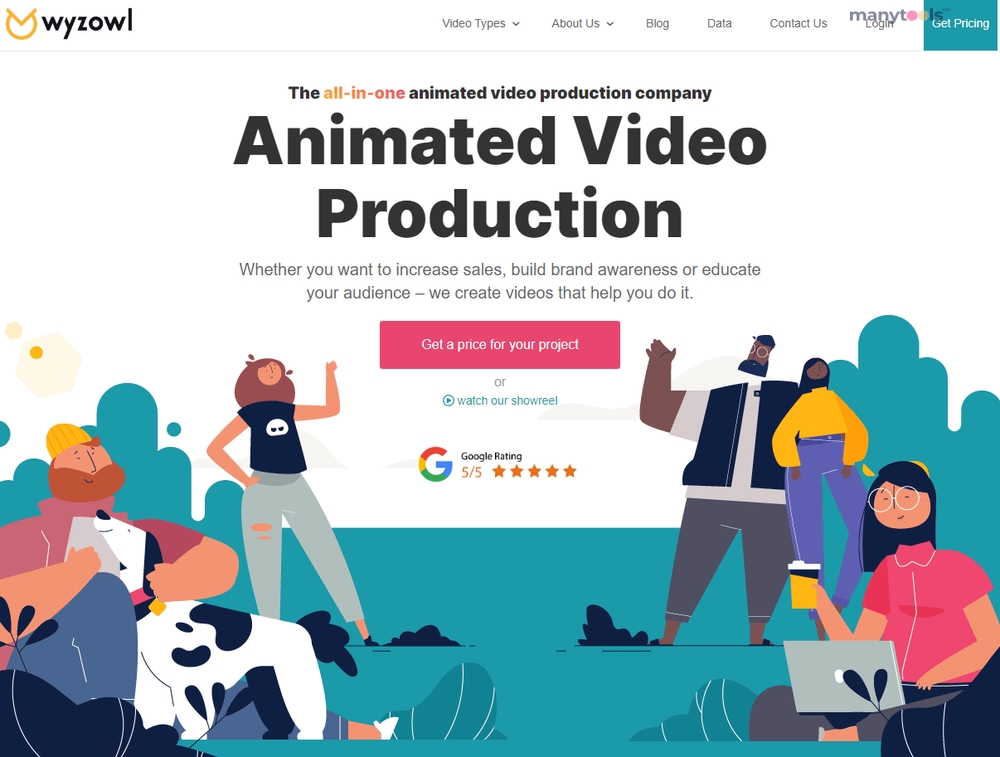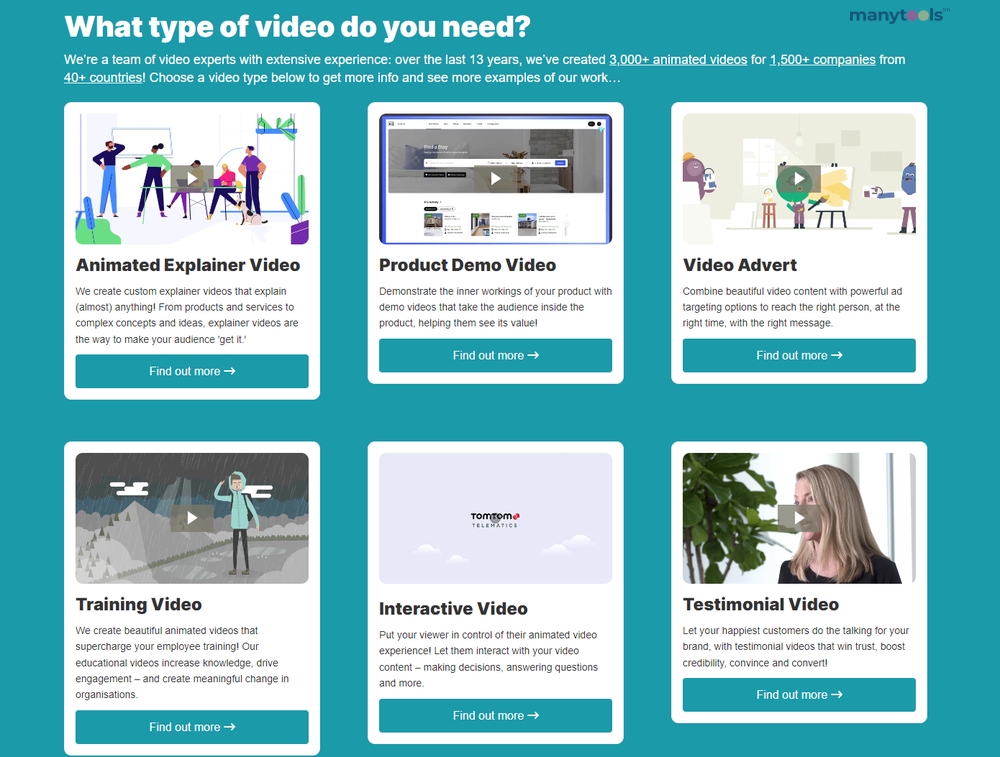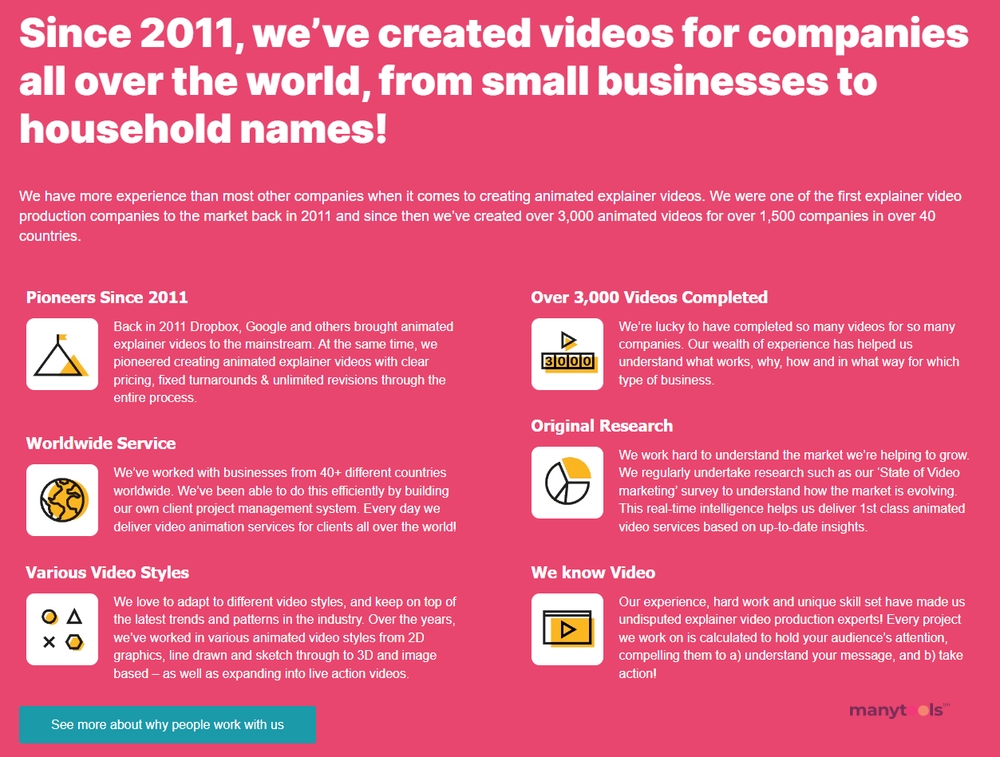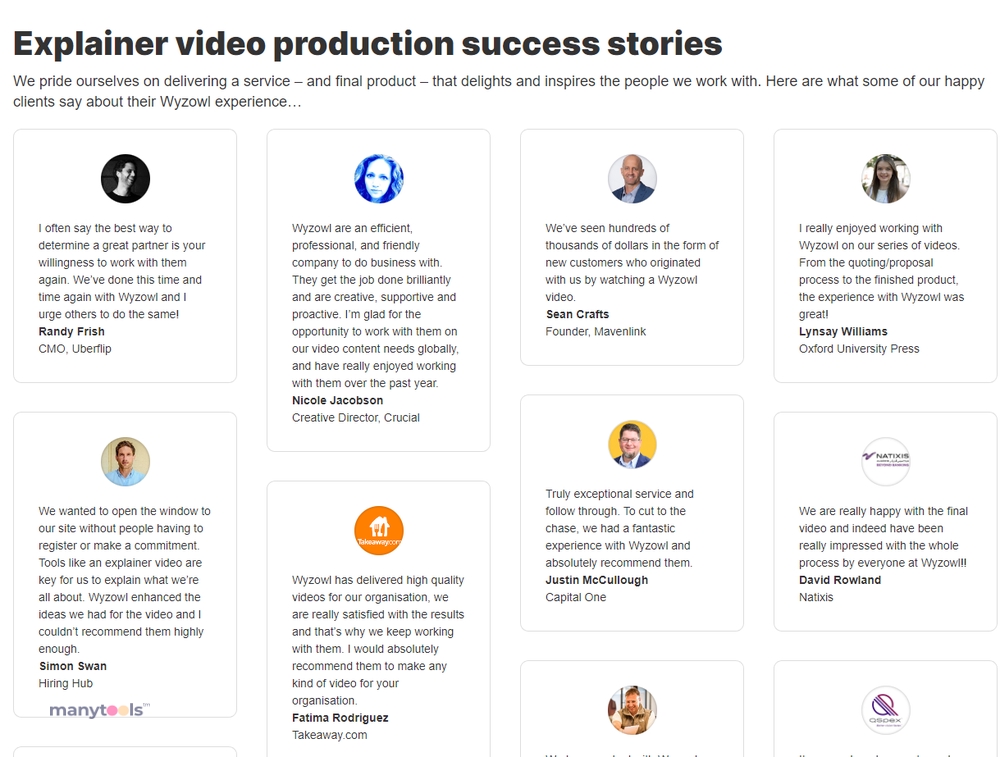 Revolutionizing Animated Video Production
At Manytools, we're thrilled to introduce you to Wyzowl, an animated video production company that's taking the industry by storm. This is not your typical video production company, Wyzowl brings to the table a unique blend of creativity, innovation, and professionalism, making them a preferred choice for over 1,500 companies across 40 countries.
The Power of Animation
With over 3,000 videos under its belt, Wyzowl has truly mastered the art of animated video production. They understand the power of animation in delivering complex messages in a simple, engaging, and memorable way. It's a powerful storytelling medium that breathes life into ideas and connects with audiences on a deeper level.
A Track Record to Speak Of
Their impressive portfolio is a testament to their expertise and dedication to delivering high-quality animated videos. Each video is meticulously crafted to resonate with the target audience and drive desired outcomes. Their vast clientele includes companies from various sectors, which speaks volumes about their versatility and ability to adapt to different industries.
Tailored Solutions
What sets Wyzowl apart is its commitment to providing tailored solutions. They value the uniqueness of each brand and treat each project with the individual attention it deserves. Their approach is not one-size-fits-all, rather they take into account specific business needs and objectives to create videos that truly reflect the brand's identity.
The Wyzowl Process
Wyzowl follows a comprehensive process to ensure each video is a masterpiece. From concept development, scriptwriting, and storyboarding, to animation and post-production, each step is handled with utmost precision and attention to detail. They believe in collaboration and keep their clients involved at every stage of the production process.
Unmatched Client Experience
But it's not just about producing great videos. Wyzowl is dedicated to providing an exceptional client experience. They're known for their excellent communication, timely delivery, and willingness to go the extra mile to exceed client expectations.
The Takeaway
In a world where content is king and attention spans are shrinking, animated videos can be a game-changer. Wyzowl, with its proven expertise and commitment to quality, can help brands leverage this powerful medium to tell their stories, engage their audience, and drive results. If you are looking for a reliable and creative partner for your animated video production needs, Wyzowl is a choice worth considering.
In conclusion, Wyzowl is not just another video production company. They're innovators, storytellers, and industry leaders who are passionate about helping brands communicate their messages more effectively through the power of animation. It's no wonder they're among the world's market-leading animated video production companies.
Other Tools Like
Wyzowl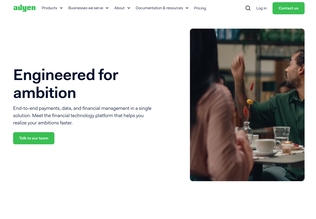 Adyen
adyen.com
Paid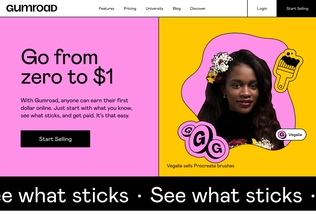 Gumroad
gumroad.com
Paid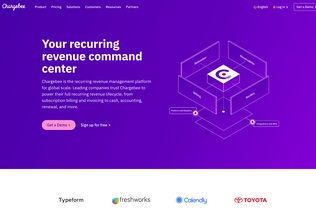 Chargebee
chargebee.com
Trial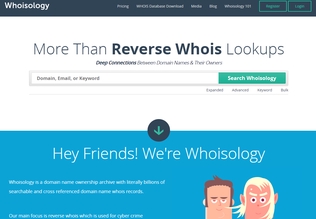 Whoisology
whoisology.com
Trial
Comments