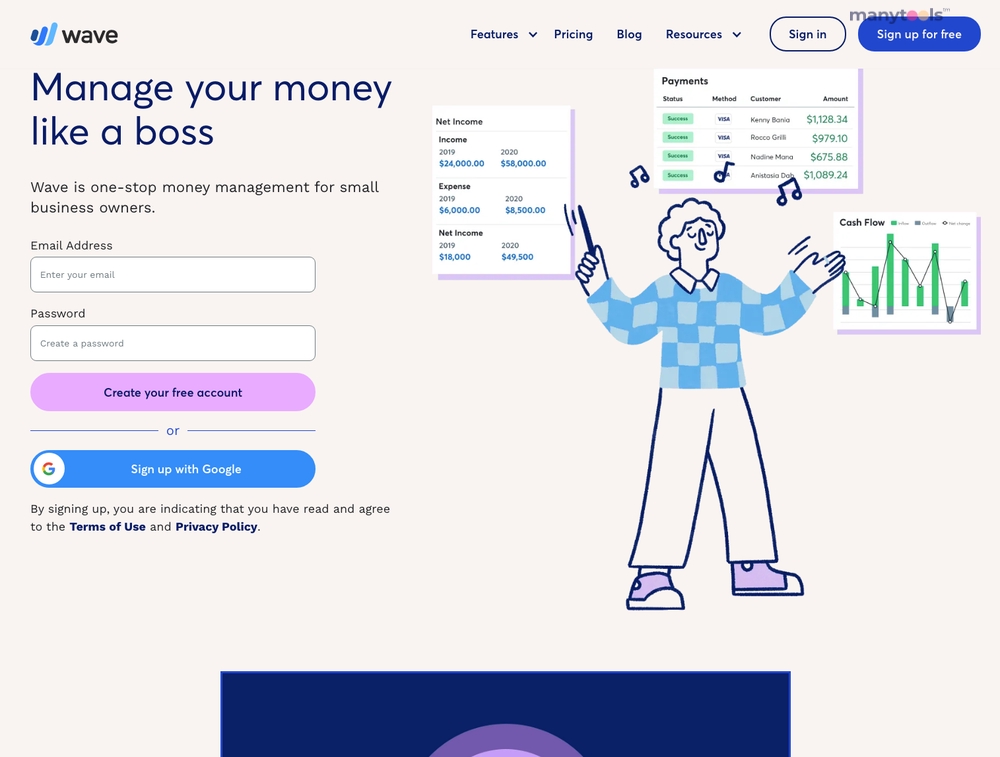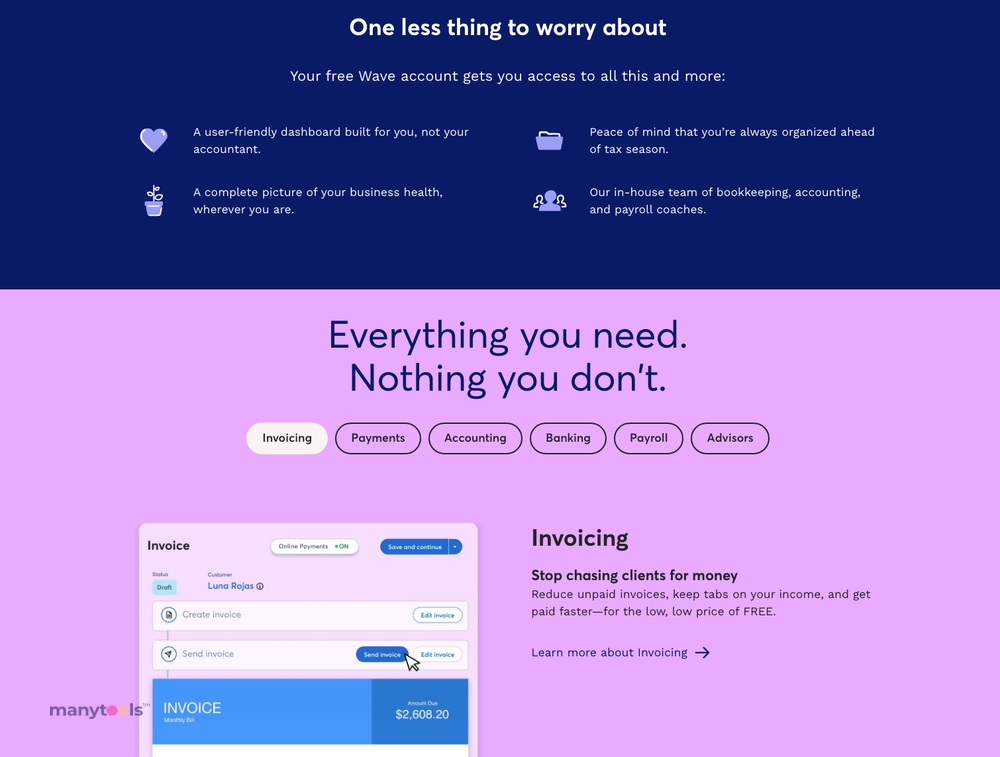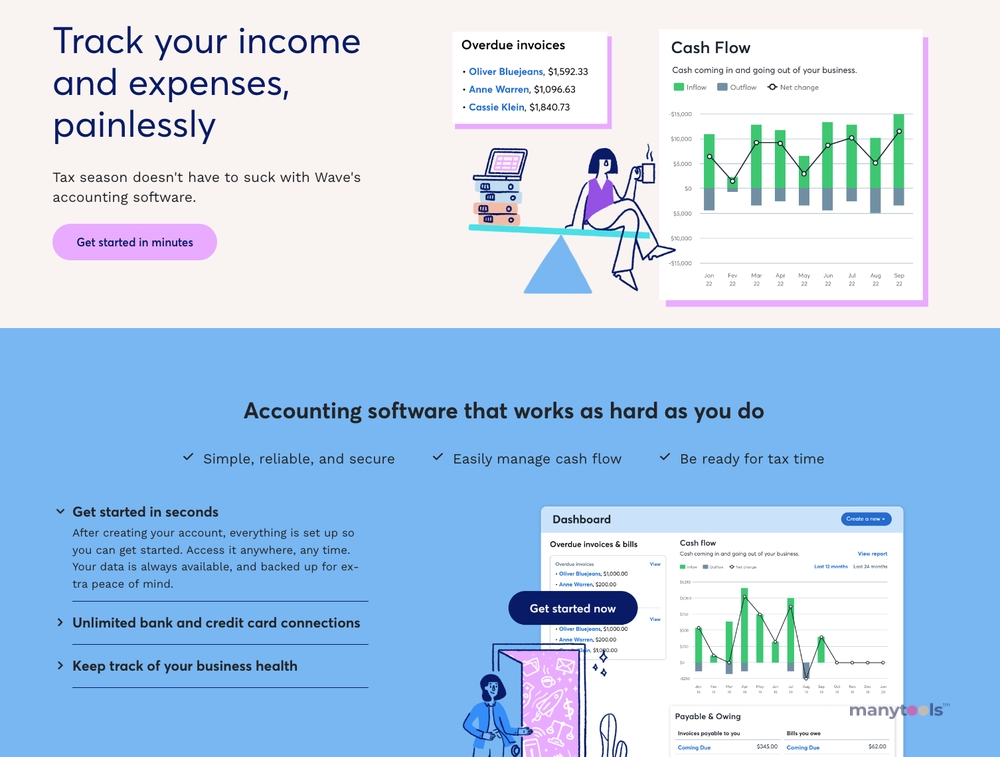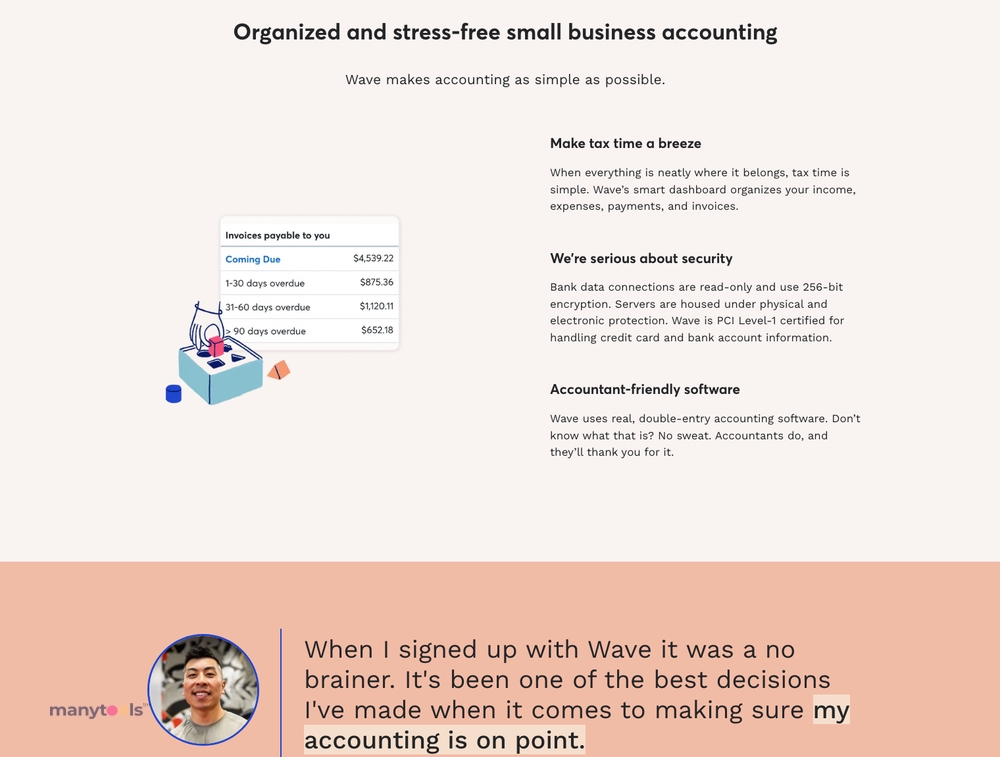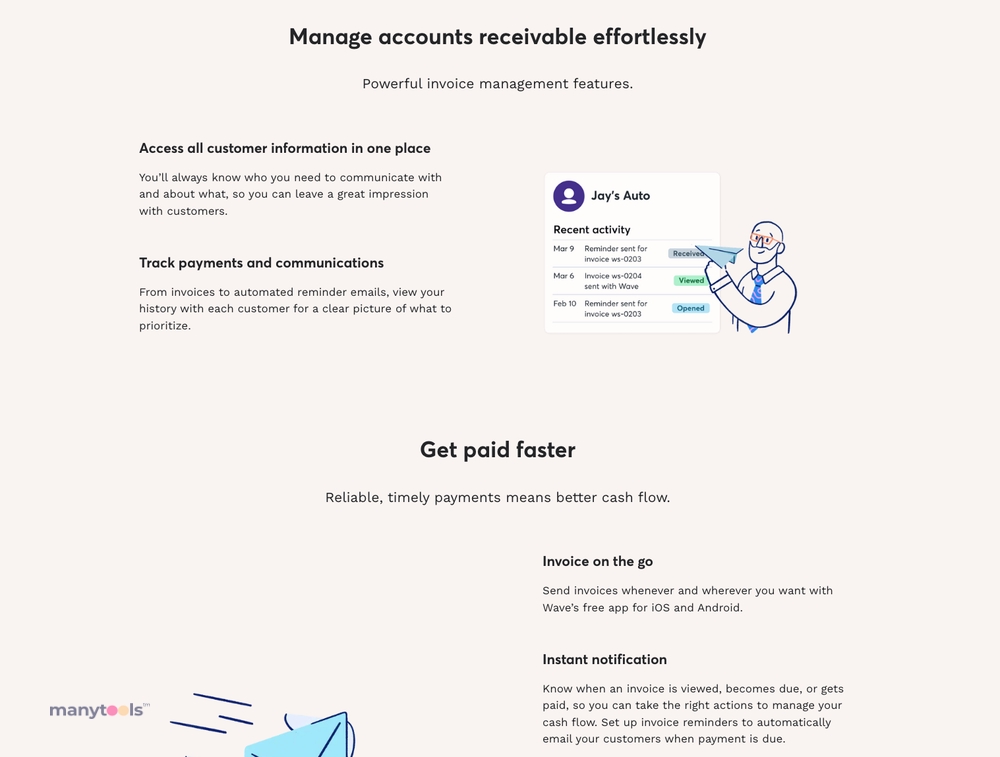 Revolutionize Financial Management with Wave
Wave is an innovative small business software that provides a powerful suite of tools designed to simplify and streamline all your financial management needs. This free invoicing and accounting software is a game-changer for small businesses, offering a comprehensive array of tools and services that make managing your money a breeze.
Unified Financial Powerhouse: Seamlessly Integrated
Wave's standout feature is its seamless integration of invoicing, accounting, credit card processing, and payroll services. This all-in-one solution allows you to keep track of all your financial operations in one place, eliminating the need to juggle multiple platforms. It's also incredibly user-friendly, with an intuitive interface that makes it easy for anyone to get started.
Mastering Cash Flow: Simplified and Streamlined
One of the biggest challenges for small businesses is managing cash flow and Wave makes this process simple and straightforward. With Wave, you can create and send professional invoices in minutes, track payments, and manage customer accounts with ease. This feature alone can save you countless hours and streamline your operations.
Empowering Financial Control: Comprehensive Accounting
But that's not all. Wave's comprehensive accounting software provides everything you need to manage your finances effectively. From income and expense tracking to balance sheet reports and sales tax calculations, Wave has got you covered. The best part? It's all free.
Enhanced Functionality: Convenient Add-Ons
Wave also offers affordable, integrated credit card processing and payroll services. These add-ons make it easy to accept payments and manage your employees' compensation, further simplifying your financial management.
Security You Can Trust: Protecting Your Data
Wave's commitment to security is commendable. With SSL encryption, automatic backups, and secure servers, you can rest assured that your financial data is safe and secure.
Empowerment through Simplicity: Your Small Business Ally
In summary, Wave is an excellent software solution for small businesses. It's comprehensive, easy to use, and the fact that it's free makes it an unbeatable choice for entrepreneurs and small business owners. Wave truly empowers you to manage your money like a boss.
A Wise Financial Choice: Opt for Wave
So, if you're looking for a simple, affordable solution to manage your business finances, look no further than Wave. With its robust features and user-friendly interface, it's no wonder that Wave is trusted by millions of small business owners worldwide.
Wave Review
15 Nov 2022
Wave offers a streamlined user experience, an intelligent selection of features, and free access, making it an ideal solution for individual business owners and freelancers requiring invoice and payment management. Its integrated payroll feature also makes it a viable option for small businesses with one or two employees. Due to these factors, Wave earns an Editors' Choice award for online accounting.
Wave Invoicing Review 2023: Features, Pros & Cons
24 Feb 2023
Wave is a complimentary invoicing software designed to assist small businesses in managing their bookkeeping requirements from a single platform. The system is easy to use and intuitive, making it suitable for individuals without accounting knowledge. As a cost-free solution, Wave is an excellent choice for freelancers, entrepreneurs, and small business owners seeking to minimize expenses.
Wave Accounting Review 2023: Pros, Cons, Alternatives
03 Jan 2023
Wave Accounting is a perfect solution for small businesses with fewer than ten employees, contractors, freelancers, and other service-oriented enterprises operating on a budget. This platform is user-friendly and accessible, particularly for individuals without previous accounting knowledge, while offering complete functionality. In addition, wave enables you to handle bookkeeping, accounting, and invoicing all in one location through seamless internal integrations.
Other Tools Like
Wave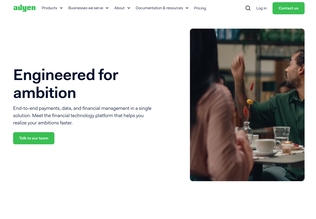 Adyen
adyen.com
Paid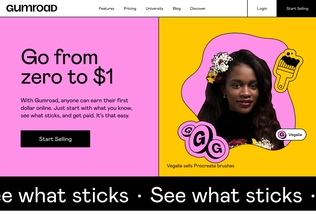 Gumroad
gumroad.com
Paid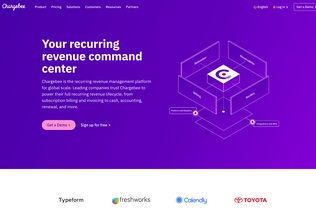 Chargebee
chargebee.com
Trial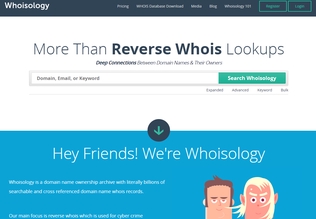 Whoisology
whoisology.com
Trial
Comments