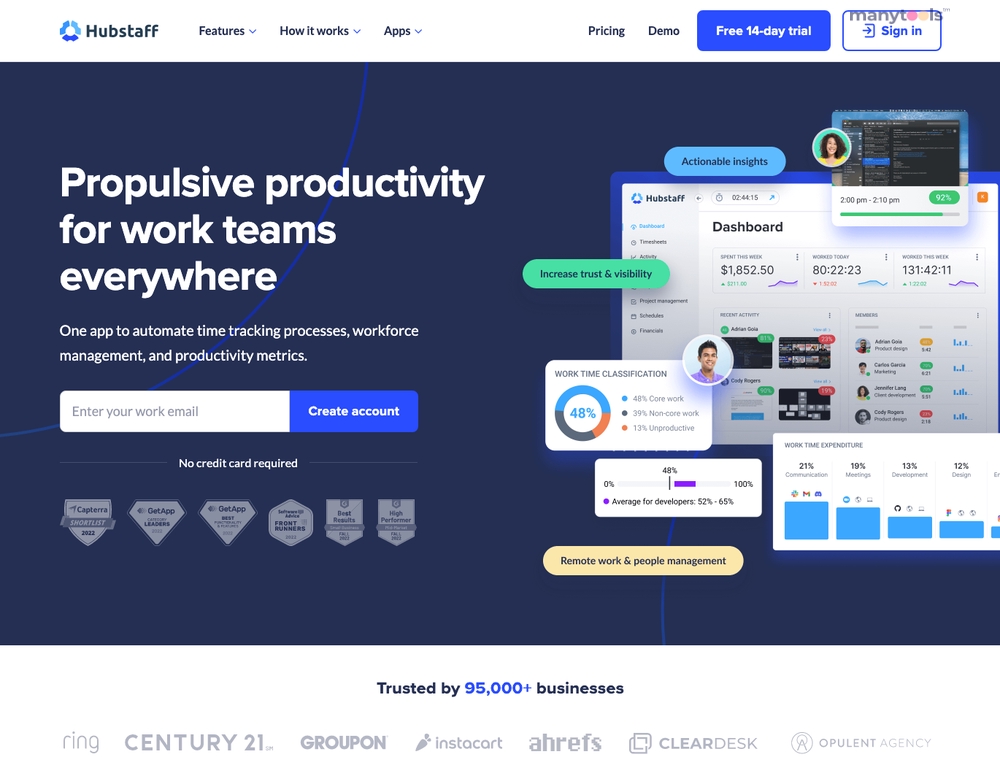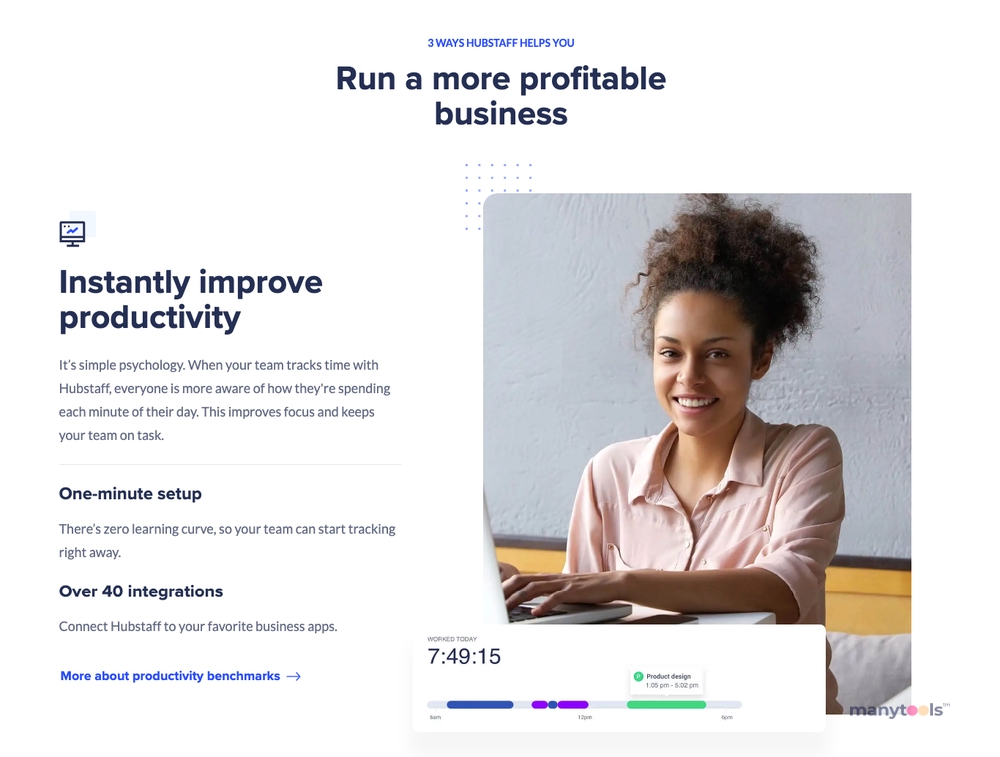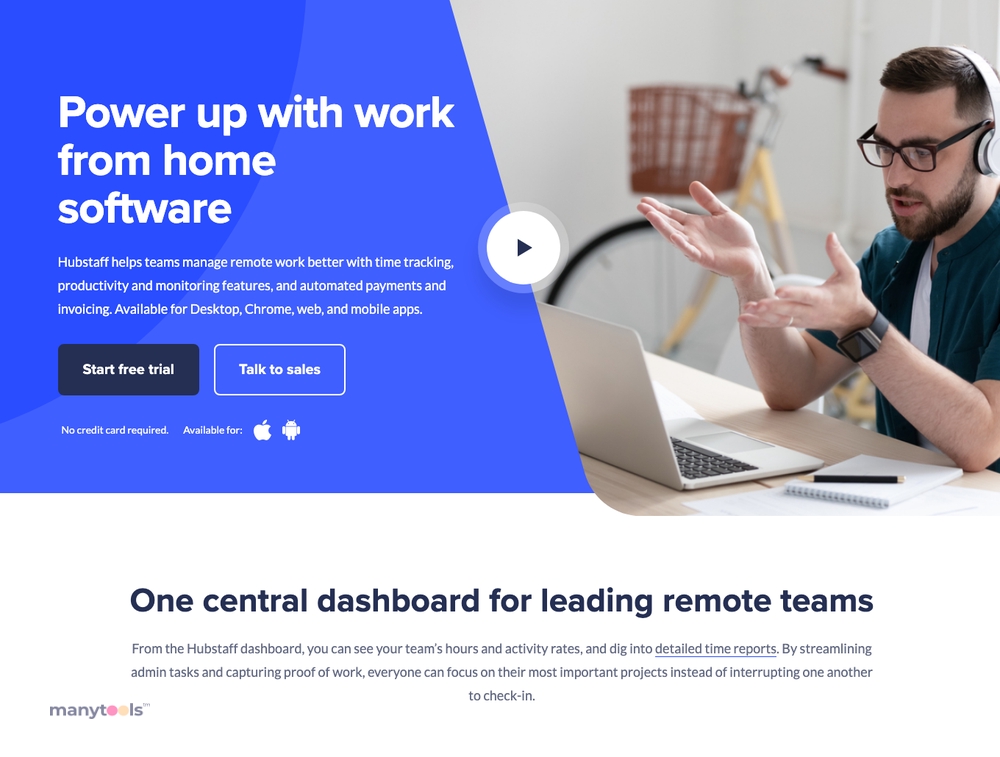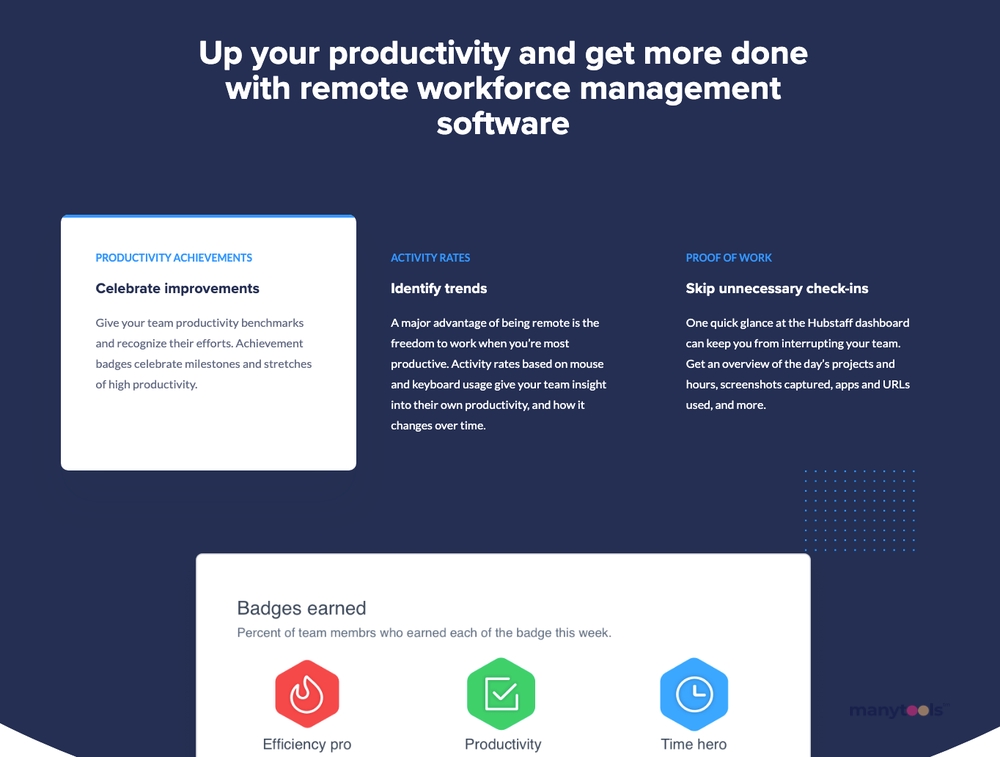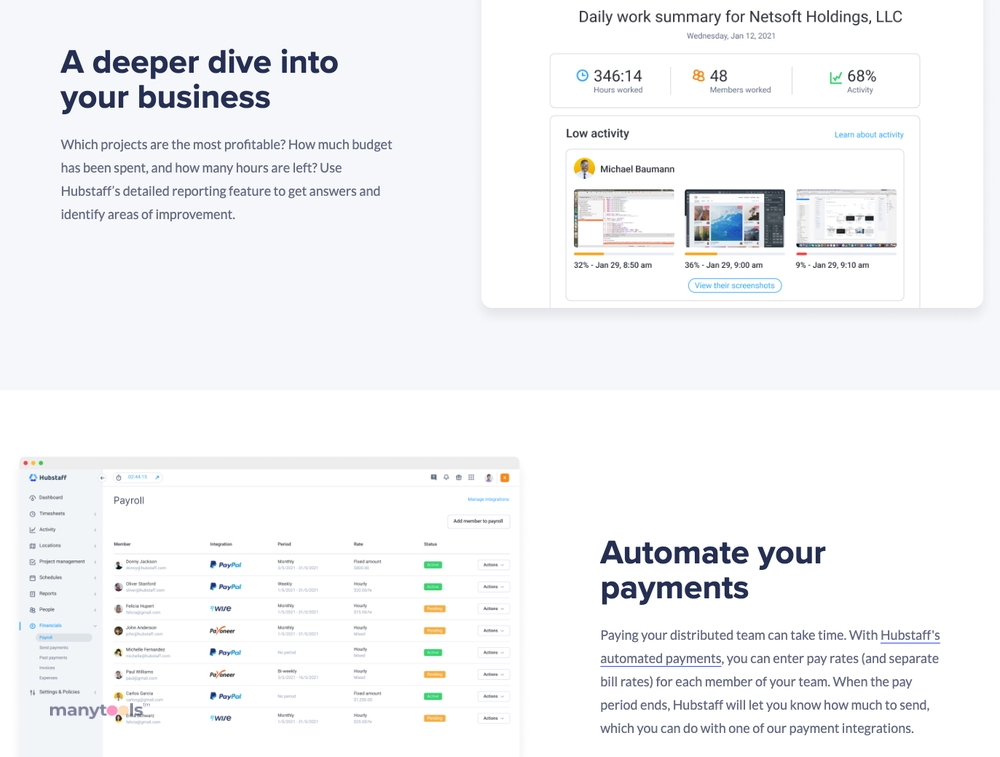 Hubstaff: Your Go-To Time Tracking and Productivity Monitoring Tool
When it comes to managing remote teams, keeping track of productivity can be a daunting task. But with a tool like Hubstaff, this task can be a breeze. This tool is specially designed to make your work life easier by monitoring and tracking your team's productivity.
Hubstaff: Making Remote Work More Manageable
Hubstaff is a simple yet powerful tool that offers various functionalities like time tracking, productivity monitoring, billing, in-depth reports, and much more. These features enable you to understand productivity issues and act on them efficiently. It's like having an extra pair of eyes watching over your team's work dynamics.
Transforming the Way You Work
With Hubstaff, you can bid goodbye to the traditional ways of tracking hours and welcome a more streamlined and automated approach. The tool gives you the power to capture screenshots, create timesheets, and generate comprehensive reports. The best part is, everything is available at your fingertips, with just a few clicks.
Unlocking the Potential of Productivity
Not only does Hubstaff monitor productivity, but it also empowers your team to perform better. The tool provides insights into how work gets done, helping you identify areas that need improvement. It's almost like having a personal productivity coach for your team, propelling them towards greater efficiency.
Streamlined Billing and Reporting
One of the standout features of Hubstaff is its ability to handle billing and generate in-depth reports. No more grappling with complicated spreadsheets or manual data entry. With Hubstaff, you can automate these tasks and save valuable time that can be put to better use elsewhere.
A Tool Designed for Everyone
Whether you're a webmaster, a growth hacker, an affiliate marketer, or a content creator, Hubstaff has got you covered. It's a versatile tool that caters to a wide range of professionals, making it a must-have in your software toolkit.
Hubstaff: Changing the Face of Digital Workspaces
In a world where remote work is becoming the norm, digital tools like Hubstaff are revolutionizing the way we work. By providing a platform to manage and monitor productivity, Hubstaff is truly changing the face of digital workspaces.
In conclusion, if you're looking for a tool that can help you manage your team's productivity efficiently and effectively, Hubstaff is the tool for you. It's simple, powerful, and packed with features that can transform your work life for the better. Give Hubstaff a try and experience the difference it can make.
Hubstaff is an excellent time clock software solution for startups operating across various time zones. It provides features that enable employees to effortlessly track their hours and manage their timesheets.
Hubstaff Review: Is It the Right Time Tracking System for Your Business?
Hubstaff serves as an ideal choice for those seeking a time tracking system equipped with robust employee productivity tools. The software automatically records work hours and team locations using geofencing and GPS tracking features. Furthermore, it enables you to monitor your employees' daily activities through app and URL tracking, idle time alerts, and work-in-progress screenshot capturing. For those with budget constraints, Hubstaff offers a free plan for a single user, complete with essential timekeeping and productivity features.
Hubstaff is an excellent tool for managing on-site teams or mobile workers, thanks to its GPS tracking and geofencing features. Monitoring team activity and location in real-time becomes effortless, which is a significant advantage. The web dashboard and mobile app are user-friendly, providing comprehensive timesheets, project management tools, and scheduling features that are instrumental in managing your team's workload. However, Hubstaff's pricing can be a drawback, as it is not the most affordable time tracking and management software available. Freelancers and small business owners may find the cost a bit steep. Additionally, the screen activity system may be restrictive for certain tasks that don't require constant screen interaction. Be aware that Hubstaff can occasionally experience bugs and crashes, and Android users may find some buttons unresponsive or difficult to press. In conclusion, despite its drawbacks, Hubstaff remains a valuable choice for those seeking efficient time tracking and team management tools. Its unique features, such as GPS tracking and geofencing, set it apart from competitors, and its user-friendly interface is a significant benefit. Be mindful of Hubstaff's price point and potential bugs, and the software could prove to be a transformative addition to your business.
Other Tools Like
HubStaff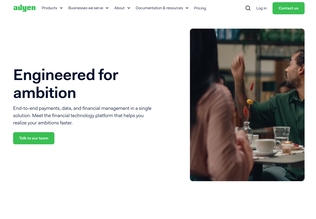 Adyen
adyen.com
Paid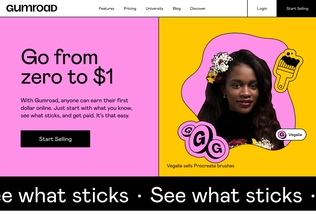 Gumroad
gumroad.com
Paid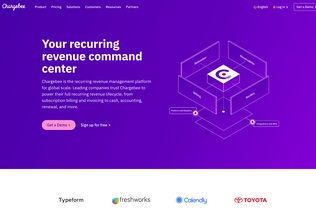 Chargebee
chargebee.com
Trial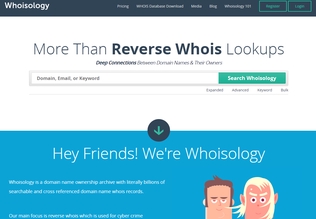 Whoisology
whoisology.com
Trial
Comments