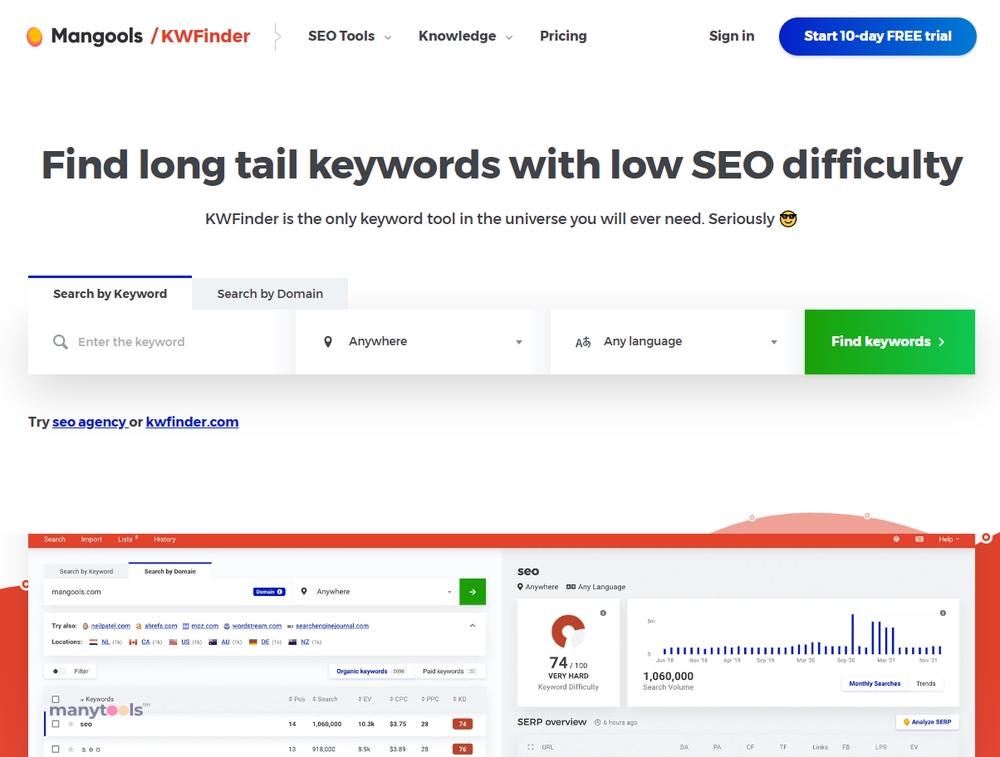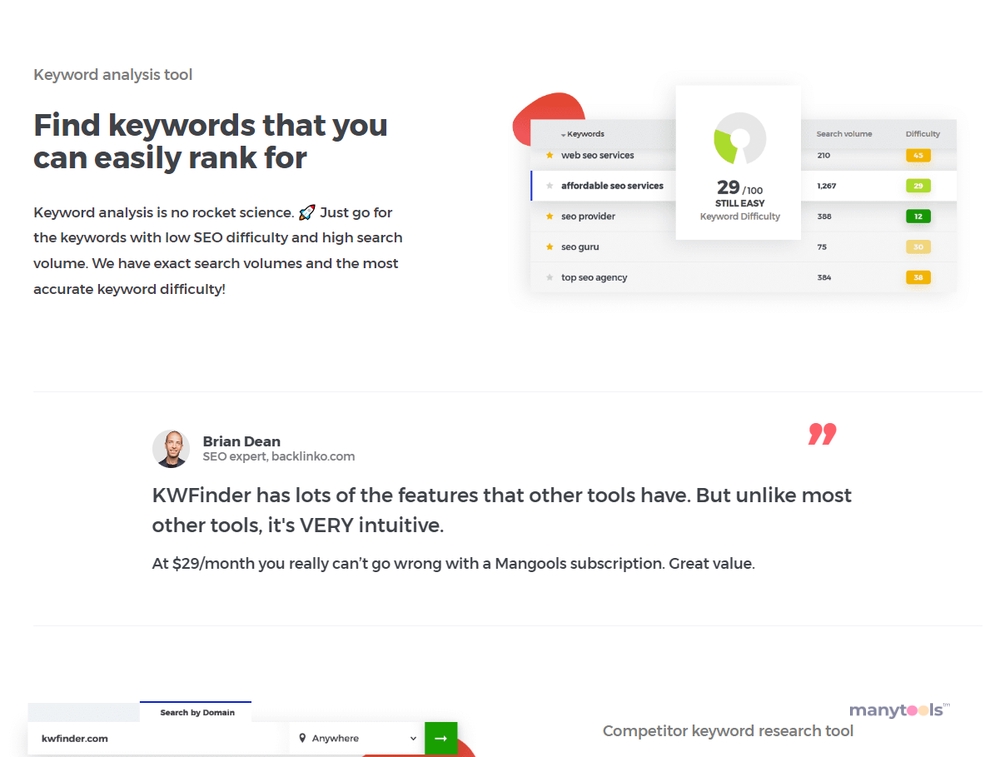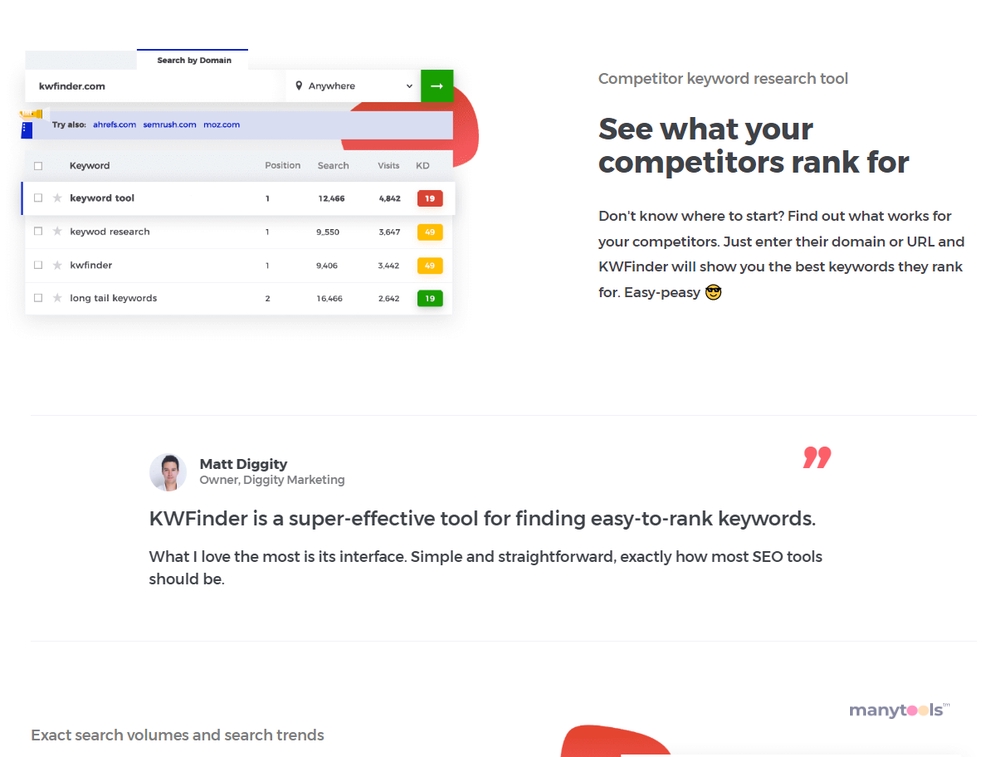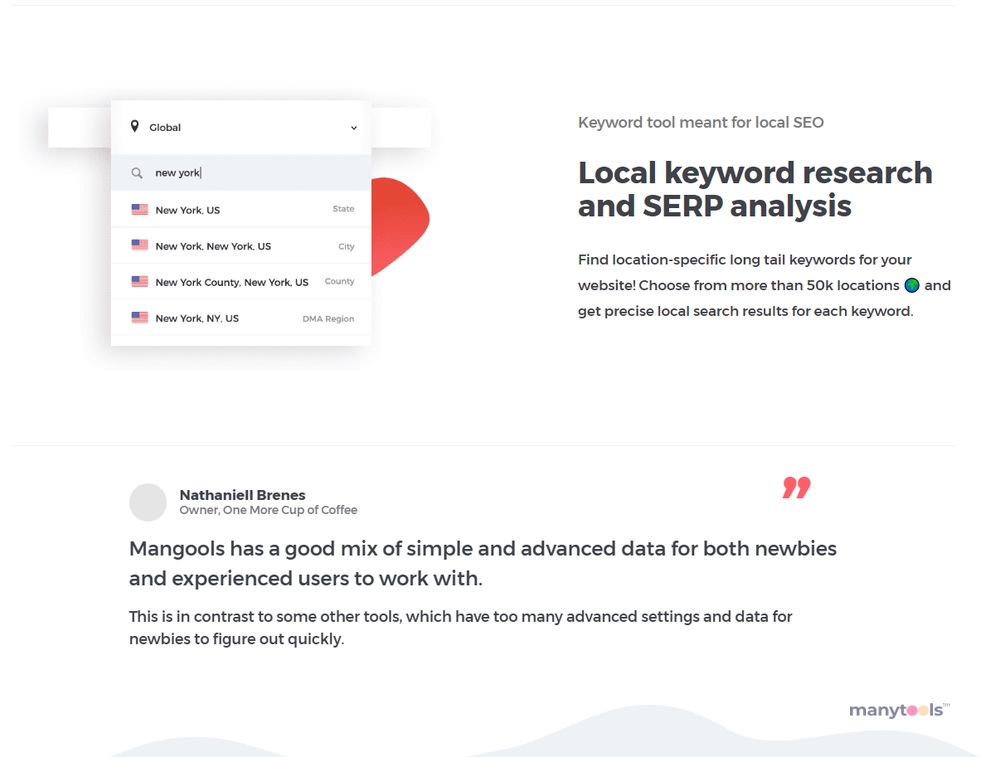 KWFinder is a powerful tool designed for digital professionals who need to conduct comprehensive keyword research. This tool could very well be your secret weapon to skyrocket your website's visibility. It's the brainchild of Mangools, a company renowned for creating efficient SEO tools.
Power-Packed Keyword Research
KWFinder brings you a unique blend of simplicity and effectiveness. With a user-friendly interface, you can uncover long-tail keywords with low SEO difficulty, all at your fingertips. It's not just about finding keywords; it's about analyzing them to understand how easy or hard it would be to rank for them.
Uncover Your Competition
In the competitive digital landscape, knowledge is power. KWFinder helps you understand what your competitors are up to. It provides details about who is ranking for your desired keywords, giving you valuable insights to devise a winning strategy.
Data-Driven Insights
Make informed decisions based on solid data. KWFinder provides numerous metrics, including Search Volume, Keyword Difficulty, CPC, and PPC. These metrics help you gauge the profitability and competitiveness of your keywords, guiding your SEO strategy toward success.
Visualize Keyword Trends
Staying up-to-date with keyword trends is essential for maintaining relevance. KWFinder visually displays the historical search volume of your keywords. This lets you see the bigger picture and understand seasonal trends, ensuring you're always one step ahead.
Local Keyword Research
If you're a local business or a global brand looking to target specific regions, KWFinder has you covered. It supports more than 50k locations, allowing you to conduct precise local keyword research and dominate your local market.
Seamless Integration
KWFinder is part of the Mangools toolkit, which means it integrates seamlessly with other Mangools tools. This allows you to conduct SERP analysis, track keyword rankings, and analyze backlinks, all from a single platform.
In the world of digital marketing where the right keywords can make or break your success, KWFinder is a tool that can help turn the tides in your favor. It offers a rich set of features wrapped in a simple interface, making keyword research a breeze. Ready to take your keyword research game to the next level? Give KWFinder a try.
KWFinder offers swift access to crucial data, streamlining keyword research and enhancing decision-making for your online positioning. This tool also enables you to conduct competitive analysis by revealing your competitors' keyword utilization. Utilizing additional tools within the Mangools suite, you can delve further into vital metrics for your search marketing strategies, ensuring quick and efficient access to the necessary data.
KWFINDER REVIEW AND TUTORIAL: CAN IT HANG WITH OTHER TOOLS?
KWFinder assists in discovering long tail keywords, scrutinizing SERPs, and outperforming your competitors. Offering substantial value for its cost, this tool is an excellent choice for niche site creators.
For agency operators or experienced webmasters seeking to utilize every available strategy, KWFinder might seem limiting. However, this doesn't imply it's not valuable. A user-friendly interface benefits users of all skill levels. Nonetheless, to conduct competitive research, intricate data compilation, and bulk imports, you may need to employ supplementary tools like Semrush or Ahrefs. This KWFinder review offers insights into its effectiveness as a handy SEO tool, making it an outstanding option for beginner bloggers.
Other Tools Like
KWFinder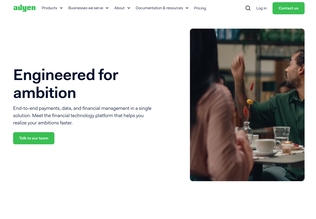 Adyen
adyen.com
Paid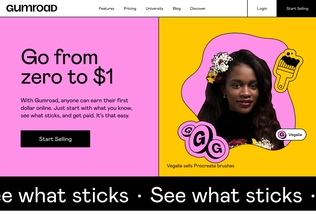 Gumroad
gumroad.com
Paid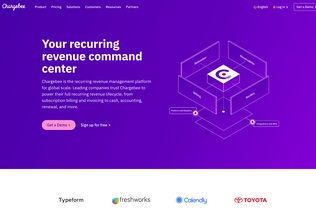 Chargebee
chargebee.com
Trial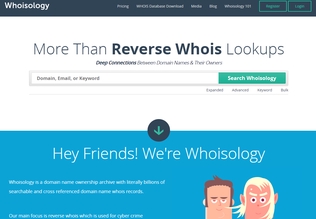 Whoisology
whoisology.com
Trial
Comments