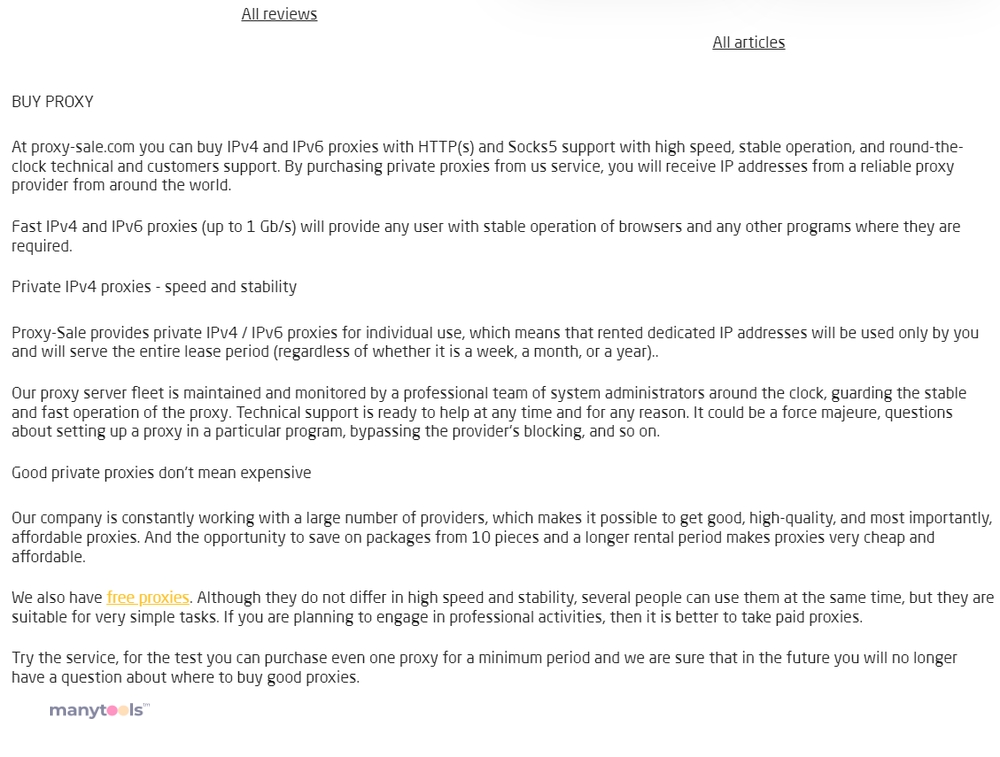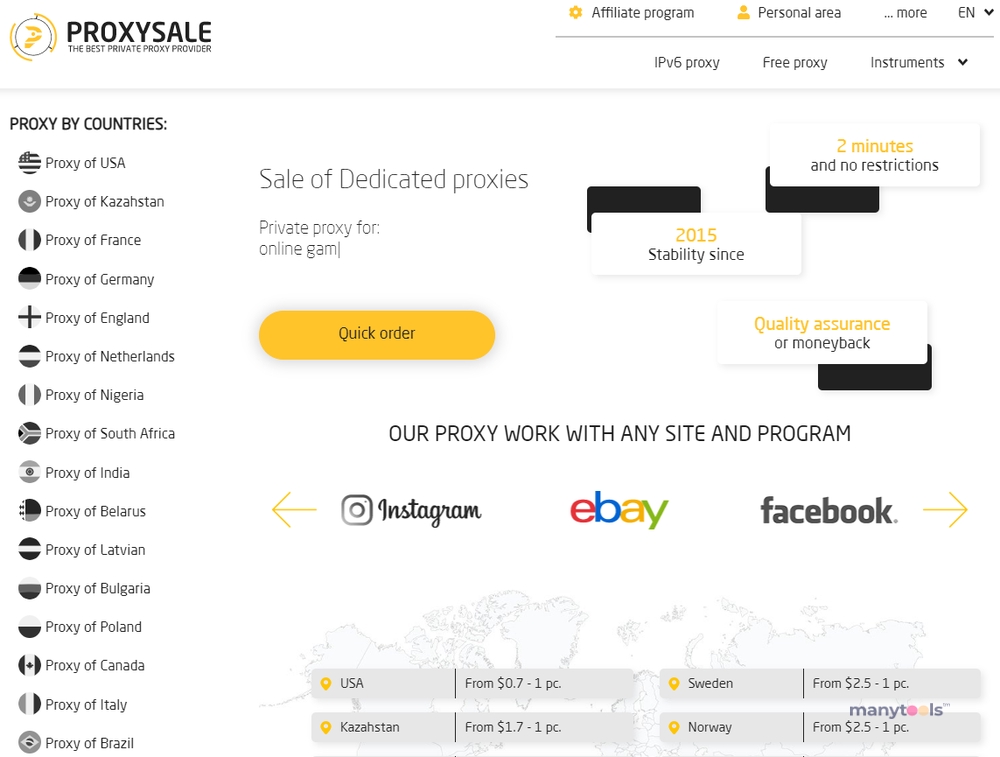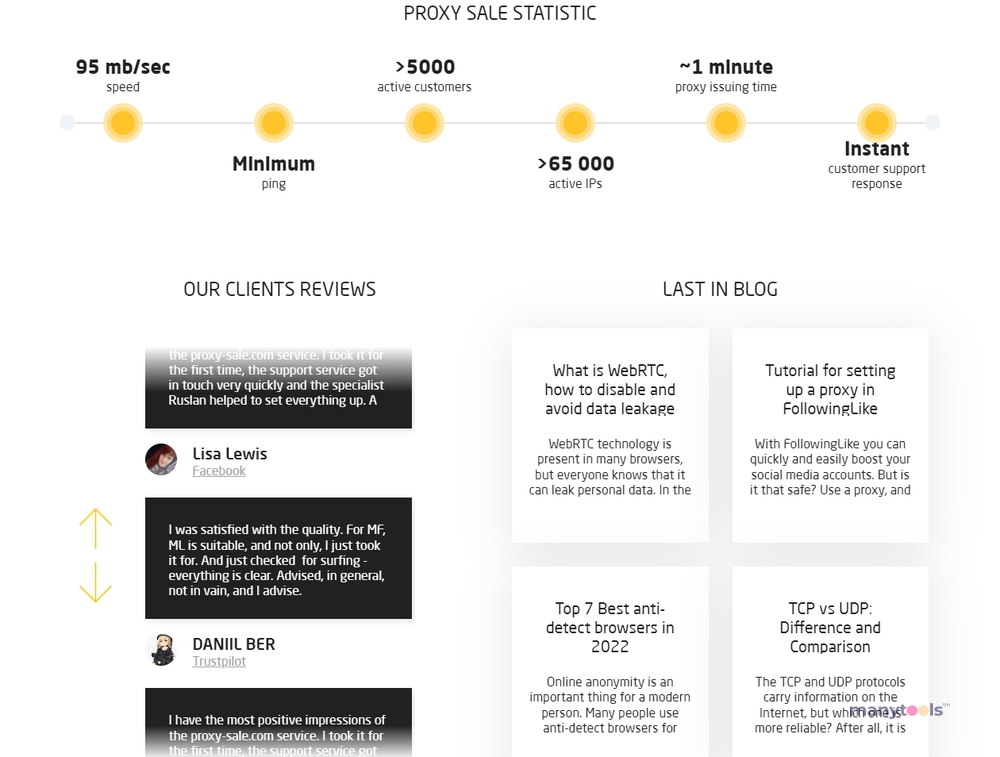 Discover a world of swift and secure personal proxy solutions with Proxy Sale, a leading provider of IPv4 and IPv6 proxies. With the ability to support HTTP(s) and Socks5, Proxy Sale stands as a reliable partner for digital professionals aiming to maintain a high level of internet security.
Commitment to speed and stability.
In an era where time is of the essence, having a proxy service that guarantees high speed is an absolute game-changer. You won't have to worry about buffering or lagging; Proxy Sale ensures a seamless online experience.
Round-the-clock technical and customer support.
Navigating the world of proxies can be daunting, but with a dedicated team of experts at your disposal, you're never alone. Any concerns, queries, or technical issues are addressed promptly, ensuring you get the most out of your proxy service.
Security is another domain where Proxy Sale shines.
The service prides itself on offering secure personal proxy solutions. With privacy being a major concern for many digital professionals, this feature provides peace of mind knowing your online activity remains confidential.
Proxy Sale doesn't disappoint.
The service offers both IPv4 and IPv6 proxies, catering to a wide range of needs and preferences. Whether you prefer the familiarity of IPv4 or the advanced capabilities of IPv6, Proxy Sale has got you covered.
For those who demand quality, Proxy Sale delivers.
As a trusted proxy provider, it guarantees reliable IP addresses from around the world. This global reach ensures you have access to a diverse range of IP addresses, making it a valuable resource for SEO gurus, webmasters, and others who need to access geo-restricted content.
Proxy Sale offers a straightforward purchasing process.
There's no need for complicated sign-ups or lengthy procedures. Simply visit proxy-sale.com, choose your preferred proxy package, and enjoy a swift and secure online experience.
Final Thoughts
If you're a digital professional seeking a reliable, fast, and secure proxy service, Proxy Sale is worth considering. With its impressive features and dedicated support, it stands as a worthy contender in the world of proxies. With Proxy Sale, you're not just buying a proxy; you're investing in a safer, faster, and more efficient online experience.
Proxy-sale service shares similarities with other proxy services in the market, presenting its own advantages and disadvantages. From the pros and cons mentioned, it is evident where our preference lies. The service boasts a favorable location, fast proxies, and a competitive and adaptable pricing structure. Their customer support is exceptional, responsive, and helpful. However, it is not advisable to use Proxy-sale on stringent websites with effective proxy detection systems. If you must use their service on such websites, exercise caution to avoid spamming, as it could lead to being blocked swiftly.
Other Tools Like
Proxy Sale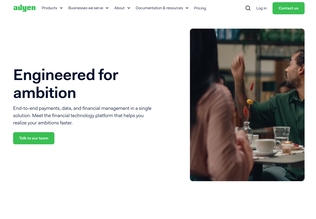 Adyen
adyen.com
Paid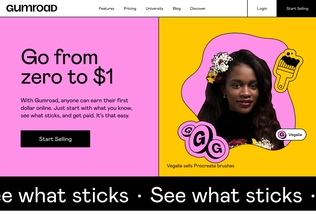 Gumroad
gumroad.com
Paid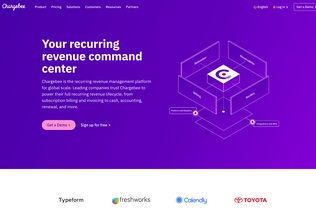 Chargebee
chargebee.com
Trial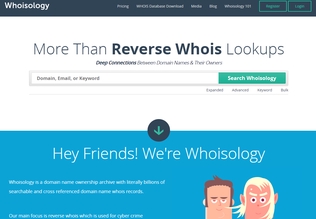 Whoisology
whoisology.com
Trial
Comments