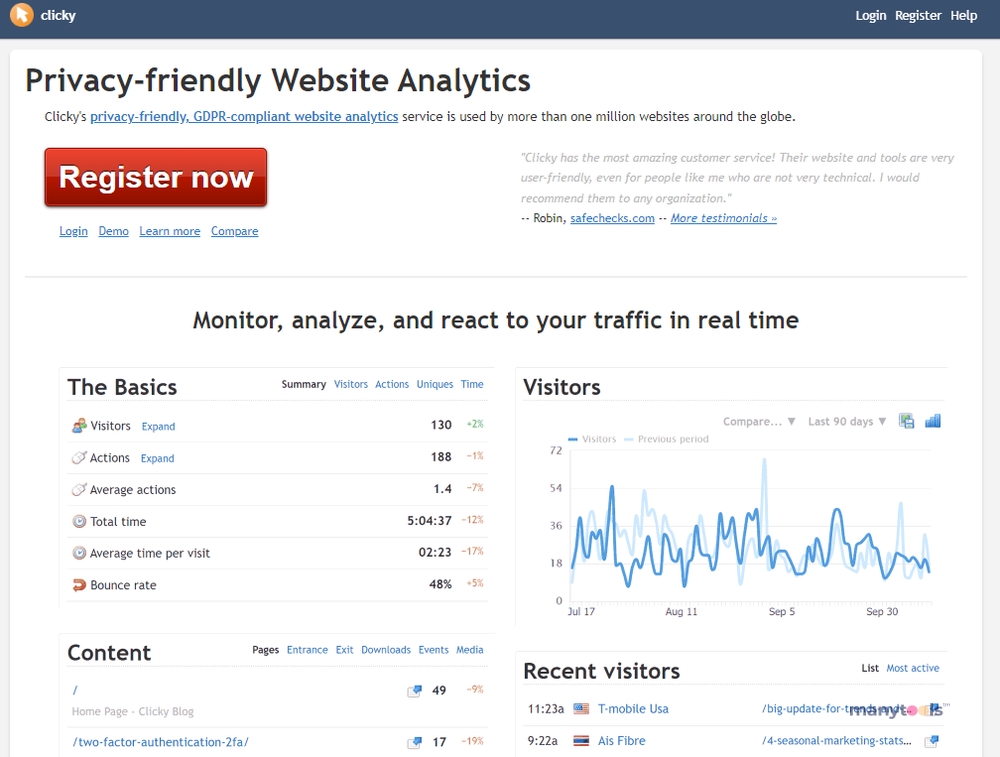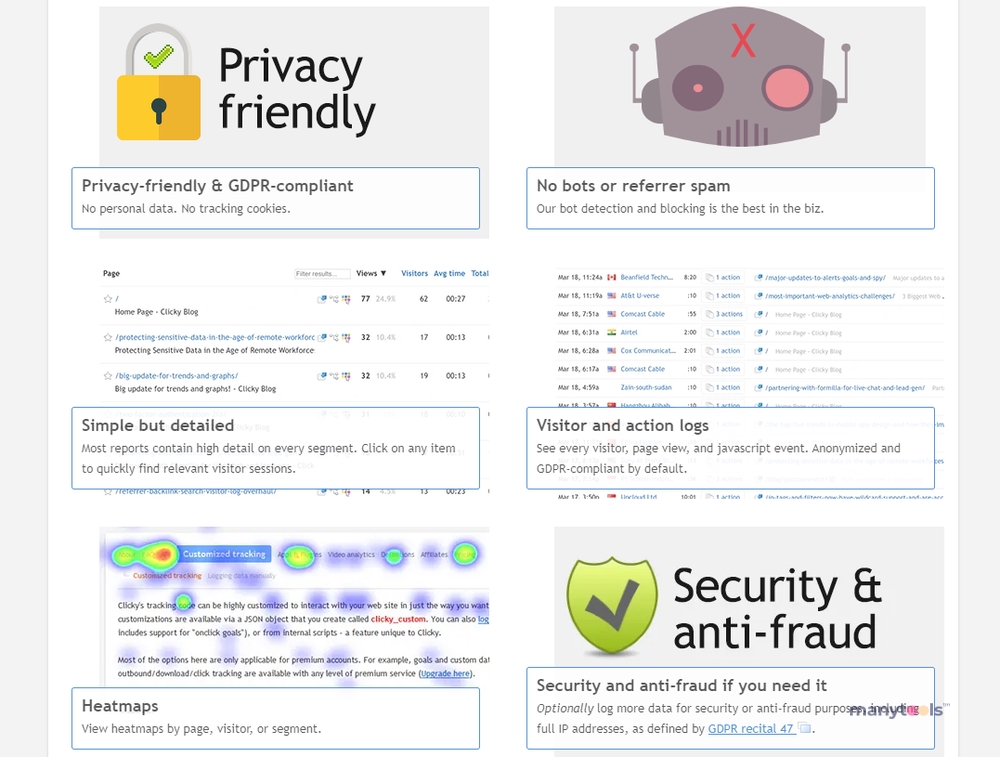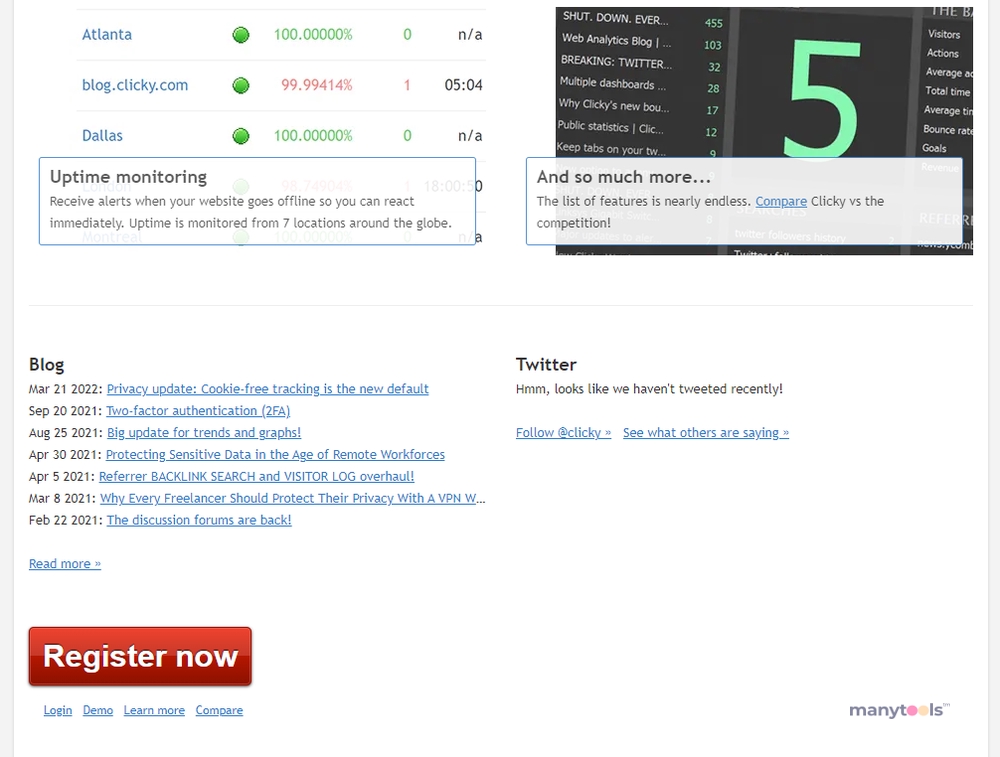 Introducing Clicky: Your Privacy-friendly Analytics Partner
In an age where data privacy is more critical than ever, Clicky steps forward as a breath of fresh air. This privacy-focused website analytics tool is designed to provide real-time data without compromising user privacy. Not only is it GDPR-compliant, but it also offers an effective alternative to mainstream analytics platforms.
Understanding Clicky: Not Just Another Analytics Tool
Clicky distinguishes itself from the crowd with its commitment to privacy. This tool doesn't just provide raw numbers; it offers detailed insights while respect user privacy. It's all about helping you understand your website's traffic without infringing on your visitor's rights.
Real-time Monitoring with Clicky
With Clicky, you can say goodbye to waiting for data updates. This tool offers real-time monitoring, allowing you to view and analyze your website's traffic as it occurs. No more waiting for analytics to update; you can see what's happening on your site at that very moment and react accordingly.
GDPR-compliance Made Simple
In the wake of GDPR, data privacy compliance is no longer optional; it's a must. Clicky is designed with this in mind. As a GDPR-compliant tool, it helps you avoid potential legal complications while still providing comprehensive analytics.
The Google Analytics Alternative
If you ever thought you were tied to Google Analytics, think again. Clicky emerges as a compelling alternative, with its privacy-focused approach and real-time data. It offers a fresh perspective on website analytics, providing a viable option for those wishing to break free from the Google ecosystem.
User-friendly and Efficient
With its intuitive interface and efficient functionality, Clicky makes website analytics a breeze. The tool is user-friendly, making it easy for users of all levels of expertise to navigate and understand their site's analytics.
The Verdict: Why Choose Clicky?
In a digital world overflowing with analytics tools, Clicky stands out with its privacy-friendly, real-time approach. It's more than just an analytics tool; it's a partner in your digital journey, helping you monitor, analyze, and react to your website's traffic without compromising on privacy. Clicky embodies the perfect blend of privacy, real-time updates, and user-friendly interface, making it a go-to resource for digital professionals. So, why wait? Make the switch to Clicky today and experience the difference for yourself.
Is Clicky a Good Alternative to Google Analytics? A Full Review
26 May 2022
Clicky is a web analytics tool designed to deliver real-time traffic statistics. They boast a detailed comparison table demonstrating why they stand out. While Google Analytics is also a free and functional option, the speed and additional features of Clicky are unparalleled, in my view. Interestingly, Google doesn't consistently record goal conversions. In one instance, Clicky registered over 40% more goal conversions than Google during the same timeframe – but that's a topic for another discussion!
Clicky: A Worthy Google Analytics Alternative?
21 Nov 2022
Clicky Analytics provides a complimentary cloud-based analytics platform, an open-source substitute for Google Analytics. The platform delivers real-time traffic information such as visitor count, click count, events, organic searches, bounce rates, and virtually all the features in the Google Universal Analytics dashboard. Regardless of the size of your business or organization, embedding Clicky Analytics code is a breeze and won't hinder your website's performance.
Clicky Review 2023: Why I Ditched Google Analytics?
05 Jan 2023
Clicky has gained immense popularity among users thanks to its user-friendly dashboard and impressive advanced features, which I will delve into shortly. Currently, Clicky is monitoring traffic for more than 1.2 million websites. Despite being a premium analytics tool, you can enjoy a 21-day free trial without spending a cent. Regarding online tools or services, having reliable support from the team is essential. Although Clicky does not offer live chat support, their email assistance is efficient and effective.
Other Tools Like
Clicky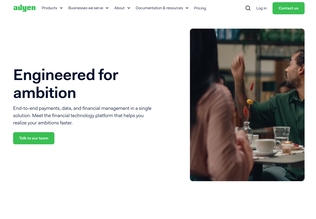 Adyen
adyen.com
Paid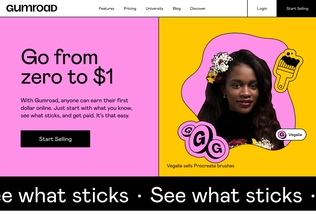 Gumroad
gumroad.com
Paid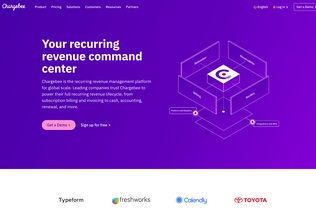 Chargebee
chargebee.com
Trial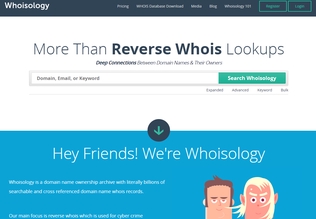 Whoisology
whoisology.com
Trial
Comments