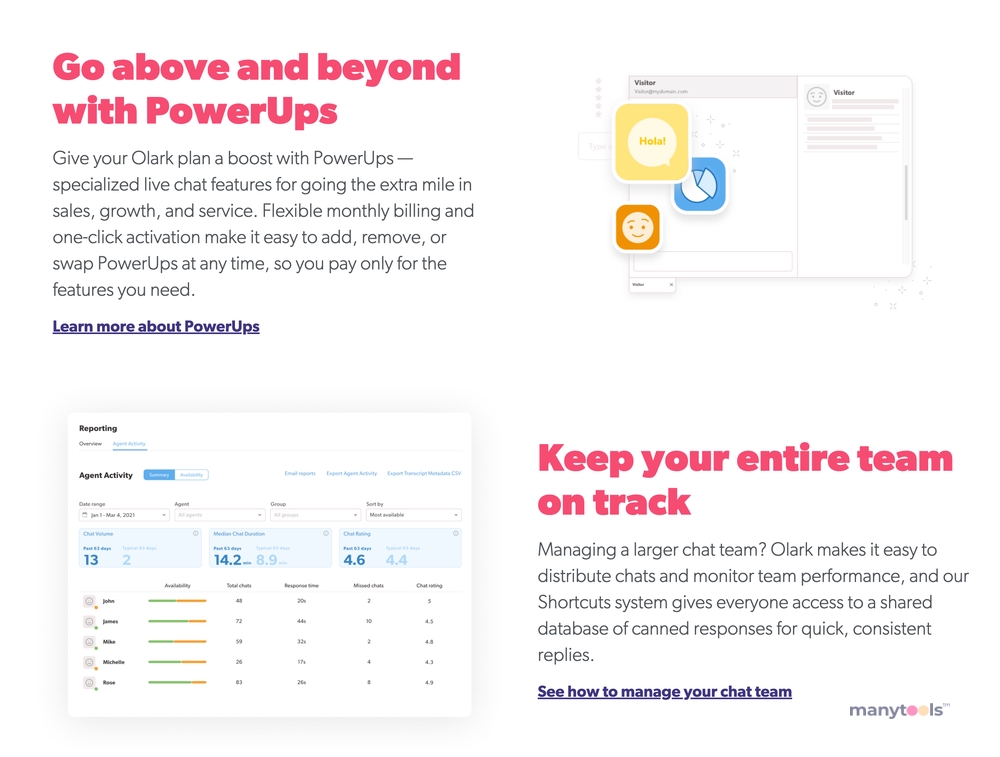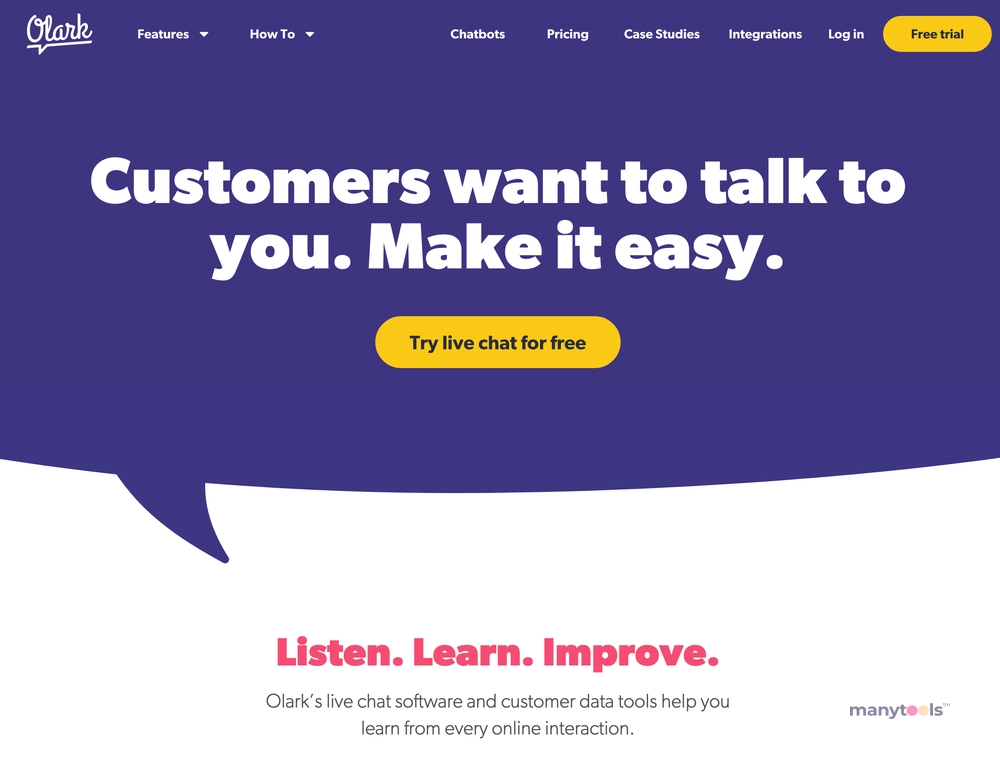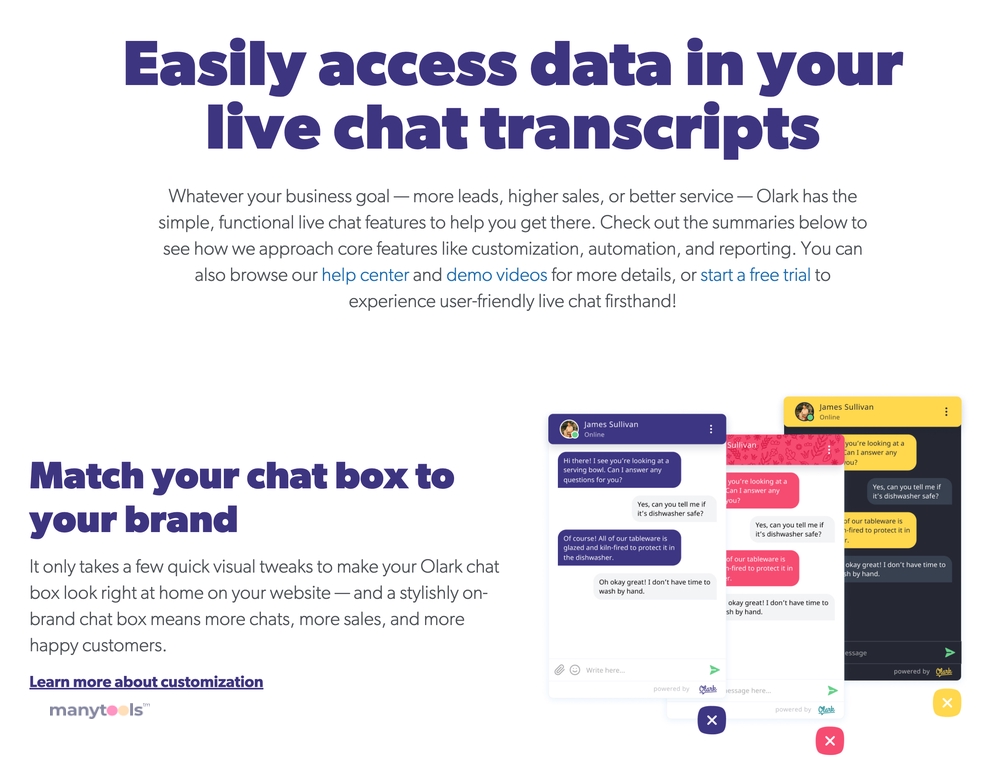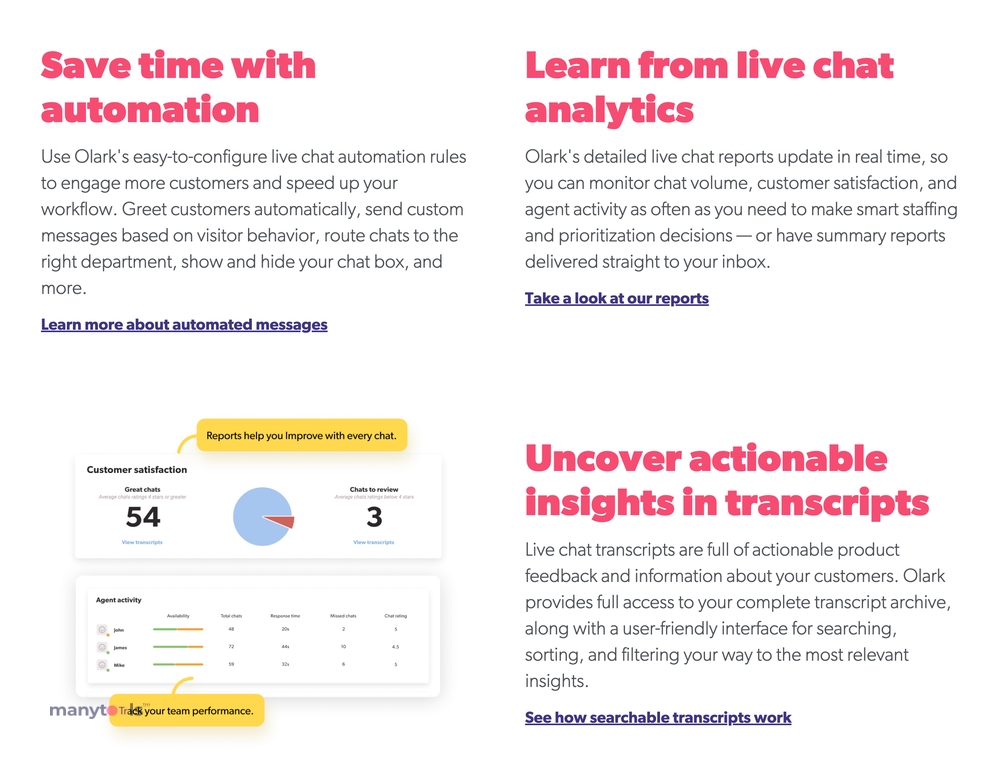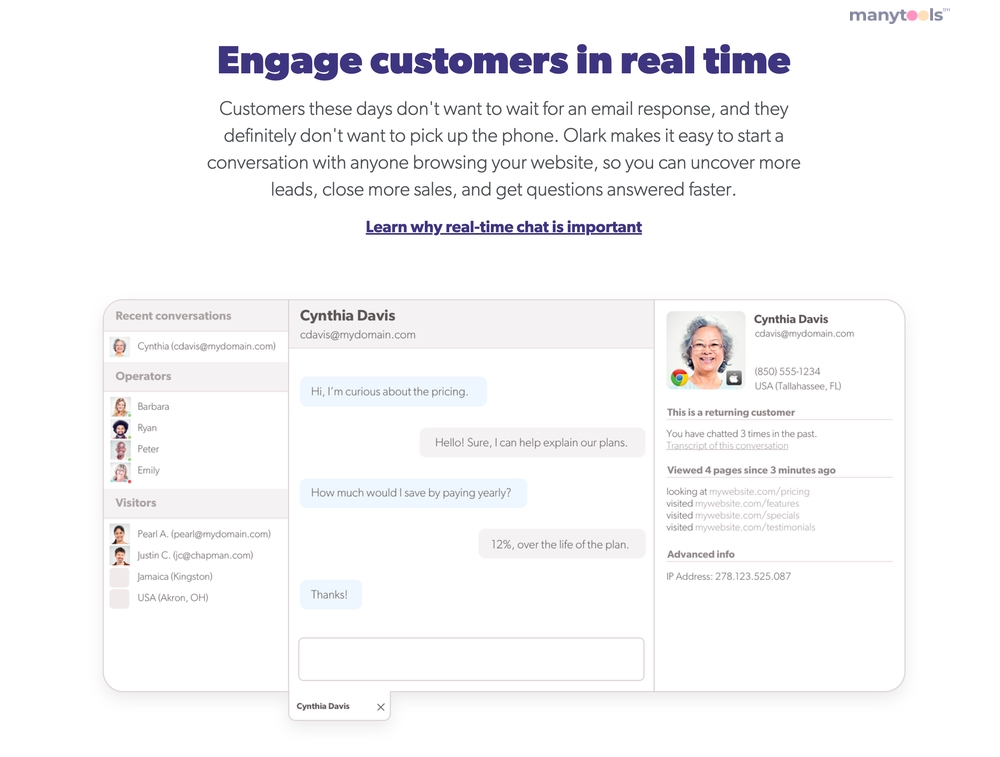 Olark: The Human Touch in Digital Communication
Olark is a top-tier live chat software, aimed at helping businesses connect with their customers in real-time. It's a tool built to bridge the gap between companies and their clientele, providing a more personalized, human touch to digital communication.
Take Your Customer Service to New Heights
Olark operates around the idea that customers want to talk - and they want it to be easy. Using this software, businesses can readily facilitate those conversations, thus boosting their customer service game to new levels. It offers a convenient channel for visitors to ask questions, seek help, or share feedback.
Sales and Marketing - Simplified
But Olark isn't just about customer support. It also serves as a powerful tool for sales and marketing. The real-time chat feature allows businesses to engage with potential customers, answering their queries instantly and offering instant solutions. This can significantly increase conversion rates, and improve customer satisfaction and retention.
Customizable and Easy to Use
One of the key features of Olark is its customization capability. It can be tailored to fit the unique needs and aesthetics of any business. You can even customize the chat box to match your brand, giving your website a more cohesive look. Despite its advanced features, Olark remains user-friendly, ensuring that even the less tech-savvy can use it with ease.
Data-Driven Decisions
Olark also offers a variety of data and analytics tools to help businesses make informed decisions. You can track customer conversations, measure chat performance, and even identify potential areas of improvement. It's a tool that combines communication and data, serving as the backbone for a successful customer strategy.
Security You Can Trust
In the digital age, security is paramount. Olark understands this and has built a system that guarantees the safety of your data. With Olark, you can chat with your customers with the peace of mind that your information is secure.
Give Your Business a Human Touch
In a world where digital communication often feels impersonal, Olark stands out by enabling businesses to introduce a human touch to their online interactions. It's not just a chat tool - it's a way to make your business more human, and your customers more satisfied.
So, if you're looking to boost your customer service, increase sales, and make your business more human, Olark could be the perfect tool for you. It's about making connections, building relationships, and ultimately, growing your business.
Olark Review 2023
21 Dec 2022
The browser-based console of Olark appears sleek and holds potential. However, there is still room for enhancement. Rather than offering quick access buttons for essential functions, numerous commands must be entered, such as !block for blacklisting a user or !transfer to delegate a visitor to another agent. In general, we appreciate the aesthetics and usability of Olark's user interface and chat client. An added bonus is the ability for visitors to rate their chat experience, enabling the gathering of satisfaction data. Moreover, if you're seeking live chat software that includes cobrowsing, Olark is the top pick.
Olark Live Chat Review
23 Nov 2022
Olark stands out as a top-notch live chat service you can rely on to build customer trust. We put it through extensive testing, utilizing a variety of approaches and methods. The user interface is sleek, the performance is solid, and there are no apparent glitches—overall, it's near perfection. Investing in this product is a decision you won't regret. If you're still on the fence, Olark offers a 14-day free trial for you to experience it firsthand. Don't hesitate to give it a shot.
Olark Review: Is it One of The Best Live Chat Tools?
24 Jun 2022
Olark is a remarkable platform enabling direct communication with your website visitors through live chat. With its sleek and user-friendly interface, it goes beyond mere real-time conversation. Olark boasts robust integrations and impressive features that simplify the process of building and managing customer connections. For example, it allows you to monitor your clients' activities on their screens effortlessly.
Other Tools Like
Olark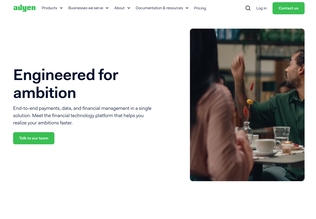 Adyen
adyen.com
Paid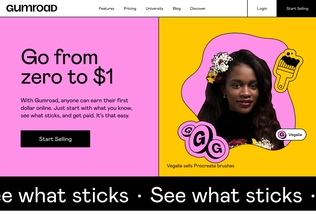 Gumroad
gumroad.com
Paid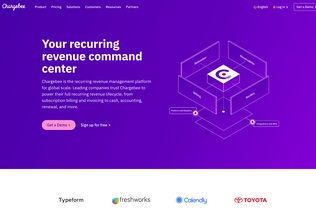 Chargebee
chargebee.com
Trial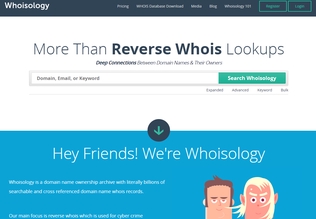 Whoisology
whoisology.com
Trial
Comments