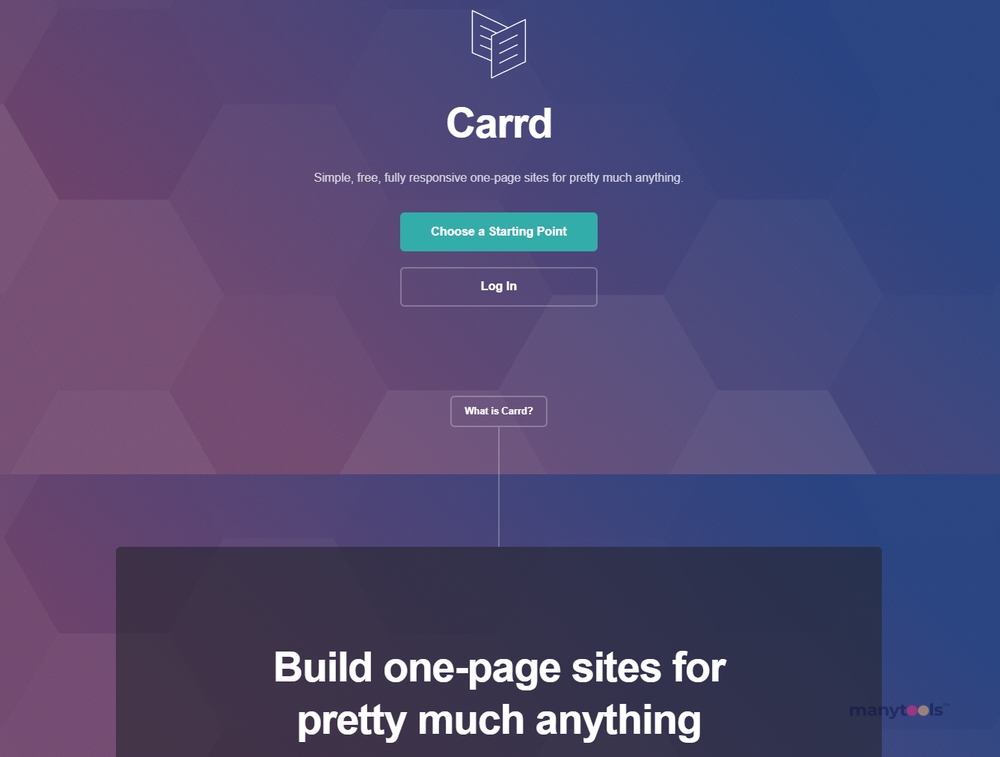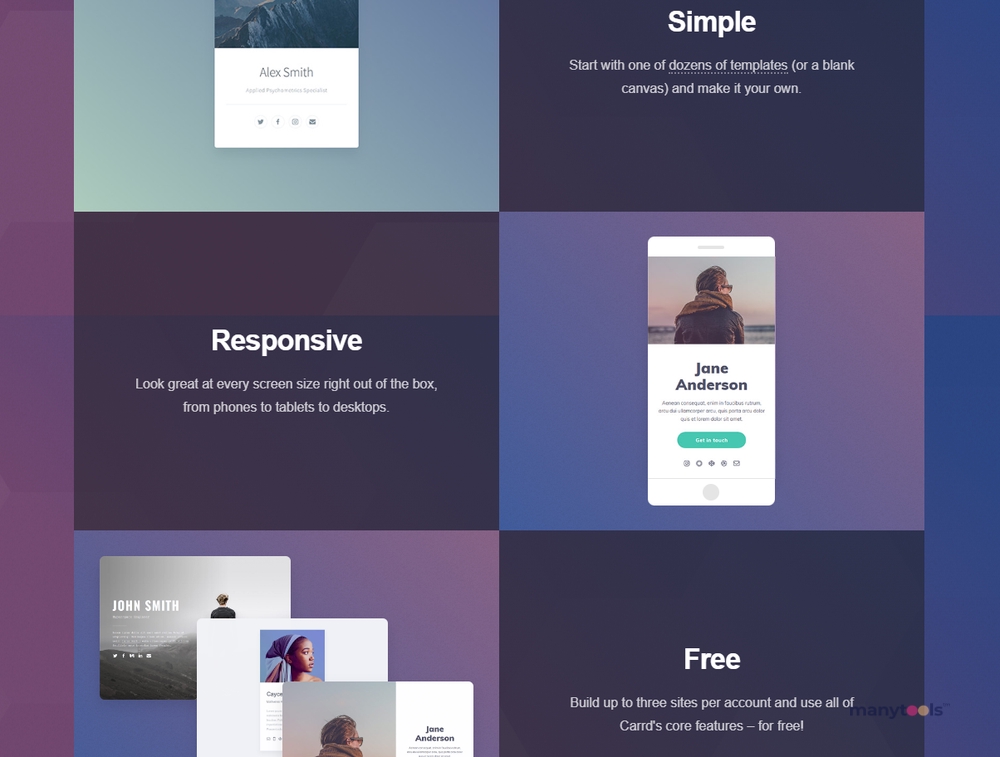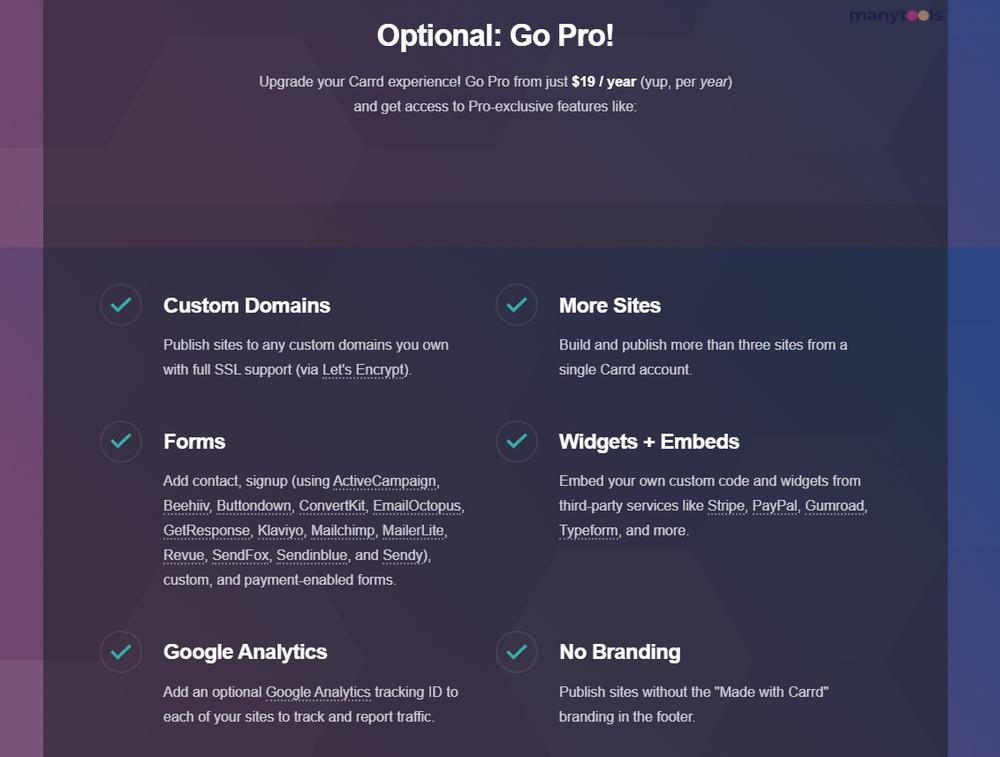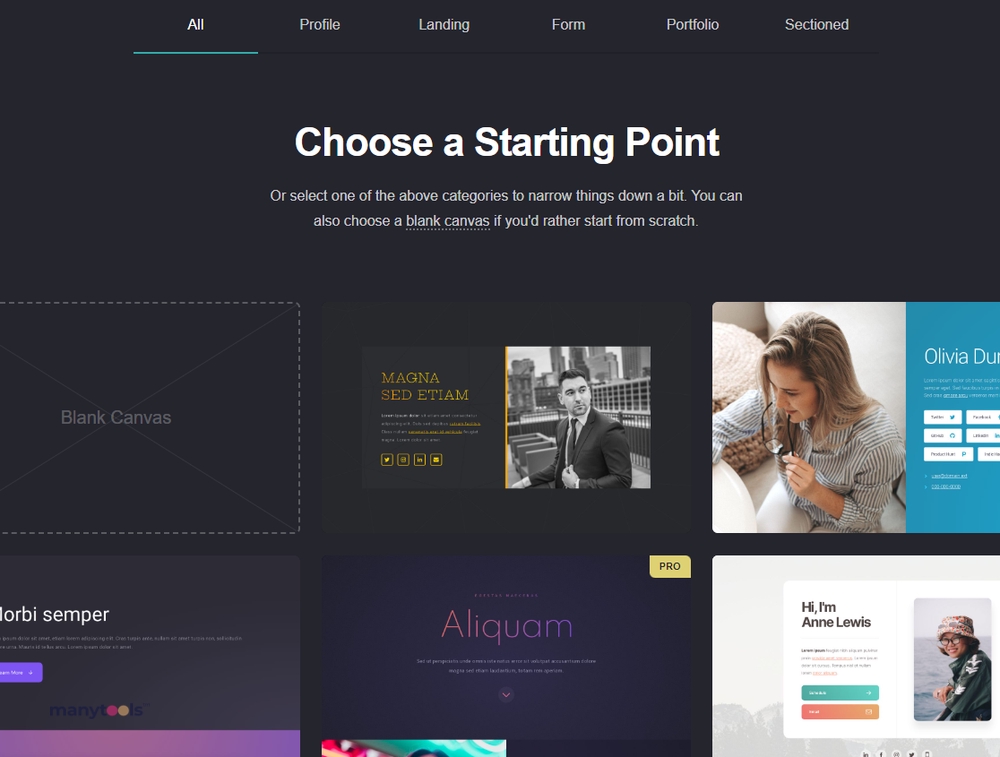 Meet Carrd, your next stop for creating simple, fully responsive one-page websites. Whether you're a small business owner, a freelancer, or just someone with an idea, Carrd is ready to turn your vision into a digital reality.
What exactly is Carrd?
Carrd isn't just another website builder. It's a free platform designed to help you build stunning one-page sites for just about anything. From portfolios and business sites to landing pages and personal profiles, Carrd has got you covered.
Why Carrd?
The beauty of Carrd lies in its simplicity. With its user-friendly interface, Carrd makes website building an effortless process. You don't need to be a tech guru to use this tool. If you can click and drag, you can create a website with Carrd.
Design Freedom
Carrd offers a wide range of design options. Choose from various templates, customize them to your liking, or start from scratch. The design flexibility allows you to create a site that perfectly represents your brand or idea.
Responsive Sites
In a world where more than half of the internet traffic comes from mobile devices, having a responsive website is crucial. Carrd ensures that your website looks great and functions well, no matter the screen size it's viewed on.
Cost-Effective
Being cost-effective is one of the major strengths of Carrd. This platform is free to use for basic features. But if you want to unlock more powerful features, the Pro plan is incredibly affordable.
Support and Community
Carrd has a robust support system and a thriving community. If you ever run into a problem, you can easily find help. Plus, you can connect with other Carrd users to share ideas and inspiration.
Wrapping Up
Carrd presents an opportunity to build your online presence without breaking the bank or burning the midnight oil learning complex coding languages. It's a tool that empowers you to create and share your ideas with the world through a beautiful, responsive one-page website. If simplicity, flexibility, and affordability are what you seek in a website builder, Carrd is a tool worth considering.
Carrd Review (2023) – Affordable Landing Page Builder
02 Feb 2023
Carrd, introduced in 2016 by a Nashville-based web developer, is a user-friendly website builder specifically tailored for crafting single-page websites such as profiles, resumes, portfolios, and landing pages. This platform is ideal for establishing a one-page website with minimal time and resources. Carrd presents itself as a straightforward and cost-effective solution for designing single-page websites. For novices, a free plan is available to explore its features, while seasoned users may opt for paid plans with enhanced features and functionality.
Carrd Review: Is It The Best One-Page Website Builder or Not?
25 Oct 2022
The Carrd website builder is a fantastic resource for those seeking a simple yet stylish landing page creator. While undeniably an impressive and user-friendly option for building one-page websites, it faces stiff competition for the ultimate position. It's worth noting, however, that single-page sites inherently come with SEO drawbacks, such as limitations on keyword rankings due to their focus on a single central theme. This restricts your capacity to rank for an extensive array of keywords.
Carrd Review – Affordable One-Page Website Builder
07 Dec 2022
Carrd offers a straightforward and cost-effective solution for constructing one-page websites. However, if you envision a large, multi-page website when you think of the term "website," it's essential to recognize that Carrd differs from conventional site builders. While there are methods to create something resembling a multi-page website, Carrd primarily focuses on developing responsive single-page sites – making it perfect for portfolio pages, compact profile sites, and landing pages. This platform is well-suited for small businesses.
Other Tools Like
Carrd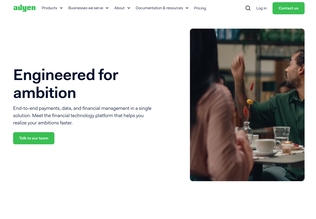 Adyen
adyen.com
Paid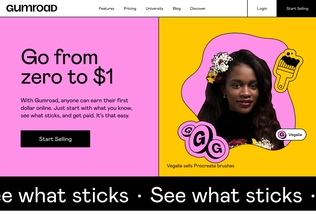 Gumroad
gumroad.com
Paid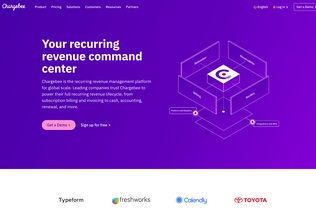 Chargebee
chargebee.com
Trial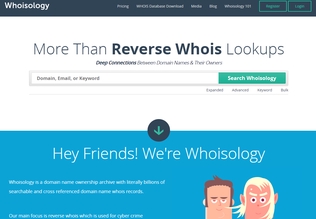 Whoisology
whoisology.com
Trial
Comments