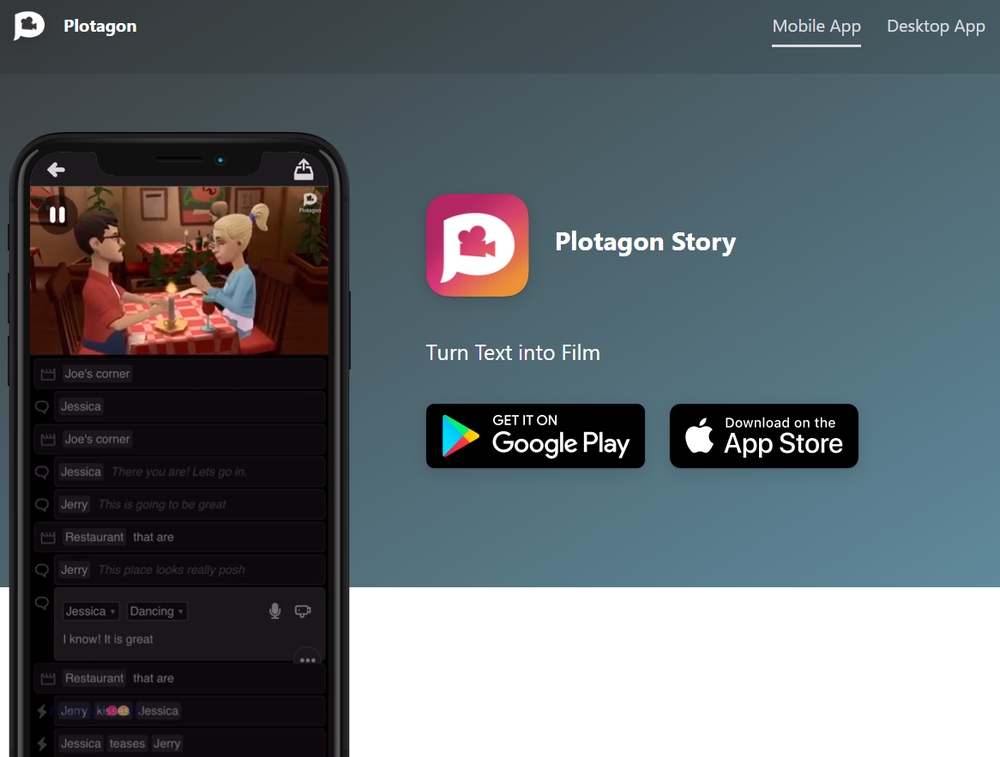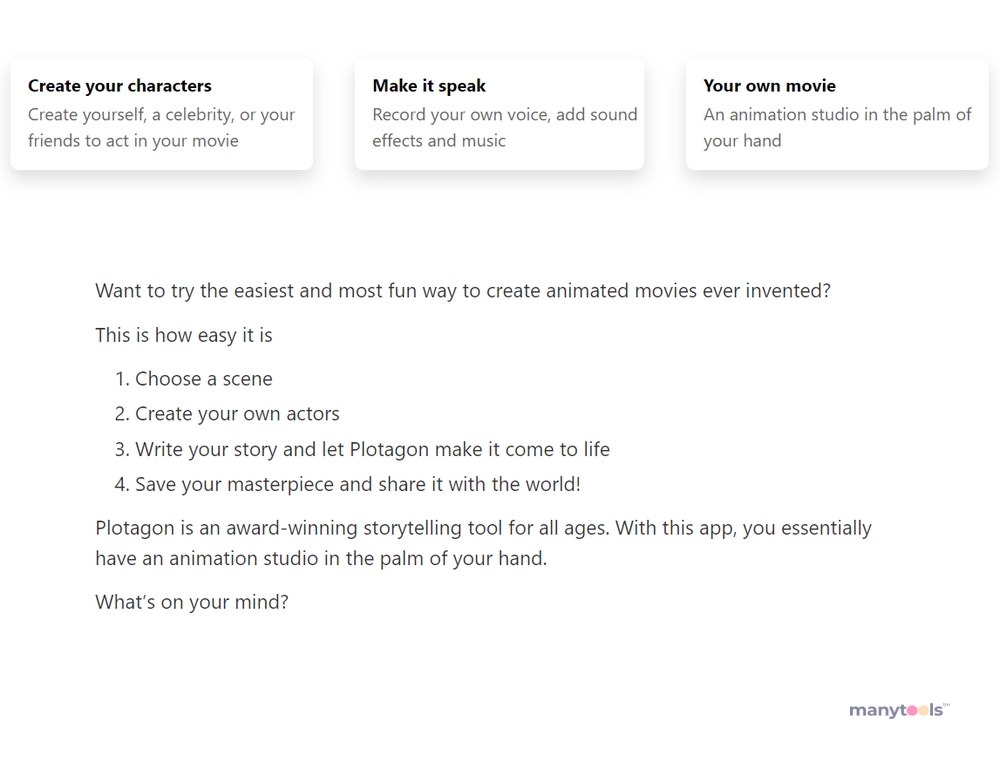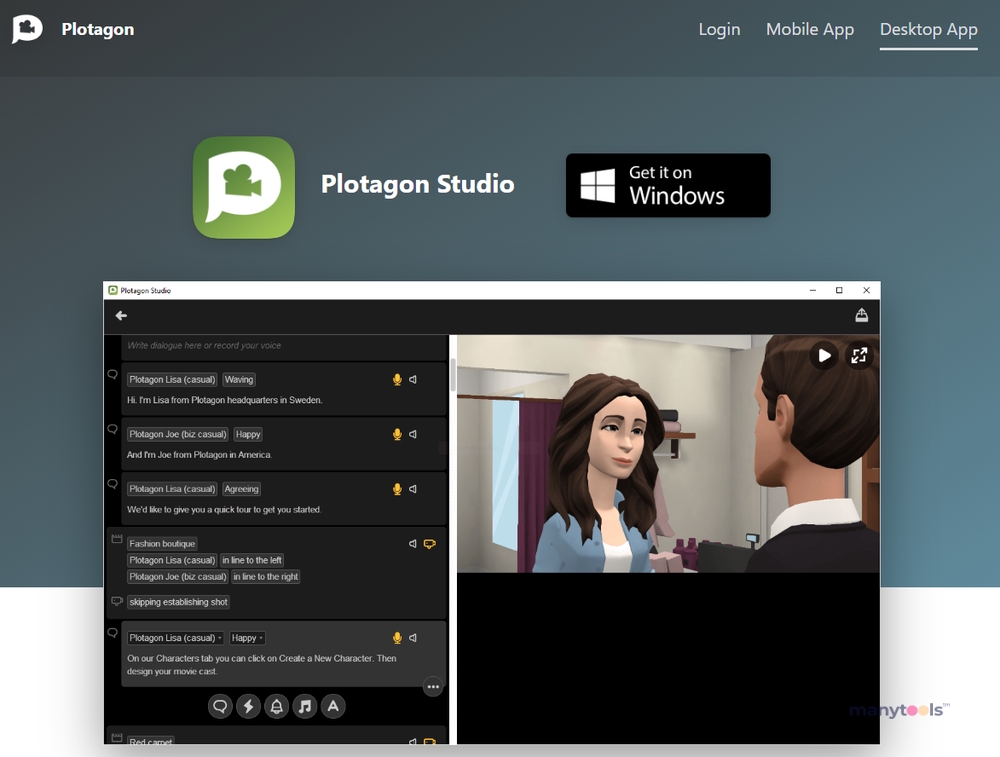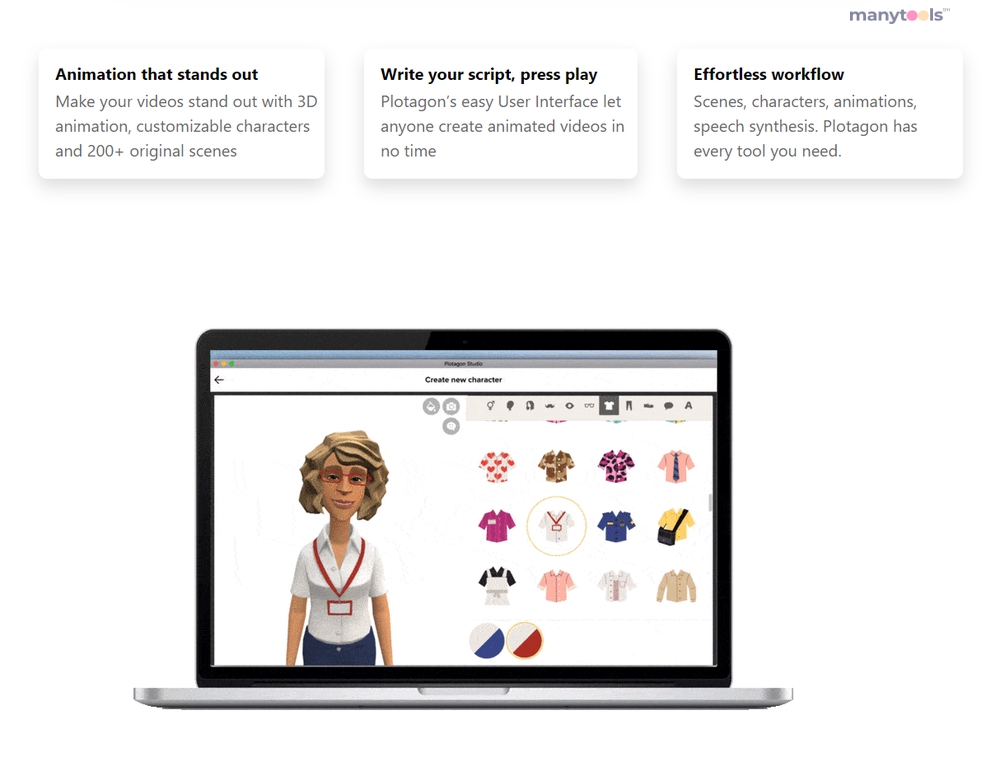 Welcome to Plotagon, an innovative and exhilarating platform that empowers you to transform your stories into captivating movies. It's a compelling tool that revolutionizes the way you express your narratives, bringing them to life with unparalleled authenticity.
At the Heart of Plotagon
Plotagon is a one-of-a-kind tool for storytellers, scriptwriters, and creatives at heart. It's an exceptional platform that leverages advanced technology to breathe life into your stories. Imagine your words coming to life in the form of a movie, with characters, dialogues, and scenes that mirror your imagination. That's the magic of Plotagon!
The Magic of Animated Storytelling
With Plotagon, you are not just a storyteller, but a movie director. You can create animated movies from your stories, complete with characters of your choice, unique dialogues, and tailored scenes. The tool offers a library of pre-designed, 3D animated characters and scenes, making the entire movie creation process a breeze.
Unleashing Your Creativity
Plotagon is an excellent platform for those who crave a unique, creative outlet. It's a space that encourages you to let your imagination run wild, to create intriguing storylines, engaging dialogues, and visually enticing scenes. It's the perfect tool for those who love to challenge their creativity and storytelling skills.
A Must-Have Tool for Digital Professionals
Whether you're a digital marketer looking for an engaging way to communicate your brand's story, a content creator in search of new, innovative ways to present your ideas, or a teacher looking to make your lessons more interactive, Plotagon is a must-have tool in your toolkit.
Experience the Future of Storytelling
Plotagon is more than just a tool; it's the future of storytelling. It's an experience that takes you on a journey from being a mere storyteller to becoming a movie director. It's an exciting, dynamic platform that transforms the way you narrate your stories, making them more immersive and engaging.
The Plotagon Community
Join the Plotagon community and be a part of an exciting, creative world where stories come to life. Share your movies, learn from others, and be inspired to create even more captivating stories. It's a community that celebrates creativity, storytelling, and the magic of animated movies.
Final Thoughts
In conclusion, Plotagon is an impressive tool that transforms your storytelling experience. It's a platform that encourages you to explore your creativity, to create movies from your stories, and to share them with a community of like-minded creatives. It's time to turn your stories into movies with Plotagon!
Other Tools Like
Plotagon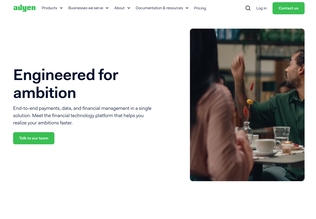 Adyen
adyen.com
Paid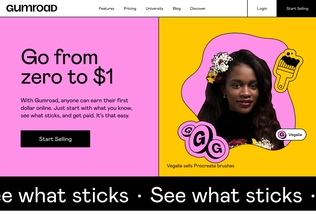 Gumroad
gumroad.com
Paid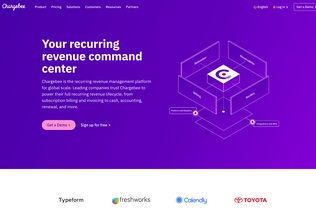 Chargebee
chargebee.com
Trial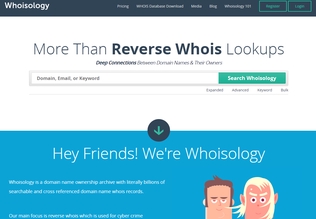 Whoisology
whoisology.com
Trial
Comments