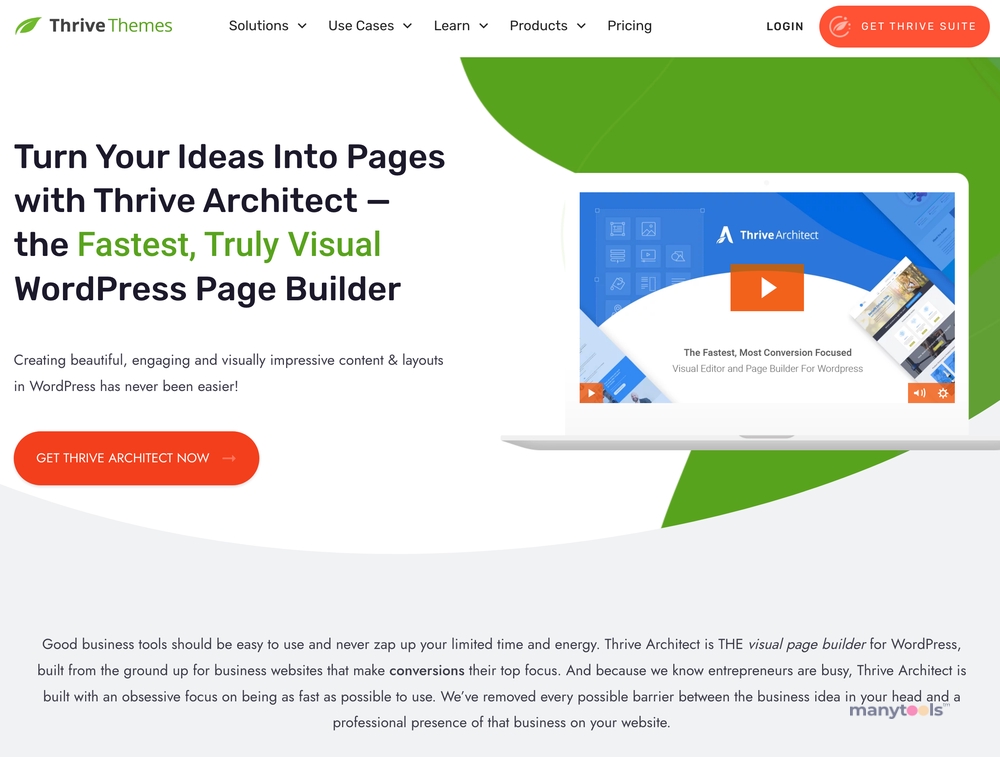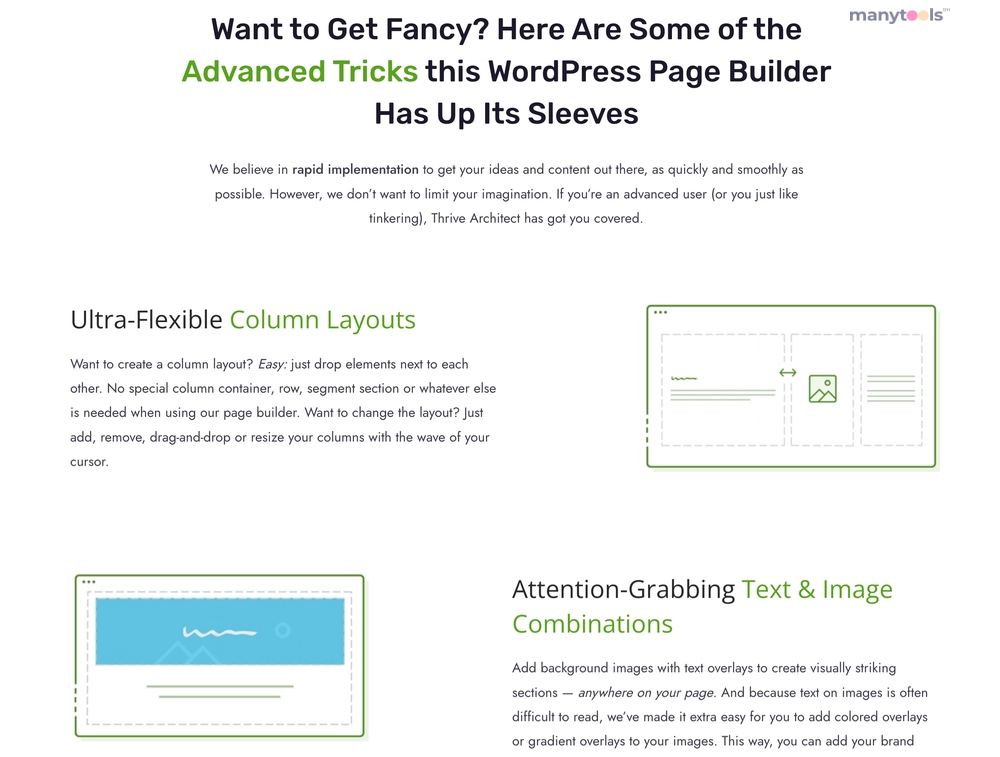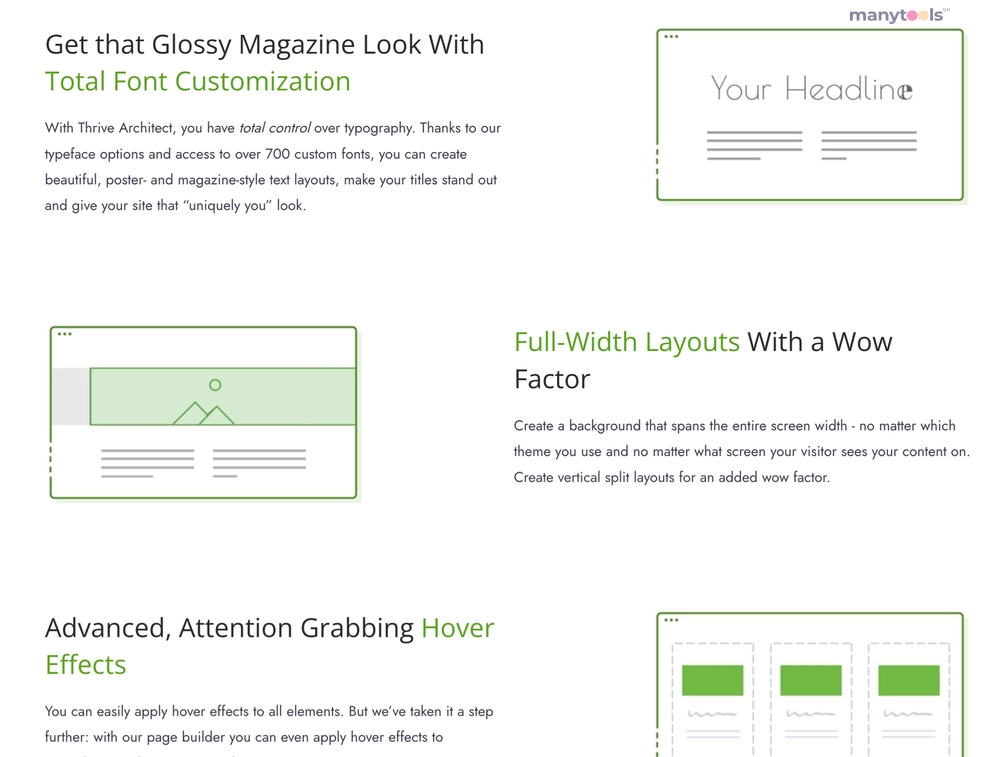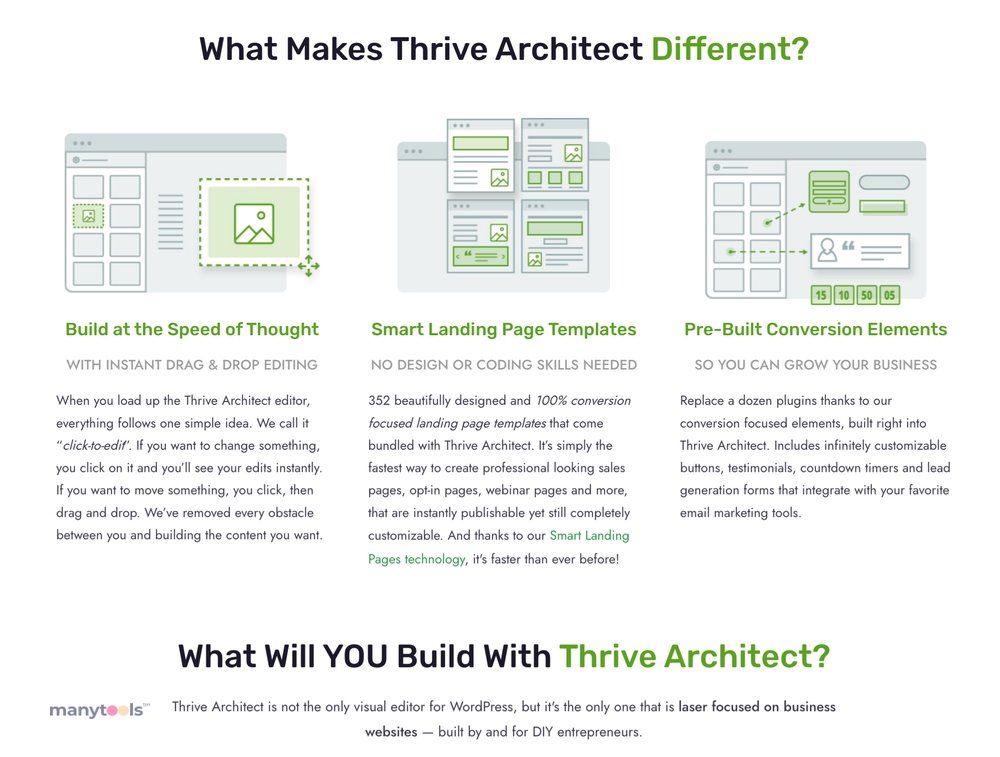 Welcome to the world of Thrive Architect, a game-changing WordPress Page Builder designed specifically for creative online business owners. This tool is more than just a page builder; it's a robust platform that transforms your website into a conversion-focused machine.
A New Approach to Web Design
Thrive Architect takes a fresh approach to web design, offering a truly visual front-end editor. This means you can say goodbye to the days of coding and welcome a new era of drag-and-drop functionality. This tool allows you to design at the speed of thought, bringing your creative visions to life in real-time.
Conversion-Focused Landing Pages
With Thrive Architect, your landing pages are more than just attractive; they're conversion-focused. Every element and feature of this WordPress Page Builder has been engineered to drive maximum conversions. From the layout to the color scheme, every decision you make with Thrive Architect is designed to engage your audience and drive them towards a specific action.
Power of Flexibility
Thrive Architect's main strength lies in its flexibility. No matter what your business needs, this tool can accommodate it. Whether you're creating a simple blog post or a complex sales funnel, Thrive Architect has the features and functionality to support your vision.
User-Friendly Interface
Despite its powerful capabilities, Thrive Architect remains remarkably user-friendly. Its intuitive interface allows even the most non-technical users to build stunning, high-converting web pages. With a little practice, anyone can master the art of page building with Thrive Architect.
Speedy Page Building
Time is money, and Thrive Architect understands this. The tool is designed to allow for fast, efficient page building. With its drag-and-drop editor and vast array of pre-designed templates, you can create beautiful, functional pages in a matter of minutes.
Thrive Architect, A True Asset
In a world where online presence is key, Thrive Architect emerges as a true asset. It empowers online business creators to build visually stunning and high-converting pages with ease. The tool combines simplicity, flexibility, and power, making it a must-have for any serious online business owner.
Step into the Future
Thrive Architect represents the future of web design. It's the tool that brings together speed, flexibility, and user-friendliness in a unique blend, making it an indispensable asset for online business creators. Adopt Thrive Architect today and step into the future of web design.
Thrive Architect Review & Tutorial 2023
This page builder's effectiveness is further enhanced by its seamless and effortless integration with other Thrive products, an aspect in which its competitors currently fall short. For those committed to building profitable websites, Thrive's suite offers some of the industry's best tools to help achieve that goal, with the page builder being a vital element in their interaction. In conclusion, it's worth giving Thrive Architect a try. With a 30-day money-back guarantee, you'll likely appreciate their landing page templates and conversion-oriented content at the very least.
Thrive Architect Review – The Best WordPress Page Builder Plugin?
Thrive Architect is undoubtedly a powerful tool for crafting custom content designs on WordPress websites. Whether you aim to incorporate conversion-focused elements like sign-up forms and calls to action or publish highly optimized sales pages, Thrive Architect is well-equipped for the job. After evaluating the plugin for this Thrive Architect review, it is evident that this page builder ranks among the best in its category, alongside Elementor, Divi, and Beaver Builder. One aspect where Thrive Architect surpasses its competition is its emphasis on generating conversions. If you're building a website for a business or seeking to drive more leads from your blog, Thrive Architect offers numerous features to transform your site into an effective marketing tool. With sales-focused features such as split testing tools (included in the Thrive Suite), opt-in forms, lightbox windows, and more, Thrive Architect is poised to help your business grow. Thrive Architect encompasses many essential and popular features found in standard page builder plugins, making it a well-rounded choice for those wanting to control their posts and pages' design. However, if you wish to customize other areas of your website, such as headers, footers, and archive templates, the Thrive Builder theme based on Thrive Architect is the ideal tool for you.
Thrive Architect Review 2023: The Best Page Builder Plugin?
Do we recommend it? Absolutely, it's an excellent landing page plugin that simplifies the process of creating conversion-focused landing pages and custom page layouts. Thrive Architect's visual editor enables highly advanced customization. All landing page templates are designed in themed sets, ensuring a complete sales funnel. The innovative "smart page" templates allow for rapid landing page design, while content block templates further expedite the design process. The A/B split-testing add-on for Thrive Architect provides an effortless way to enhance conversions without any technical complexities. Furthermore, the inclusion of other plugins in the Thrive Suite allows for expanded functionality on your website.
Other Tools Like
ThriveArchitect Landing Pages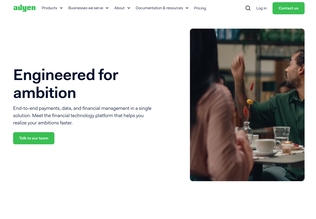 Adyen
adyen.com
Paid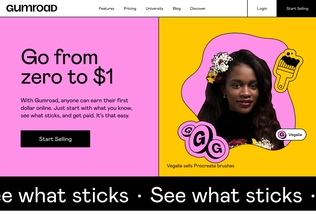 Gumroad
gumroad.com
Paid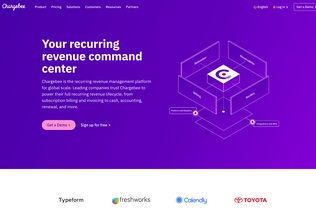 Chargebee
chargebee.com
Trial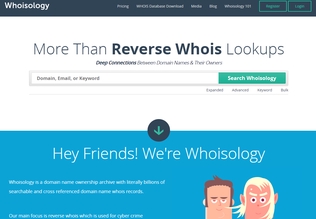 Whoisology
whoisology.com
Trial
Comments