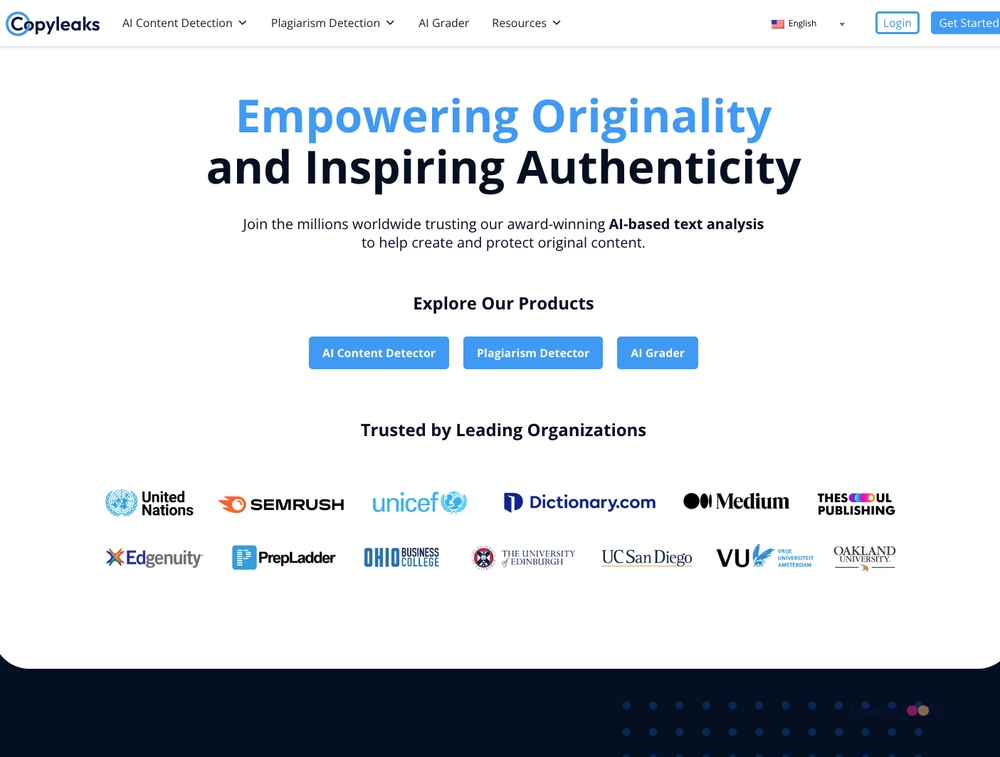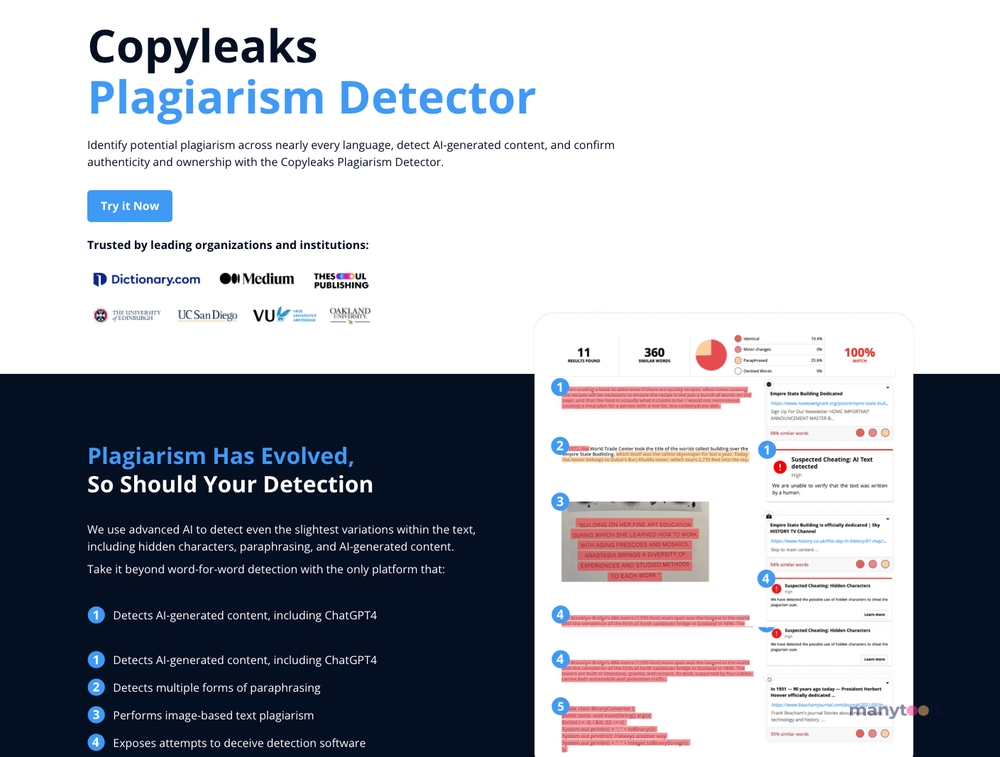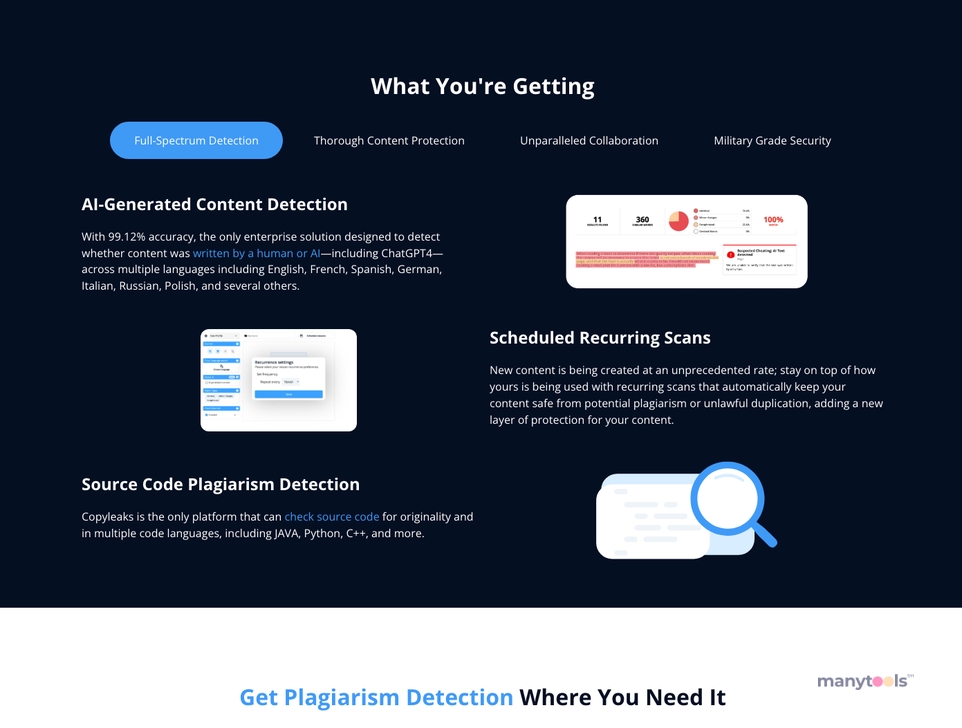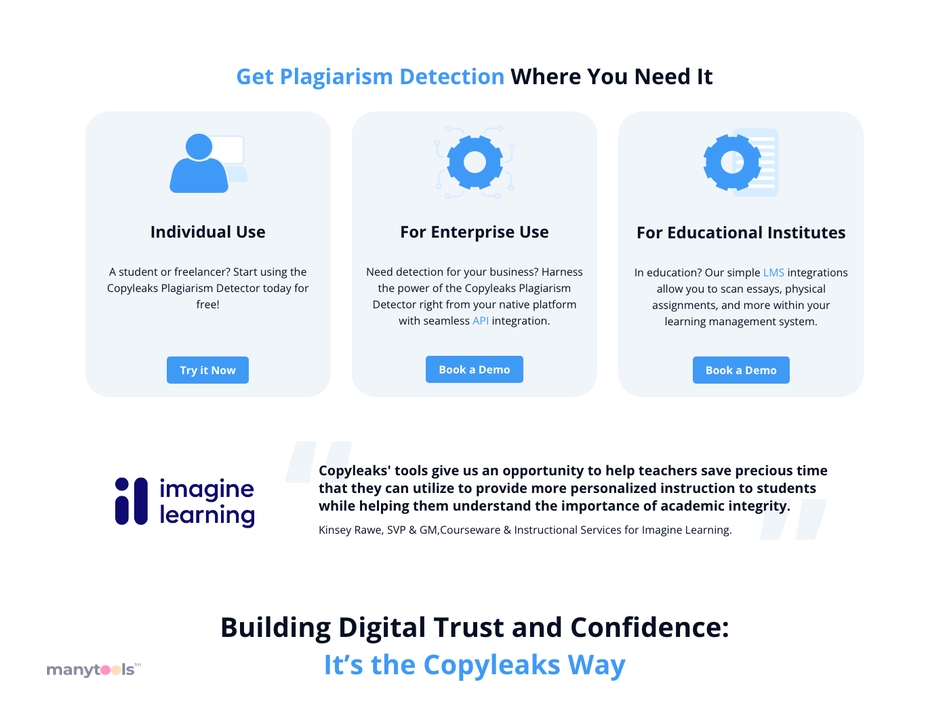 Introducing Copyleaks: The AI-driven Guardian of Authenticity
Meet Copyleaks, a tech marvel that's changing the game in the world of content creation. With its robust AI system, this tool stands as a vigilant sentinel, actively identifying plagiarized content and ensuring your work remains as original as possible.
A New Standard in Plagiarism Detection
Propelled by the power of Artificial Intelligence, Copyleaks swiftly scans your content to detect any instances of plagiarism. Nothing escapes the scrutinizing gaze of this tool. With Copyleaks, you can rest assured that your work remains authentic, original, and devoid of any unauthorized duplications.
Unveiling the Power of AI Content Detection
Copyleaks goes a step further to detect AI-generated content. In a world where AI-written content is increasingly becoming a norm, this feature is a breath of fresh air. Not only does it help uphold the standard of originality, but it also ensures that the human touch behind content creation is preserved and valued.
Empower Originality, Inspire Authenticity
Empowering originality and inspiring authenticity is the mantra that drives Copyleaks. This tool ensures that your work stands out in its unique style and substance. It's an invaluable asset for anyone who values originality and is determined to maintain it in their work.
Trusted by Millions Worldwide
The trust and reliance placed on Copyleaks by millions across the globe is a testament to its effectiveness. From content creators, SEO experts, to educators, Copyleaks has become an essential part of their toolkit. It enables them to maintain the quality and authenticity of their work, and in turn, helps build a more credible digital world.
Why Copyleaks?
In the digital age, where content is king, maintaining originality can be a daunting task. Copyleaks makes this task easier by providing a robust platform to detect plagiarized and AI-generated content. It's not just a tool; it's a trusted ally that ensures your work remains original and authentic.
The Future of Content Creation with Copyleaks
Imagine a world where every piece of content is as unique as its creator. That's the world Copyleaks is helping build. With its state-of-the-art technology, it's making content creation more transparent, credible, and original. And in doing so, it's not just changing the game; it's setting a new standard.
Copyleaks: Your Partner in Authentic Content Creation
In a nutshell, Copyleaks is more than just a tool; it's a partner that helps you create authentic content. It's the guardian of originality, the custodian of creativity, and the partner you need in your journey of content creation. With Copyleaks, you're not just creating content; you're creating a legacy of originality and authenticity.
Copyleaks AI Content Detection Review
11 Feb 2023
Copyleaks is well-regarded as a reliable plagiarism detection platform. As the need for AI content detection tools grows, they have expanded their offerings to include AI detection. Nevertheless, the platform is still evolving and might not excel in all aspects. If you require a rapid scan for AI-produced texts at no cost, Copyleaks is a wise choice. Moreover, the rapidity provided by Copyleaks is unrivaled, delivering results within seconds.
CopyLeaks AI Content Detector Review (2023): Does It Work?
18 Jan 2023
The CopyLeaks AI tool seems to struggle with identifying content generated by modern AI models like ChatGPT. While it may have been effective before the emergence of such advanced models, it fails to detect ChatGPT-produced content, which is a significant drawback considering the prevalence of ChatGPT in AI-written content nowadays. To be fair, most of the AI detection tools I've experimented with are not entirely effective. Some boast a 90% accuracy rate, but that still falls short of providing a fully dependable solution.
Other Tools Like
Copyleaks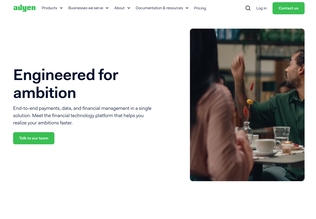 Adyen
adyen.com
Paid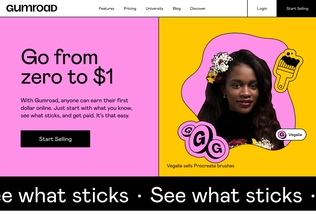 Gumroad
gumroad.com
Paid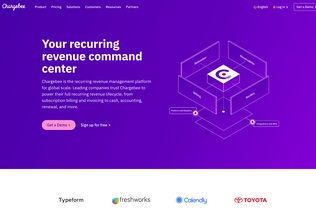 Chargebee
chargebee.com
Trial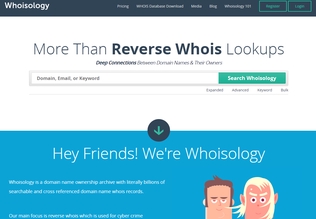 Whoisology
whoisology.com
Trial
Comments