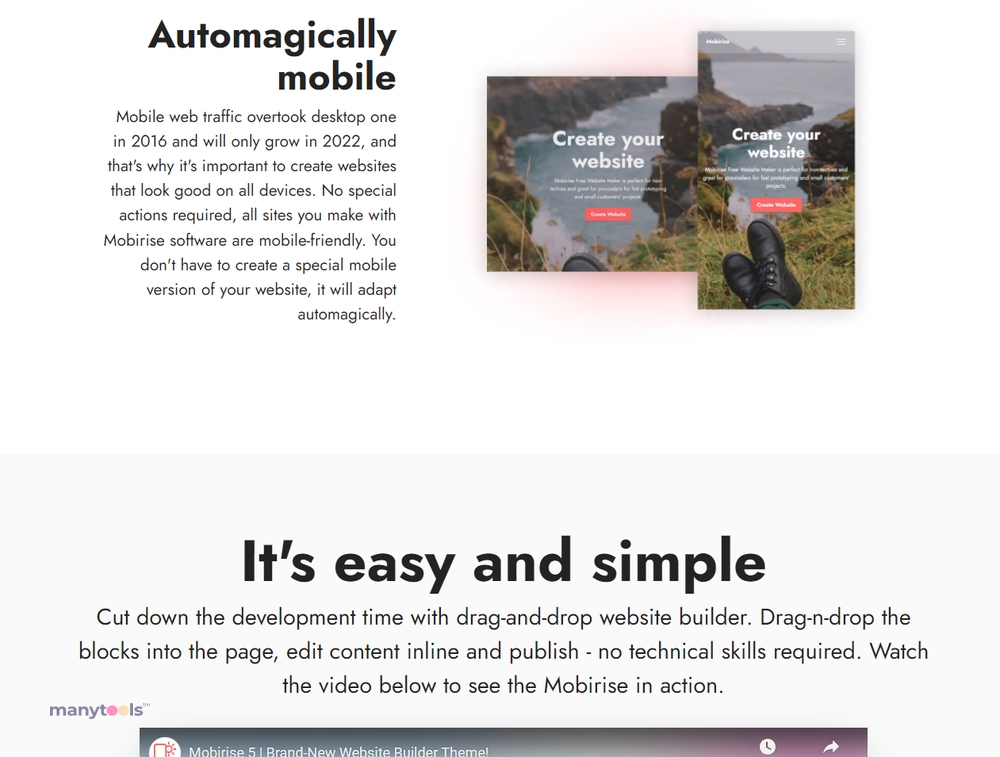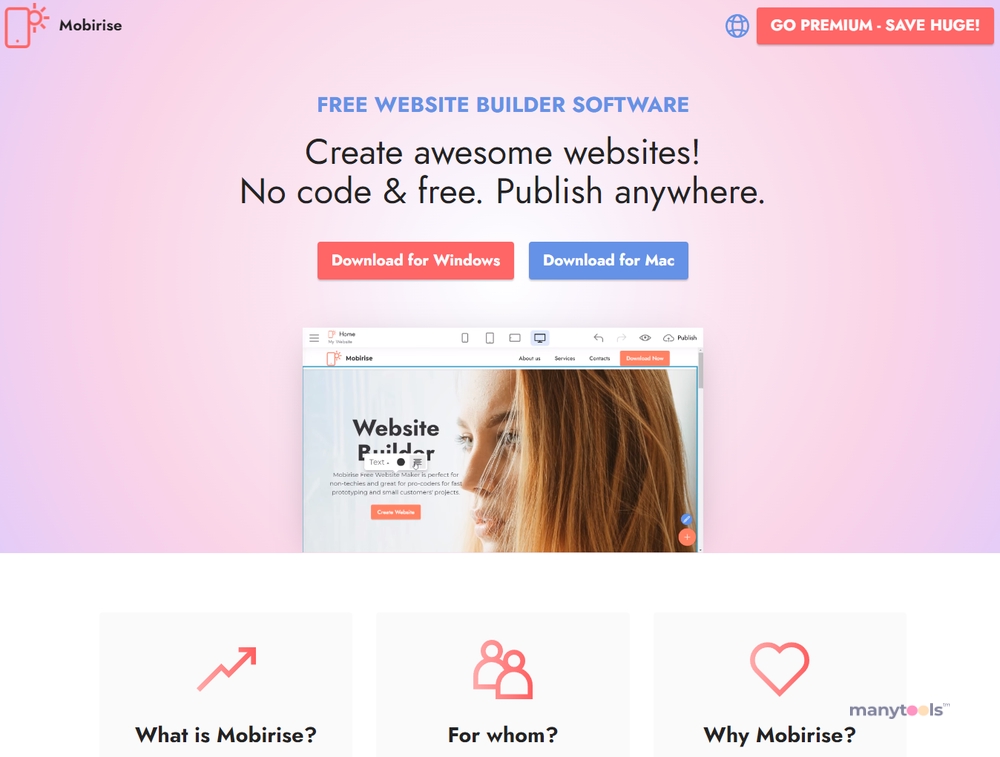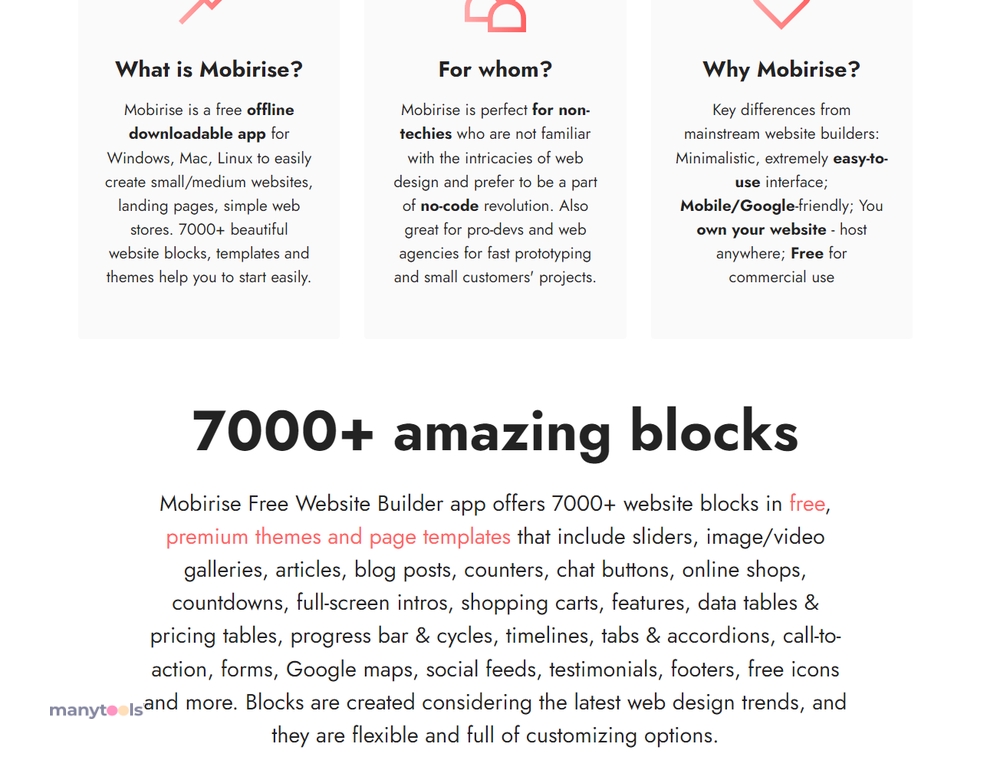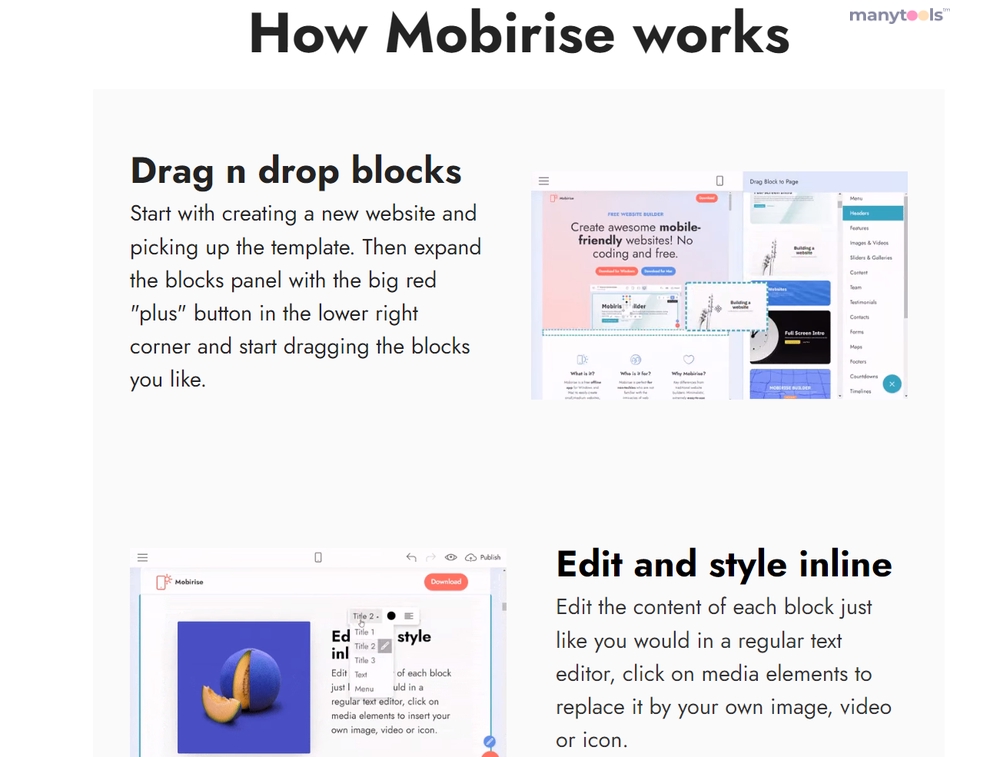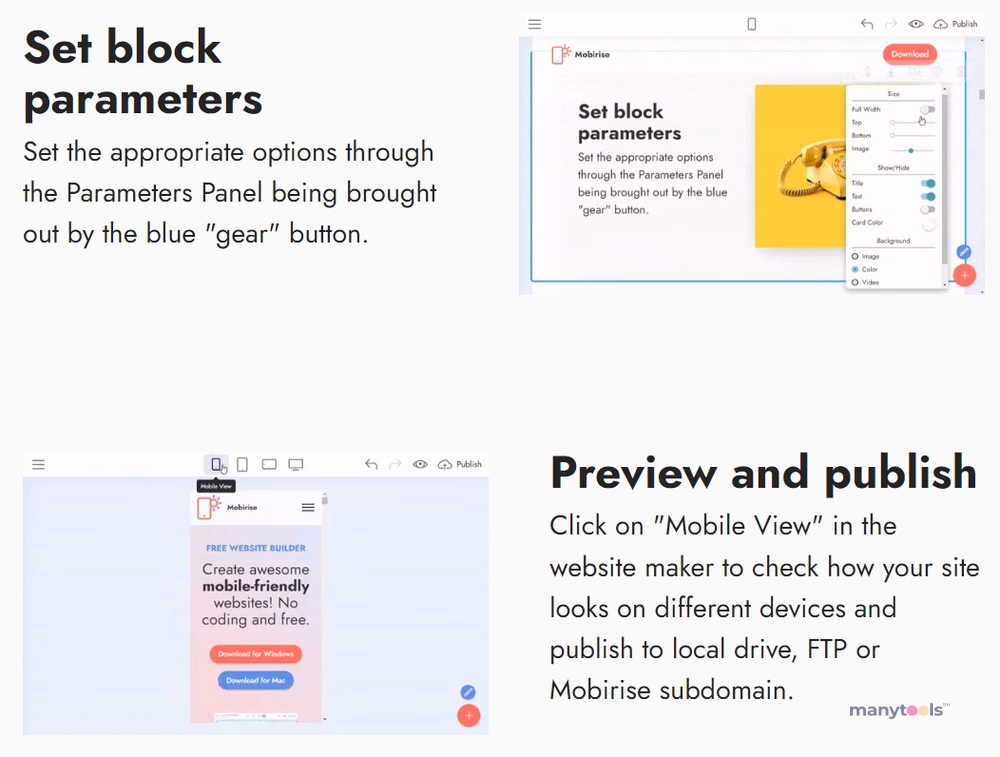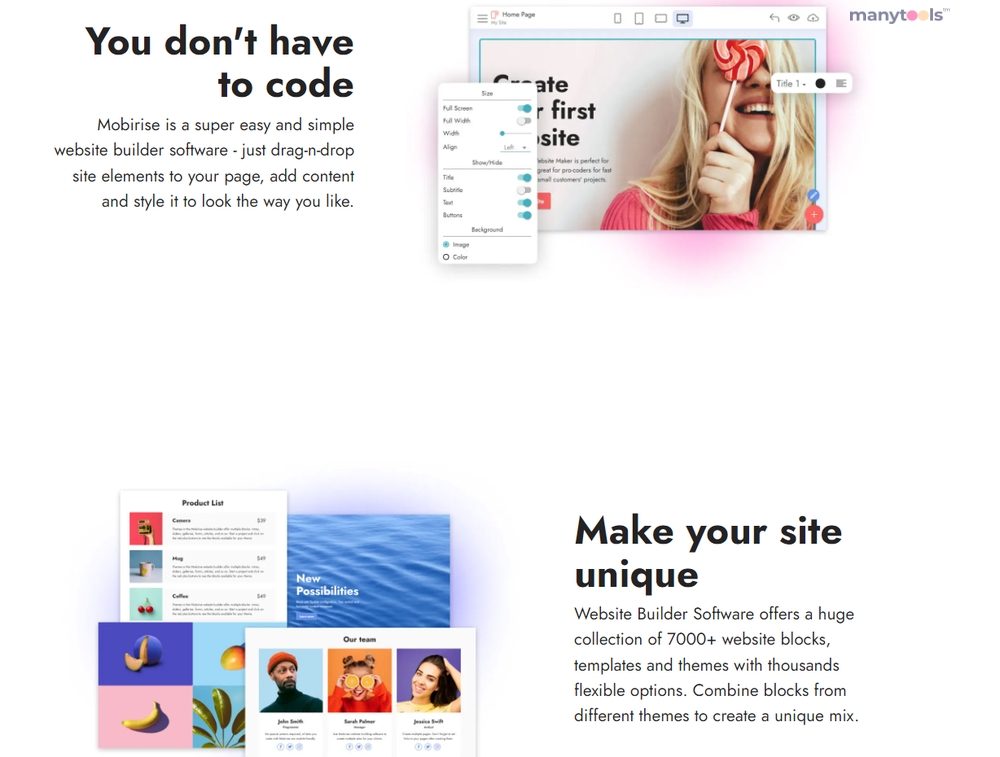 Discovering Mobirise
Mobirise is not just another website builder; it's a potent tool that empowers you to create high-quality websites without needing any coding knowledge. With its impressive range of over 7600 templates, you are bound to find the perfect design to match your vision.
Explore the Ease of Use
Mobirise doesn't just boast about being user-friendly, it lives up to the hype. The software is designed for convenience, letting anyone, from a tech newbie to a seasoned developer, create a website smoothly. With easy drag-and-drop functionality, building your website becomes a breeze.
Embrace the Freedom of Design
Freedom is at the core of Mobirise's philosophy. It gives you the liberty to experiment with your designs, ensuring that your website stands out from the crowd. Pick from a vast array of templates, tweak them to your heart's content, and create a unique digital masterpiece.
Experience the Power of No-code
In this day and age, where time is of the essence, Mobirise offers you a quick and efficient way to build your website. Its no-code approach means you don't have to worry about learning complex programming languages or dealing with tedious coding tasks.
Leverage the Versatility
Mobirise is more than just a website builder. It's a versatile tool that caters to a wide range of digital professionals. Whether you are a developer, a designer, an SEO guru, a webmaster, an affiliate marketer, a growth hacker, a data analyst, or a content creator, Mobirise opens up a world of possibilities for you.
It's Free!
One of the most appealing aspects of Mobirise is its price tag - it's free! This incredible tool offers a cost-effective solution for anyone looking to build a professional-looking website without breaking the bank.
The Final Verdict
Mobirise is a game-changer in the world of website builders. Its intuitive interface, no-code approach, extensive template library, and price (or lack thereof) make it an invaluable tool for digital professionals of all backgrounds. If you're in the market for a new website builder, Mobirise is well worth considering.
Mobirise Website Builder Review
26 Apr 2022
Considering everything, Mobirise undeniably stands as a solid choice for crafting a straightforward website. Its builder boasts impressive strength while maintaining user-friendliness, and the complimentary plan is exceptional, with a wide array of advanced features available. Although the subpar ecommerce and blogging tools may deter some users, there is still much to appreciate about the platform. In conclusion, if you seek a free, easy-to-navigate website builder with outstanding editing capabilities, Mobirise is a top contender.
Mobirise Review
21 Mar 2023
Regardless of your expertise, Mobirise enables you to create the perfect website effortlessly. Its user-friendly drag-and-drop feature is perfect for novices, while seasoned web developers can tailor it to their needs using the Code Editor tool. Moreover, the pricing is quite reasonable, allowing you to construct a simple site for free. To access additional extensions and add-ons, you can purchase them separately or subscribe to the Website Builder Kit for a mere $149.
Mobirise Review: Is It The Best HTML Website Builder Of 2023?
Mobirise is an incredibly user-friendly and effective tool. We receive outstanding feedback from our users, praising its time-saving, cost-effective nature. There's no need to enlist the help of a developer or designer, as you can handle everything independently. Discover the simplicity of Mobirise quickly and choose from a range of free themes and extensions, or opt for the paid versions. Regardless of your choice, Mobirise is guaranteed to impress you.
Other Tools Like
Mobirise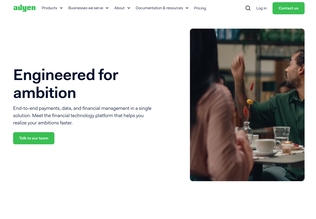 Adyen
adyen.com
Paid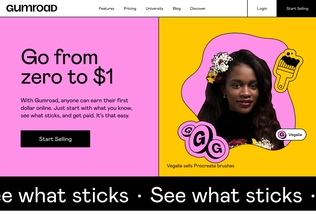 Gumroad
gumroad.com
Paid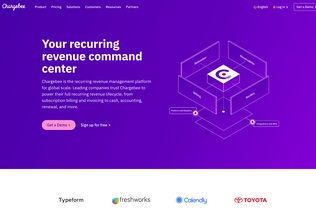 Chargebee
chargebee.com
Trial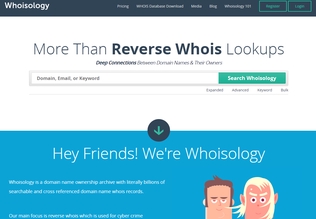 Whoisology
whoisology.com
Trial
Comments