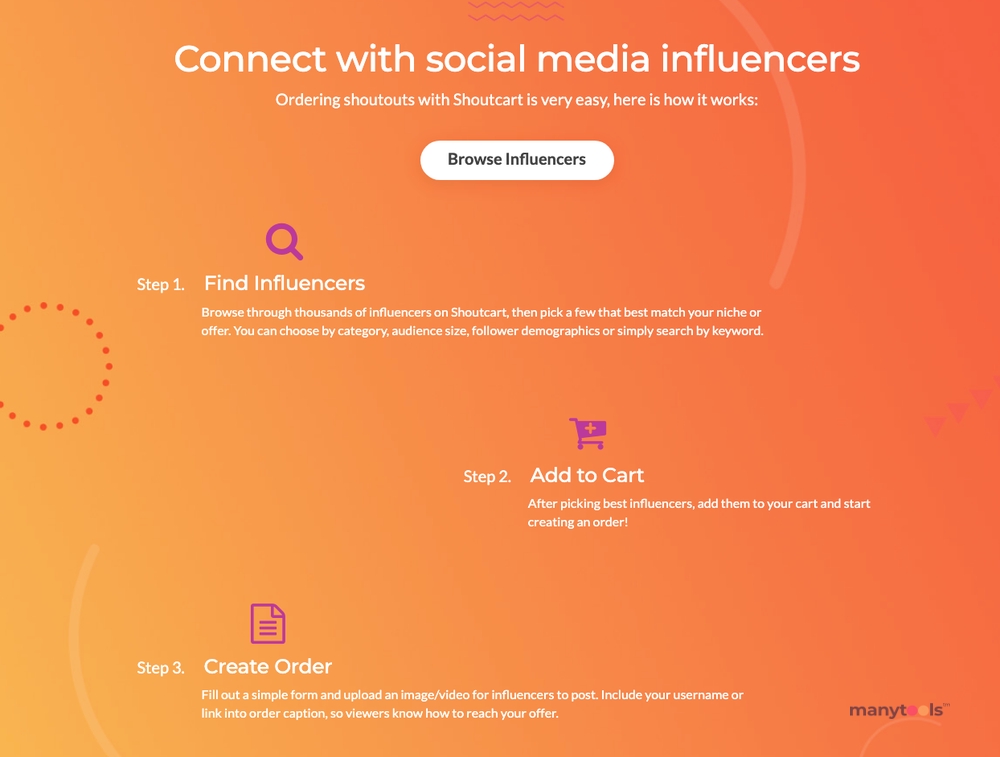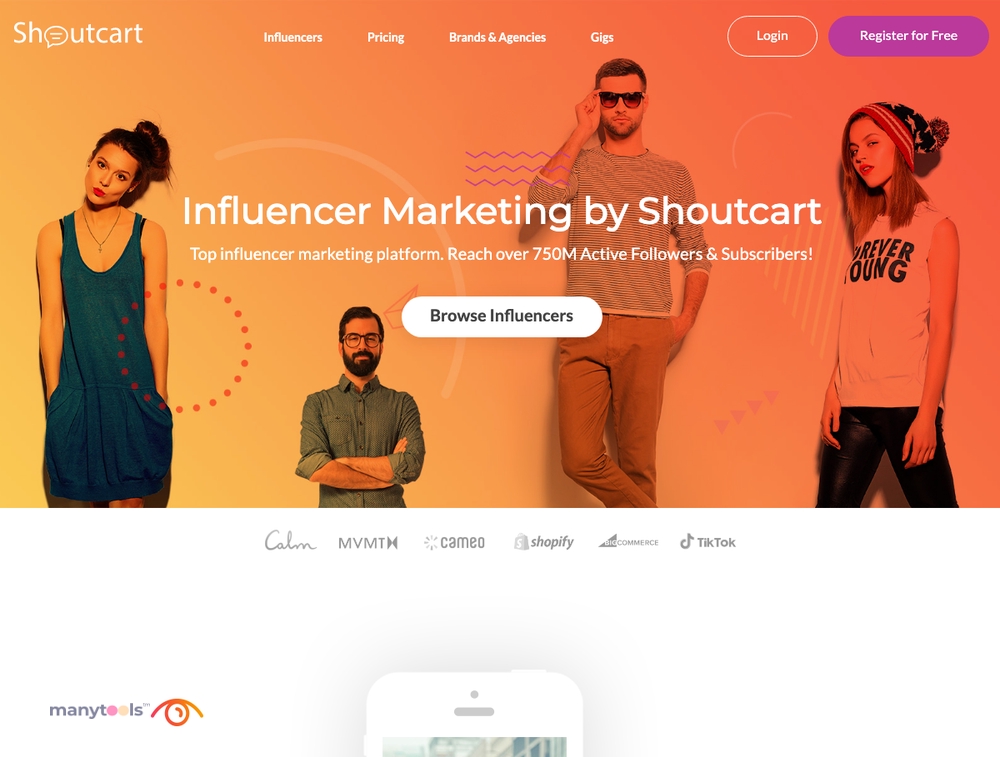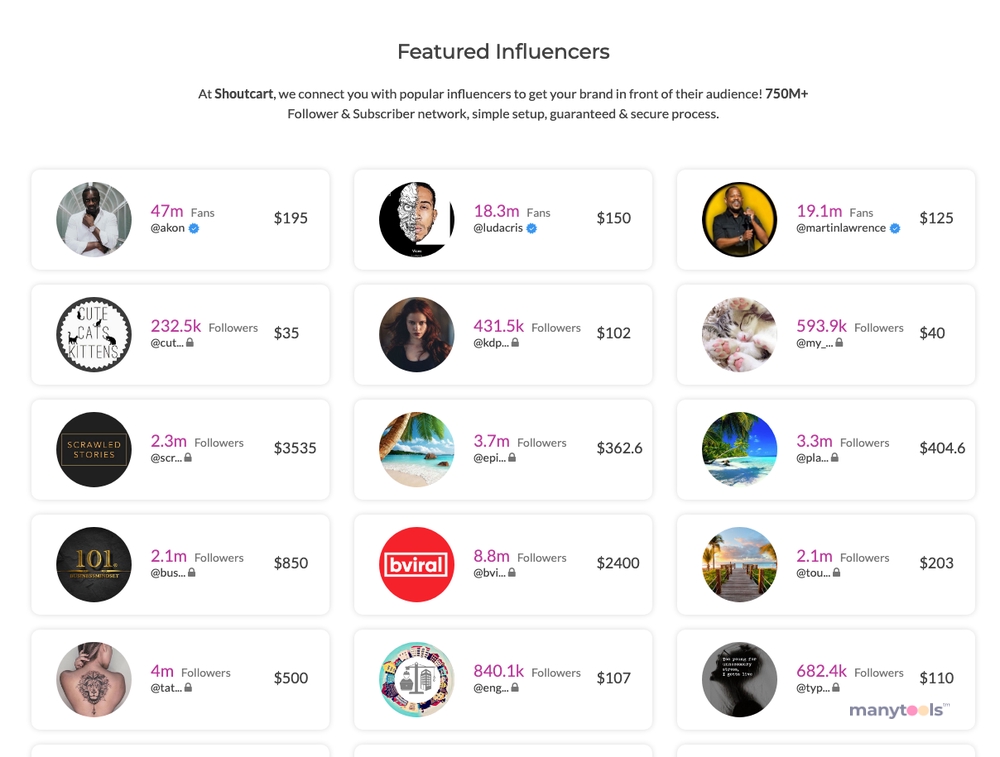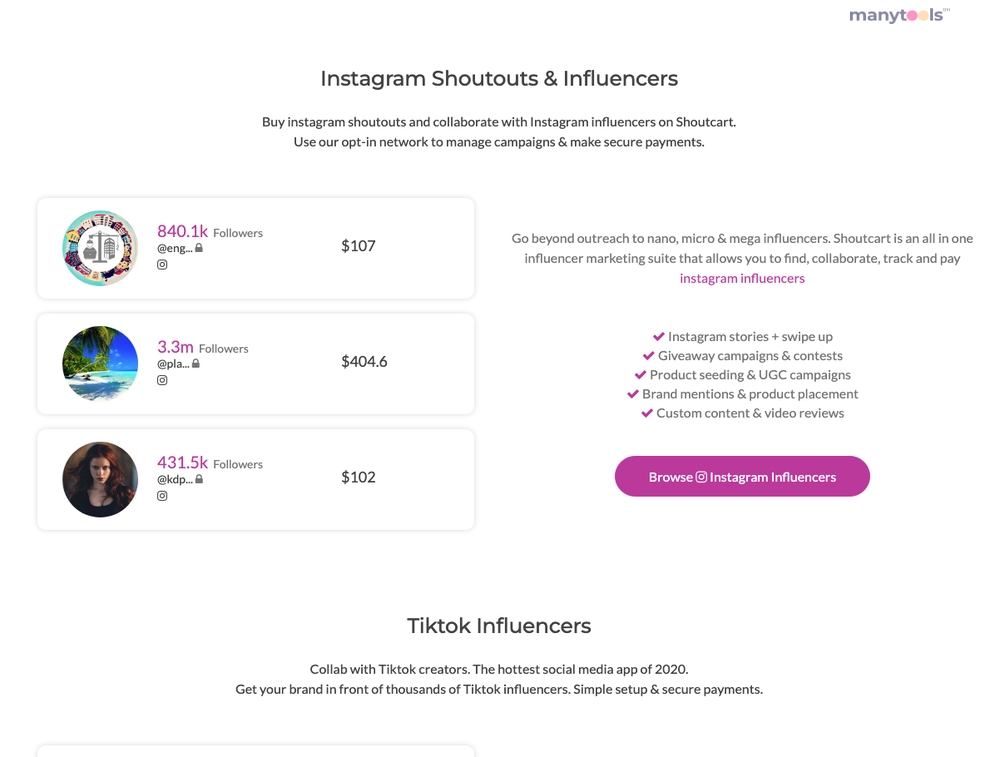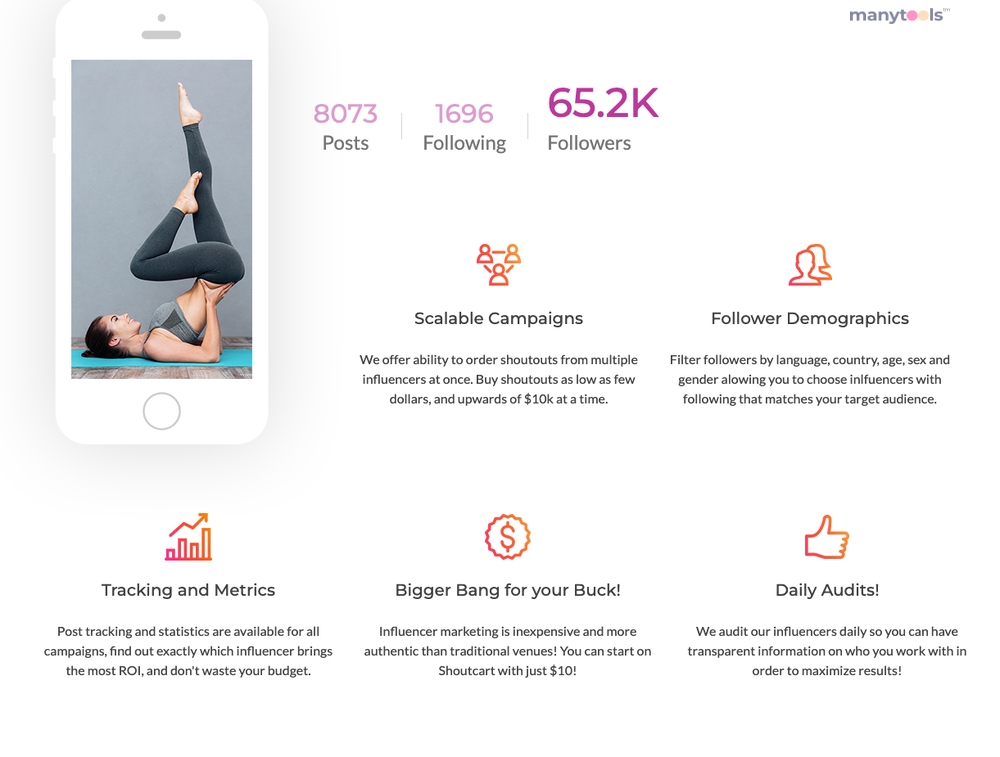 ShoutCart: The Influencer Marketplace
ShoutCart is a dynamic platform that bridges the gap between brands and social media influencers on Instagram, TikTok, and YouTube. With a simple, streamlined interface, it allows users to buy shoutouts and hire influencers in seconds, making it an essential tool for digital professionals looking to boost their online presence.
Bolster Your Brand's Visibility
ShoutCart offers a vast marketplace of influencers across various social media platforms, providing brands with the opportunity to reach new, targeted audiences. With an easy-to-navigate search function, you can find the perfect influencer to shout out your brand, enhancing your visibility and credibility with just a few clicks.
User-Generated Content Made Easy
The platform isn't just about shoutouts. ShoutCart also provides a platform for purchasing user-generated content, an increasingly popular form of advertising. With this feature, brands can acquire authentic and relatable content created by influencers, adding a personal touch to their marketing strategies.
Hiring Influencers: A Seamless Experience
The process of hiring influencers on ShoutCart is designed to be swift and hassle-free. With a vast array of influencers ready to promote your brand, you can find the perfect fit for your marketing needs. You're just seconds away from taking your brand's online presence to the next level.
Broaden Your Reach: Instagram, TikTok, and YouTube
ShoutCart leverages the power of three major social media platforms - Instagram, TikTok, and YouTube - to help brands reach a wider audience. By tapping into the follower base of influencers on these platforms, brands can increase their reach and engagement significantly.
Impactful and Efficient
ShoutCart is a testament to the power of influencer marketing. With an array of influencers at your disposal, you can create impactful campaigns that resonate with audiences. Plus, with the option to purchase user-generated content, you're not just buying a shoutout - you're buying a valuable marketing asset.
Final Thoughts
ShoutCart is a comprehensive, easy-to-use platform for brands and influencers. With a few simple clicks, you can hire influencers, buy shoutouts, and purchase user-generated content to enhance your brand's online presence. Whether you're a digital professional, an SEO guru, or a growth hacker, ShoutCart offers an efficient and effective solution for your influencer marketing needs.
Shoutcart Review 2022: Features, Pricing, Alternatives
In conclusion, Shoutcart proves to be an exceptional and cost-effective method for promoting a store. Users need not worry about budget constraints, spending thousands of dollars, or negotiating since the platform is transparent about pricing and offers fixed charges. It is user-friendly, affordable, and delivers outstanding results. What sets it apart is the effortless access to an extensive list of mega-influencers, making it possible to collaborate with them and create cost-effective campaigns. Shoutcart is an ideal platform for simplifying influencer marketing for brands, as it enables running multiple campaigns without consuming too much time.
Shoutcart Review 2023 : Is It a Reliable Platform to Get Shoutouts?
If you're looking to discover niche influencers to promote your content, Shoutcart is certainly worth exploring, as it can effectively help you gain more followers. In contrast to other platforms, Shoutcart eliminates the need for a lengthy process of contacting influencers and negotiating prices. The procedure is as simple as possible. You can directly view influencer profiles and their rates on the platform. If you're interested in collaborating with an influencer, you can send them an order request, along with the content you'd like them to share. With no personal contact required, you can save time by avoiding lengthy email exchanges and waiting for approvals.
Shoutcart Review 2022 Pricing, Alternatives, Use-Cases, Pros & Cons
With over 100,000 brands placing their trust in Shoutcart, it undoubtedly offers significant advantages. It serves as a hassle-free solution, enabling you to buy shoutouts from influencers without facing outreach challenges or payment complications. Moreover, the platform boasts incredible features. To summarize, let's briefly review and evaluate Shoutcart as an influencer marketing tool.
Other Tools Like
ShoutCart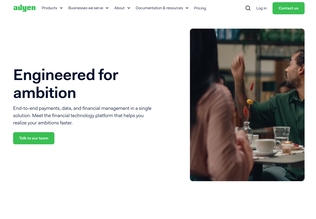 Adyen
adyen.com
Paid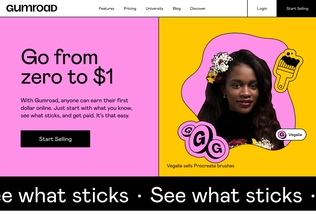 Gumroad
gumroad.com
Paid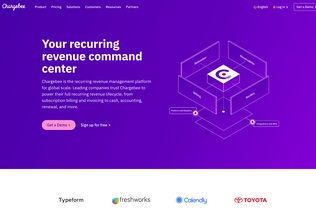 Chargebee
chargebee.com
Trial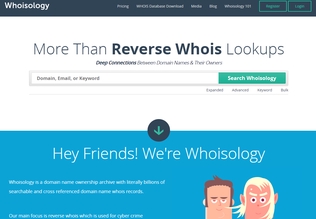 Whoisology
whoisology.com
Trial
Comments