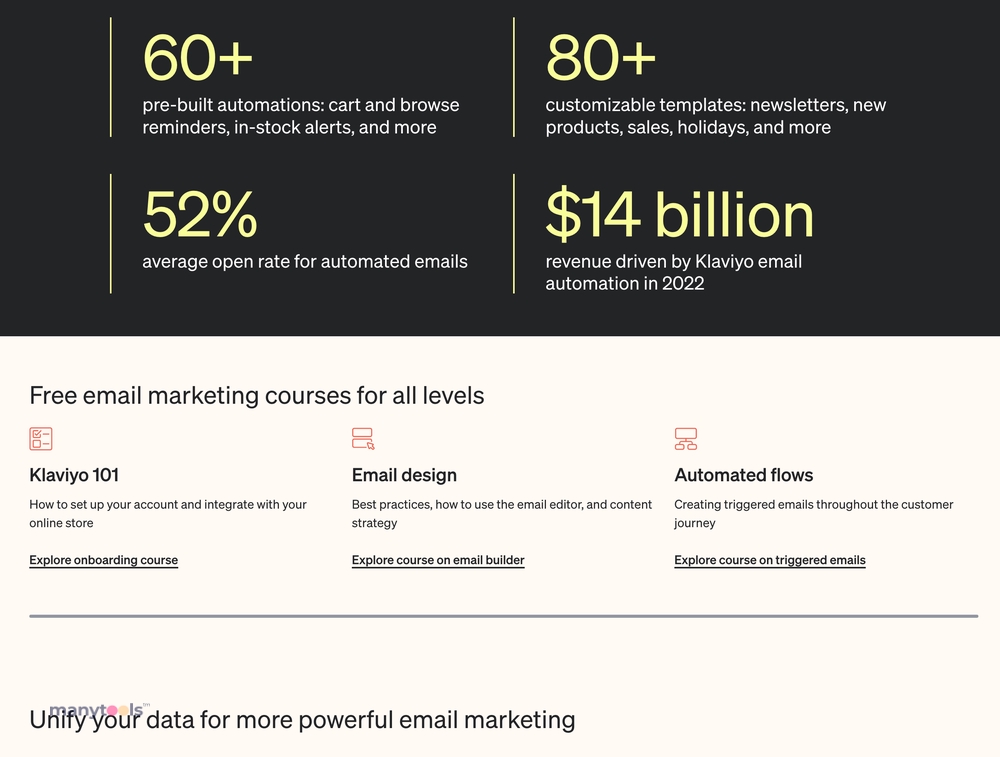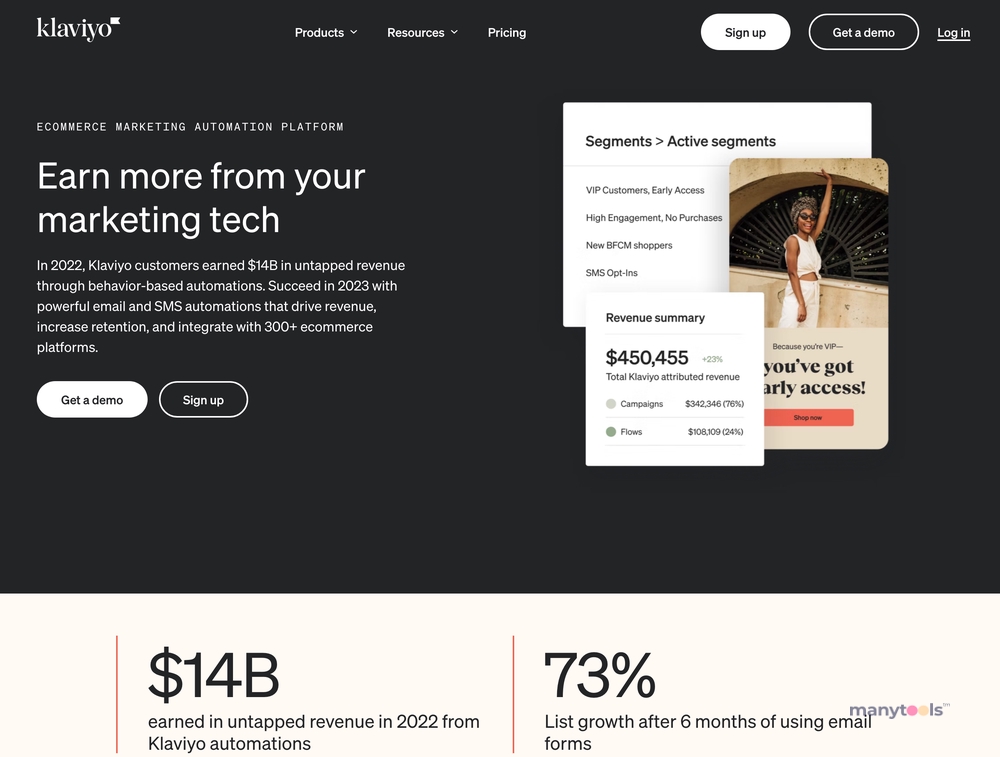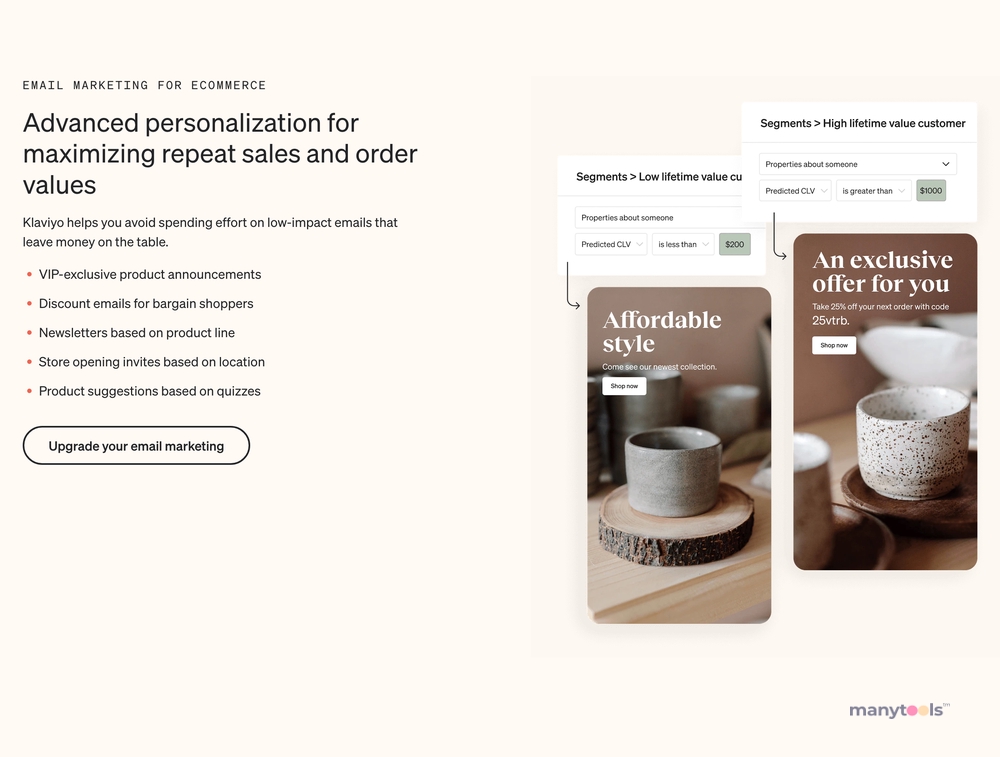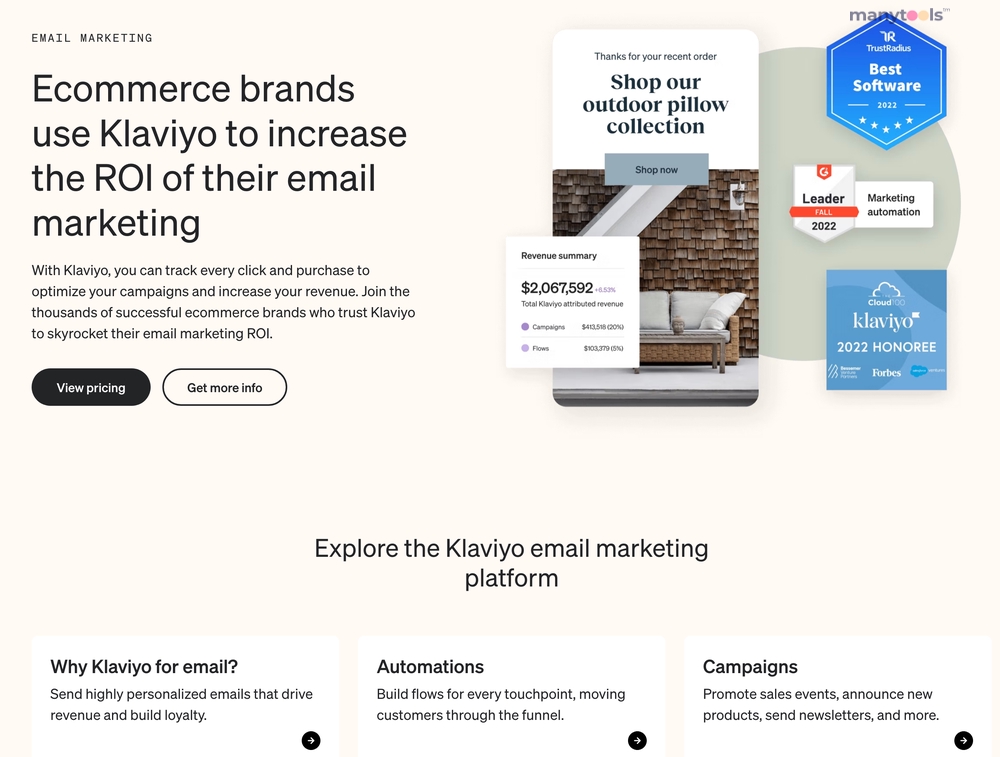 Klaviyo: A Marketer's Dream
Step into the future of marketing automation with Klaviyo. This is no ordinary tool – it's a powerhouse designed to transform data into gold. Whether you're an entrepreneur, small business owner, or part of a large enterprise, Klaviyo is your secret weapon for dynamic and efficient growth.
Harness the Power of Customer Data
Klaviyo is all about intelligent marketing automation. It leverages a plethora of customer data to craft hyper-personalized messages. The tool's intelligent algorithms analyze your customer's shopping behavior, preferences, and purchasing habits, allowing your business to reach out with precision and relevancy. This isn't just about sending a message; it's about sending the right message to the right person at the right time.
SMS and Email Marketing Redefined
Klaviyo's capabilities extend beyond email marketing. It also incorporates SMS marketing, giving your business an all-encompassing communication tool. With Klaviyo, you can create targeted SMS campaigns that complement your email strategies, ensuring a consistent and seamless marketing experience for your customers.
Maximize Efficiency, Accelerate Growth
Time is of the essence in any business, and Klaviyo understands that. The tool is designed for speed and efficiency, helping you streamline your marketing efforts and reach your growth targets faster. With Klaviyo, you can automate repetitive tasks, freeing up your time to focus on strategic decision-making and creativity.
Reliability and Ease-of-use
Klaviyo's intuitive interface makes it a joy to use. It's user-friendly, easily navigable, and loaded with features that are as powerful as they are practical. Above all, Klaviyo is reliable. When you trust your marketing automation to Klaviyo, you can rest assured that your campaigns will run smoothly and effectively.
A Must-have Tool
Whether you're a seasoned marketing pro or a newcomer, Klaviyo is a tool that belongs in your arsenal. It's not just about automating your marketing efforts, it's about doing so intelligently and effectively. With Klaviyo, you're not just reaching out to customers; you're connecting with them on a personal level, fostering loyalty and driving sales. It's the ultimate tool for anyone serious about growth.
Klaviyo is a marketing automation instrument offering sophisticated email and SMS marketing features. This user-friendly, cloud-based platform boasts a strong collection of essential integrations. It caters to online enterprises such as retailers, service providers, and those seeking marketing automation solutions. Klaviyo is particularly suitable for small businesses employing marketing tactics to sell various products or services online. Its customer data tracking allows converting online customer behavior into valuable insights for customization and in-depth segmentation.
Klaviyo Review: Pros & Cons, Features, Ratings, Pricing and more
19 Jan 2023
Klaviyo is a fantastic marketing solution for e-commerce brands, allowing smooth customer interaction via email and SMS. This platform eliminates the hassle of managing your marketing efforts to boost sales. Klaviyo's user-friendly interface is effortless to navigate, with features conveniently organized on the left side of the dashboard for easy switching. The minor downside is that Klaviyo offers numerous features, requiring a significant amount of time to familiarize yourself with the platform.
Klaviyo: Email, SMS & Forms Shopify App Review and Tutorial
Klaviyo holds the top position as an ecommerce marketing platform within the Shopify ecosystem. The Klaviyo: Email, SMS & Forms app is highly regarded among Shopify store owners, earning its reputation as one of the most popular email solutions. By leveraging your Shopify store data, Klaviyo automatically dispatches abandoned cart emails to customers while offering additional features like A/B testing tools, segmentation, a responsive drag-and-drop email creator, and more.
Other Tools Like
Klaviyo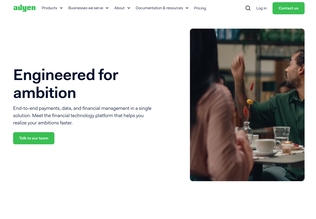 Adyen
adyen.com
Paid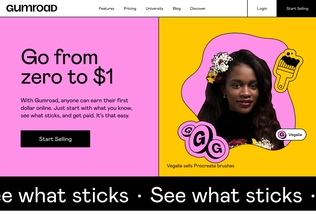 Gumroad
gumroad.com
Paid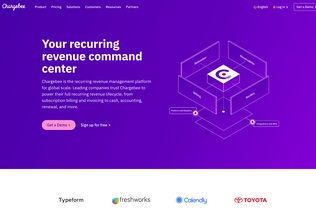 Chargebee
chargebee.com
Trial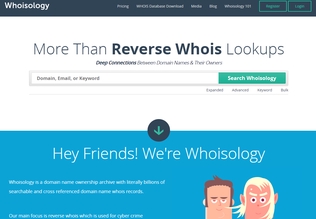 Whoisology
whoisology.com
Trial
Comments