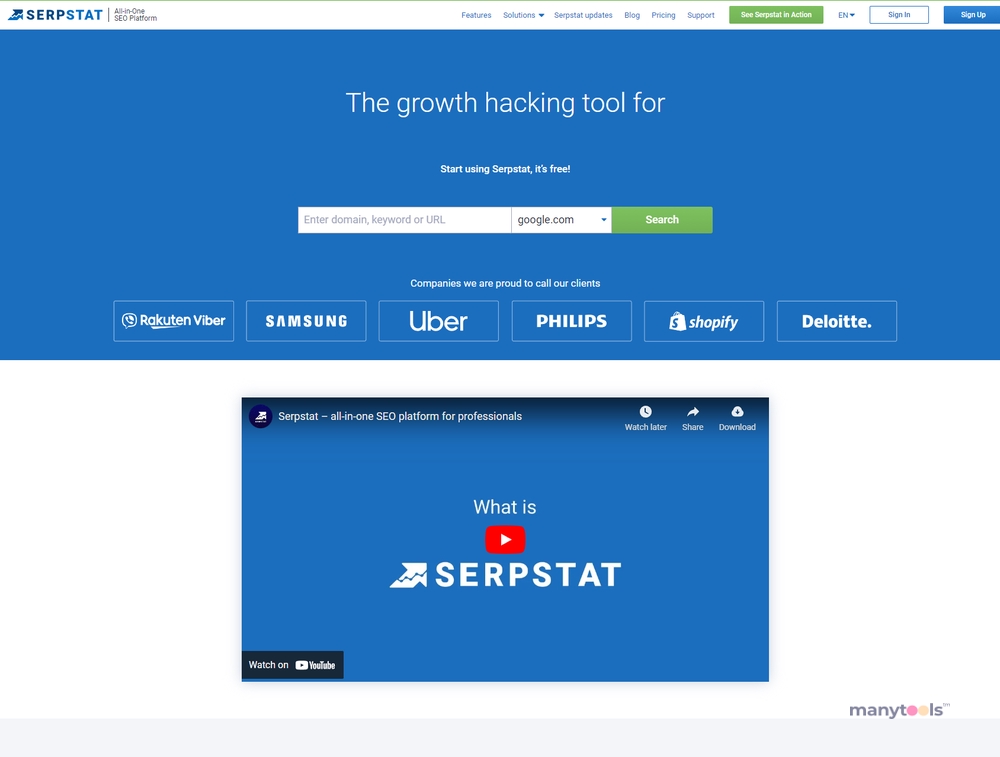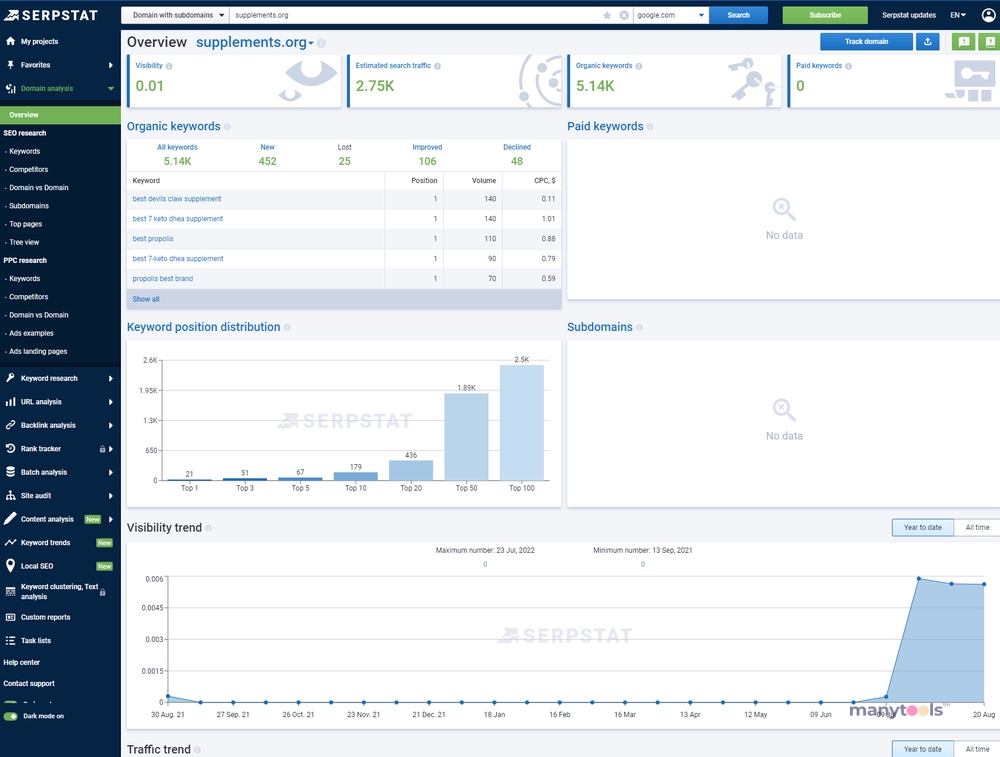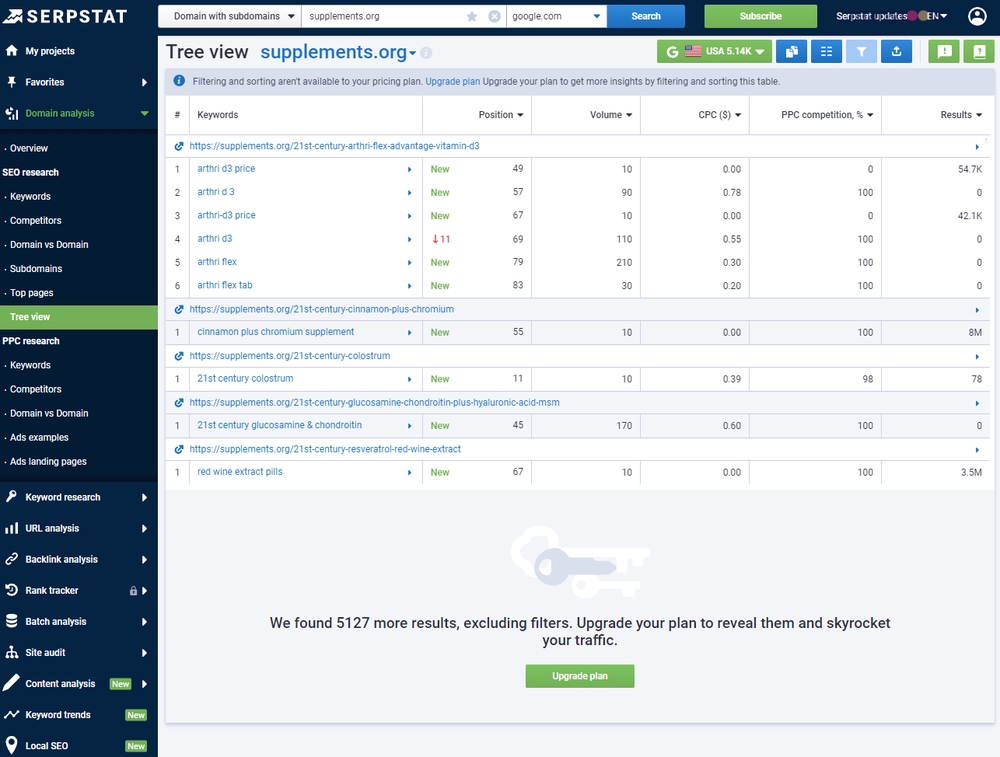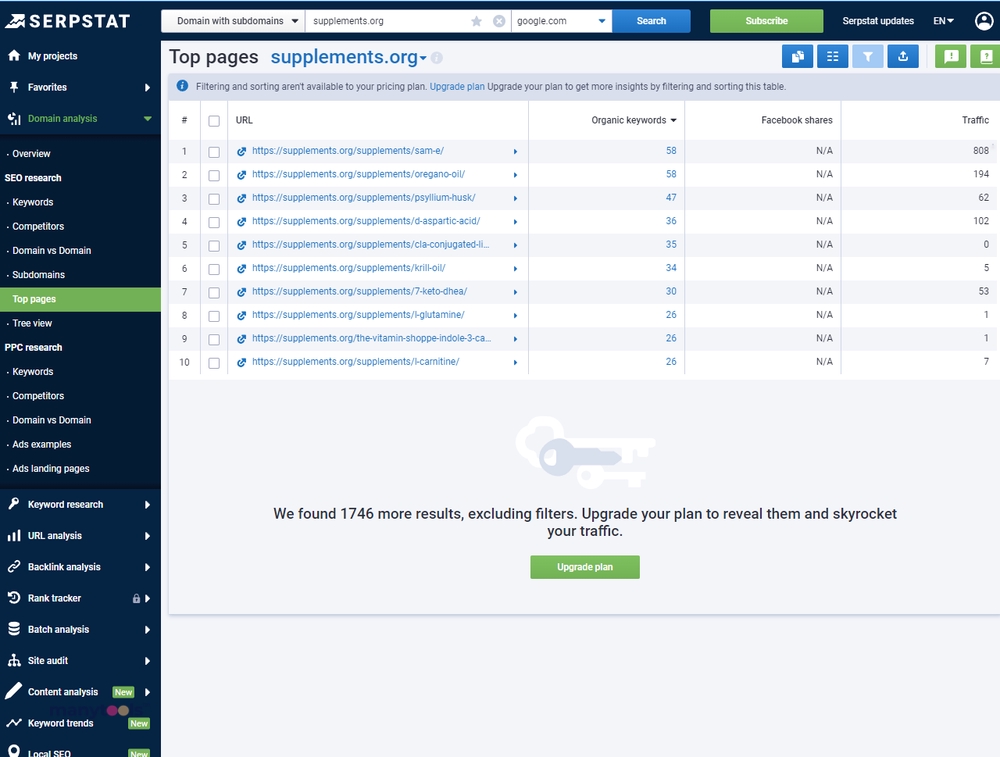 Introducing Serpstat: Your All-in-One Growth Hacking Solution
Imagine having a reliable tool that encapsulates all the essential features of SEO, PPC, and content marketing in one platform. Welcome to Serpstat, a comprehensive growth hacking tool designed specifically to help you outperform your competitors, optimize your website, and accelerate your search marketing goals.
Holistic Approach to SEO with Serpstat
Serpstat is not just your ordinary SEO management platform. It is equipped with intelligent features that offer a holistic approach to SEO. This means that it doesn't only help with backlink analysis, rank tracking, keyword research, and competitor analysis, but it also aids in site auditing. It's like having a dedicated team of SEO experts right at your fingertips.
Unveiling Backlink Analysis Capabilities
One of the standout features of Serpstat is its Backlink Analysis capability. With this feature, you can identify who is linking to your website, monitor your backlink profile's health, and develop strategies to increase your site's authority. It's like having a bird's eye view of your website's entire link ecosystem.
Tracking Rankings for Growth
Another notable feature is the Rank Tracking tool. This tool allows you to monitor your rankings over time, identify opportunities for growth, and see how your SEO efforts are paying off. It's like having a personal SEO trainer who provides you with detailed progress reports.
Advanced Keyword Research at Your Fingertips
Serpstat also boasts an advanced Keyword Research feature. This tool allows you to uncover profitable keywords, explore new market niches, and understand what your target audience is searching for. It's like having a marketing analyst who knows exactly what your customers want.
Unmasking Competitor Analysis Power
The Competitor Analysis feature is another gem in Serpstat's feature package. With this, you can spy on your competitors, identify their strengths and weaknesses, and build strategies to outrank them. It's like having a secret agent who gives you insider information about your rivals.
Elevating Your Site's SEO Health
Finally, the Site Audit tool in Serpstat helps you identify and fix technical SEO issues in your website. This feature ensures your website is always in top shape and ready to rank high in search results. It's like having a health check-up for your website.
Your Partner in Search Marketing Success
In summary, Serpstat is a robust SEO management platform that offers a one-stop solution for all your SEO, PPC, and content marketing needs. It's more than just a tool; it's a companion that guides you in achieving your search marketing goals faster. With Serpstat, you can say goodbye to multiple tools and hello to streamlined, efficient, and effective digital marketing.
SERPStat Review 2023: Pricing, Tutorial & Alternatives
If you're a small agency, it's worth considering giving SERPStat a try. For those running a niche website on a budget, it's worth taking a closer look at this tool. Additionally, if you're a PPC expert who dabbles in SEO, SERPStat can be quite effective. However, as seen in our SERPStat review, it may not be the best choice for everyone. Firstly, Ahrefs can perform almost everything SERPStat does, and often does it better. That's why it's our preferred tool at Authority Hacker, and you can learn more in our Ahrefs review. Secondly, if you need to generate a large number of keywords for your content marketing efforts, there are better SEO tools available. Lastly, beginners may want to opt for a tool with a more user-friendly interface. Nevertheless, SERPStat is a solid all-in-one SEO tool that offers a refreshing alternative in a highly competitive market.
Serpstat Review 2023 : Features, Pros & Cons, and Pricing
Serpstat is a comprehensive SEO platform that allows you to perform competitor analysis, keyword research, backlink assessment, site audits, rank tracking, clustering, and more. This SEO tool is utilized by marketers, agencies, SaaS businesses, e-commerce brands, and other entrepreneurs to enhance their search engine visibility.
Serpstat Review: How Does It Measure Up?
Serpstat is an excellent tool for individuals working on SEO or PPC campaigns, whether for their own business or for clients. Is it worth the investment? Definitely. Serpstat offers a budget-friendly option without compromising on quality. Its user interface is intuitive and easy to navigate for both beginners and seasoned professionals. The platform provides clear reports and infographics for quick data analysis. The tool allows users to easily monitor competitors and learn from their successes, as well as identify areas for improvement. One of the standout features is the site audit functionality, which allows users to swiftly identify areas for on-site SEO enhancement. Serpstat provides clear action steps for improvements and tracks rank progress as changes are implemented. Another notable aspect of Serpstat is the extensive onboarding and training provided to its users. This support ensures users get the most out of the software and fosters loyalty. The Serpstat Academy offers free training for both free and paid users, while paid users receive additional assistance through a dedicated virtual assistant and live training sessions on best practices and feature optimization.
Other Tools Like
Serpstat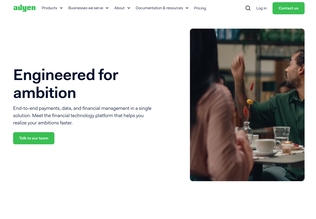 Adyen
adyen.com
Paid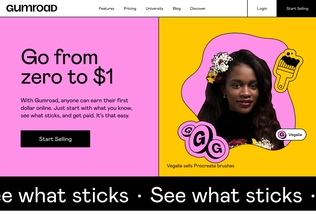 Gumroad
gumroad.com
Paid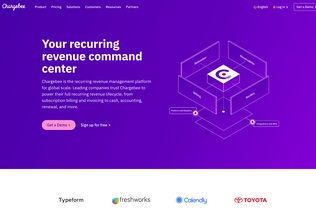 Chargebee
chargebee.com
Trial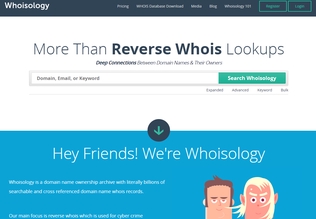 Whoisology
whoisology.com
Trial
Comments