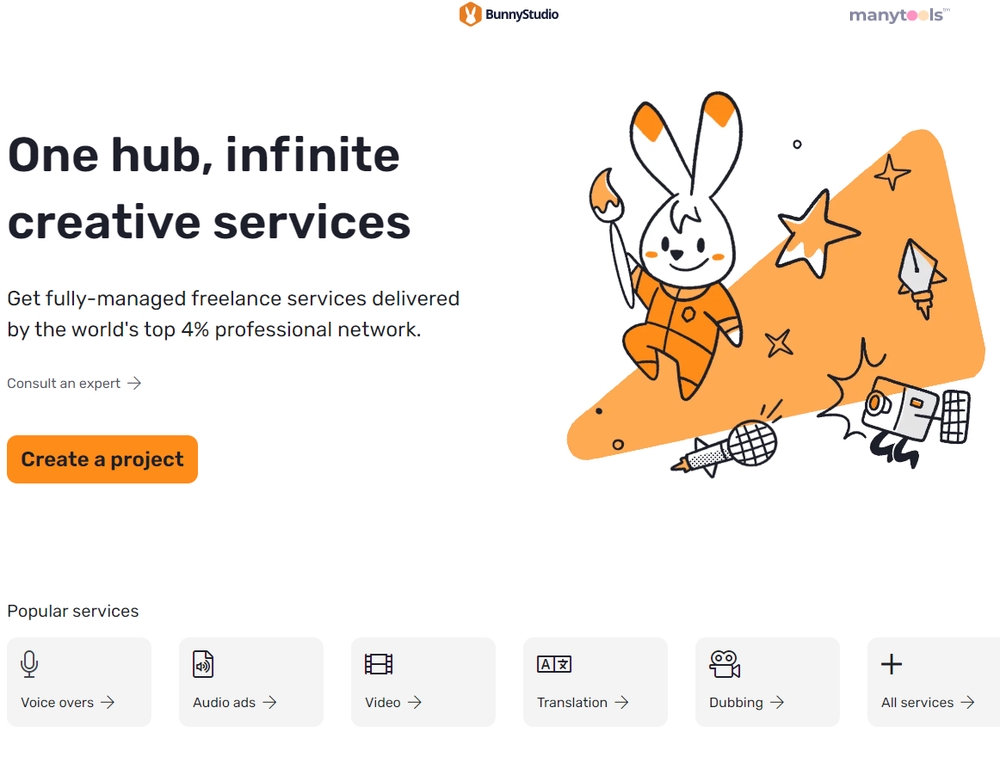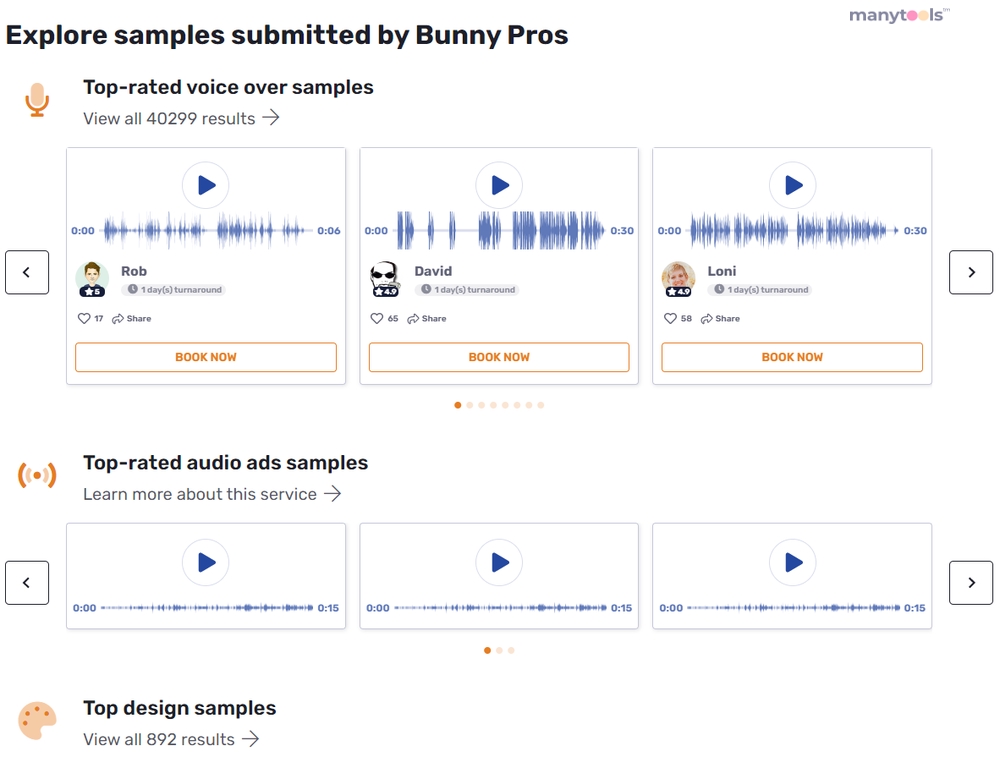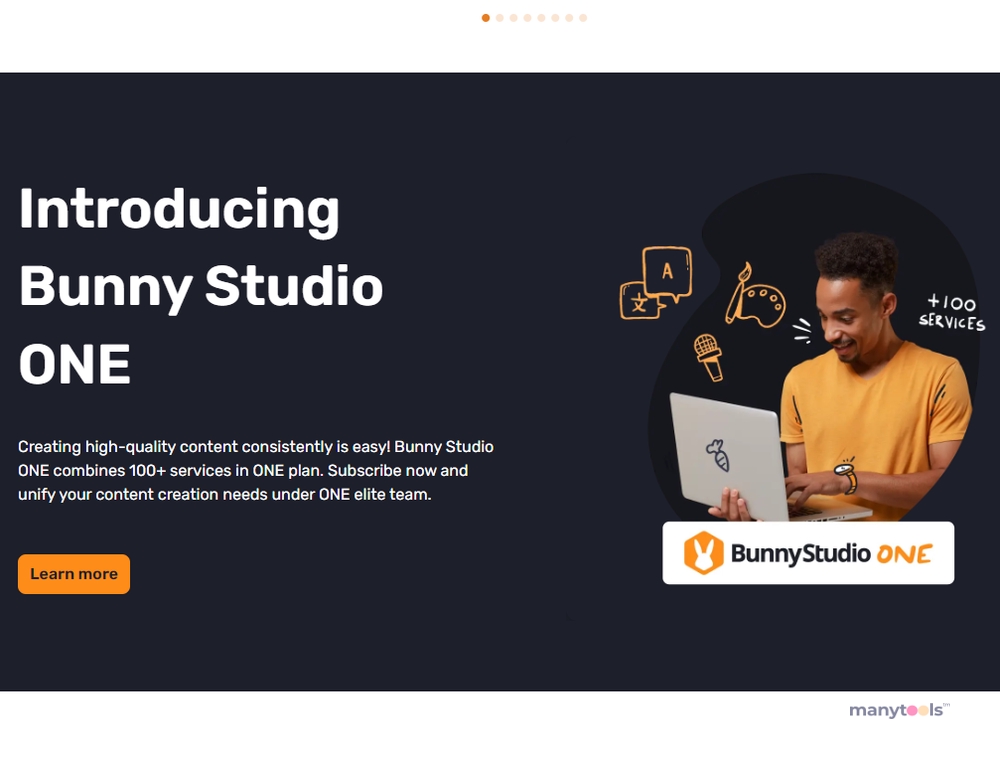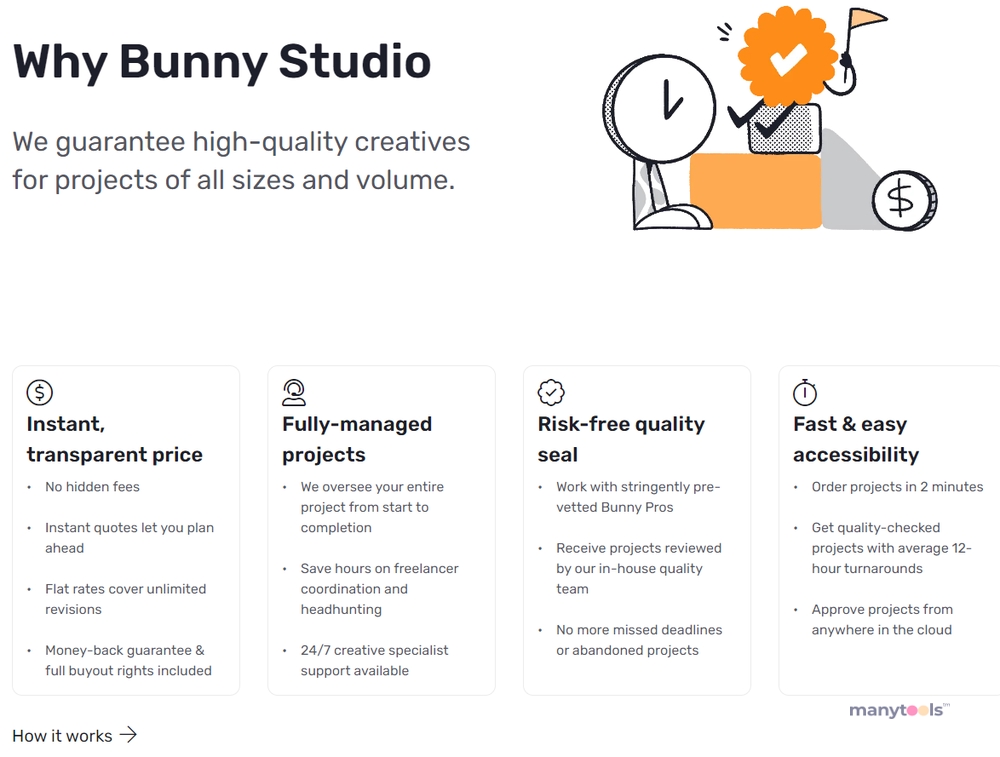 Meet WritingBunny, the ultimate tool for brands seeking scalable solutions to meet project deadlines. A complete powerhouse in the realm of creative services, WritingBunny is brought to you by Bunny Studio, a platform known for its high-quality services, and it's no different when it comes to WritingBunny.
A Key Player in the Creative Sphere
Just consider the fact that Bunny Studio provides over 100 creative services, showcasing its versatility. But what sets WritingBunny apart is its focus on written content, providing top-notch writing services that meet the needs of diverse industries and professions.
Top 4% of Global Professionals at Your Service
What's unique about WritingBunny is the caliber of professionals working behind the scenes. The platform boasts that its creative army is made up of the top 4% of global professionals. This means you're not just getting work done; you're getting it done by the best minds in the business. This can be a game-changer for businesses and individuals who value quality and expertise.
Money-Back Guarantee and Fast Turnaround Time
Brands often face the challenge of finding quality and speed in the same package. With WritingBunny, that's exactly what you get. The platform promises a swift 12-hour turnaround time in more than 50 languages and accents. If that's not impressive enough, they also offer a money-back guarantee, a testament to their confidence in the services they provide.
Language Is No Barrier Here
One of the standout features of WritingBunny is its multilingual support. The platform caters to a global audience, offering services in over 50 languages and accents. This means no matter where you are or what your language preference is, WritingBunny has got you covered.
In this era where content is king, having a tool like WritingBunny can be a game-changer. Whether you're a developer, designer, SEO guru, webmaster, affiliate marketer, growth hacker, data analyst, or content creator, WritingBunny is equipped to provide you with the top-tier content you need.
Great for Brands on the Go
WritingBunny is not just about delivering quality content. It's about delivering it promptly. Their promise of never missing a project deadline makes them a reliable partner for brands that need fast, yet quality content solutions.
To sum it up, WritingBunny is a combination of talent, speed, and reliability. With its diverse range of services and top-notch professionals, it's a tool that can enhance your content game and help you stay ahead of the curve. So, if you're looking for a writing service that brings quality, speed, and efficiency to the table, WritingBunny is definitely worth a look.
Other Tools Like
WritingBunny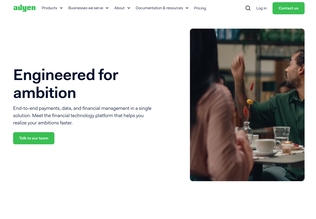 Adyen
adyen.com
Paid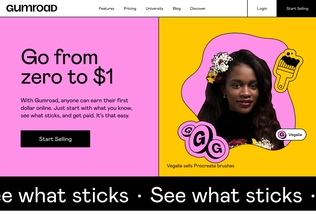 Gumroad
gumroad.com
Paid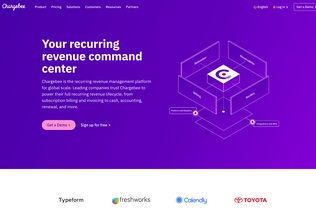 Chargebee
chargebee.com
Trial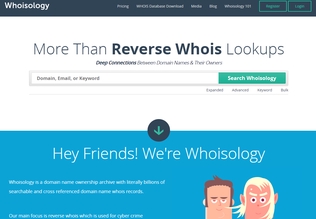 Whoisology
whoisology.com
Trial
Comments