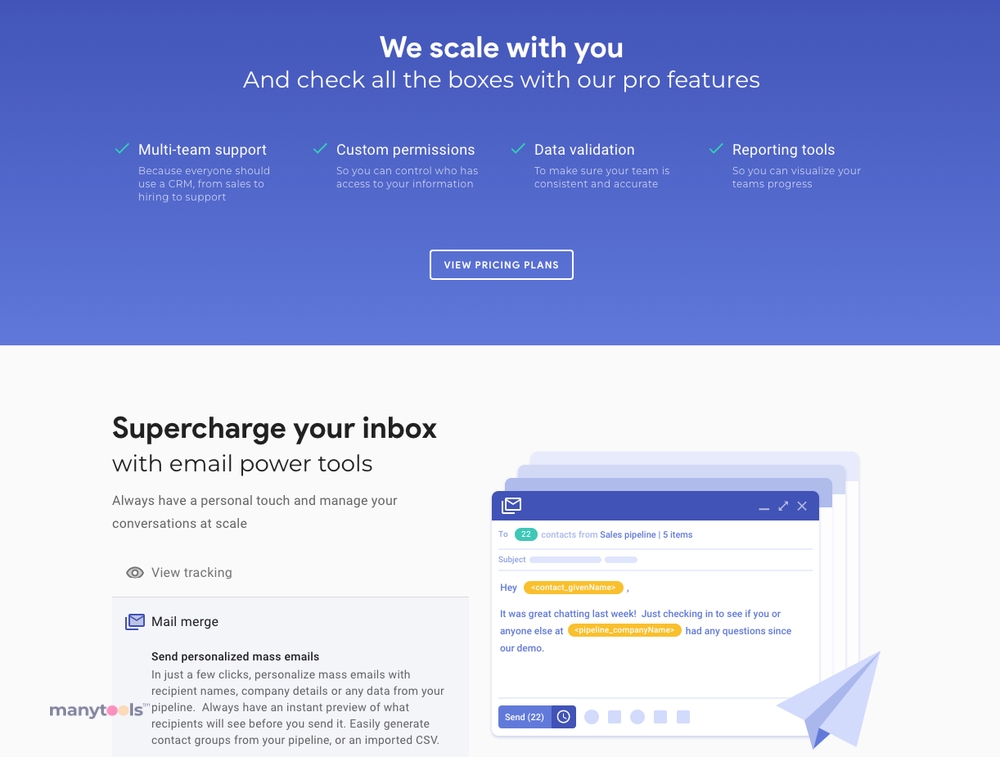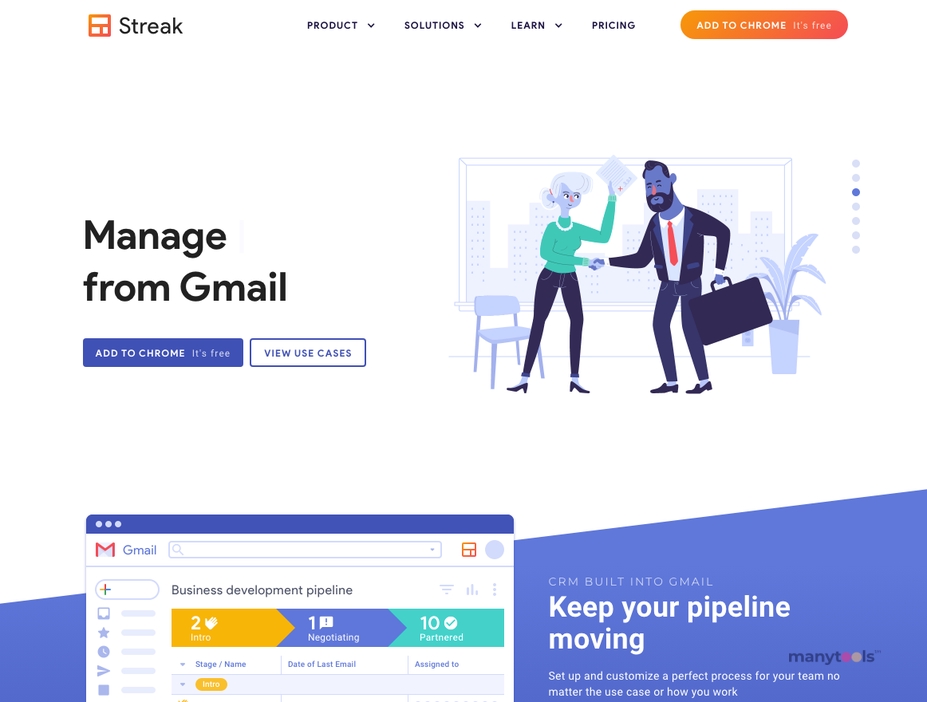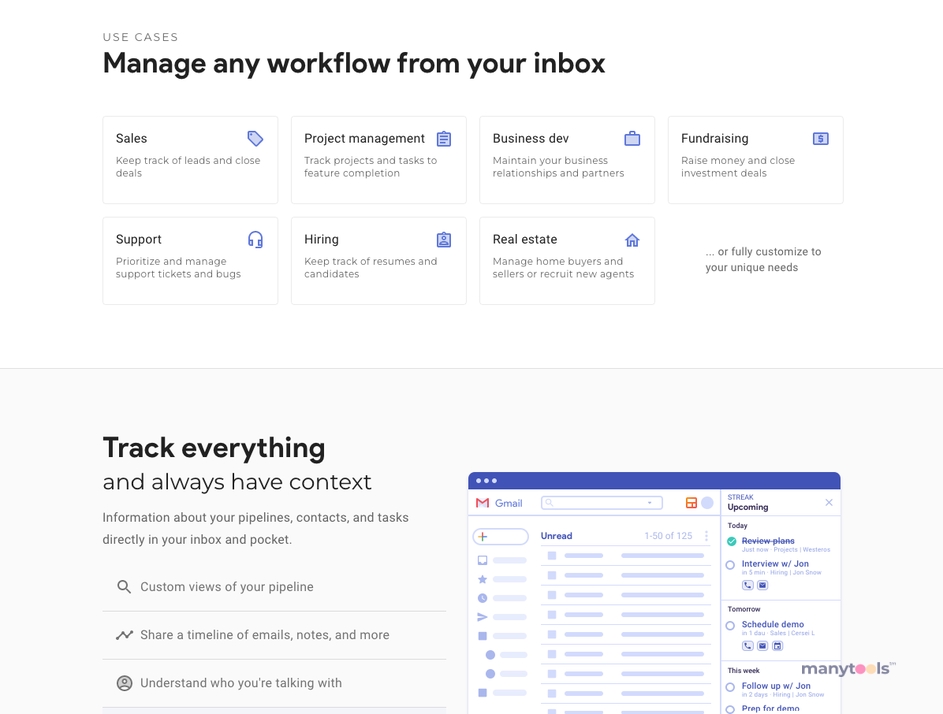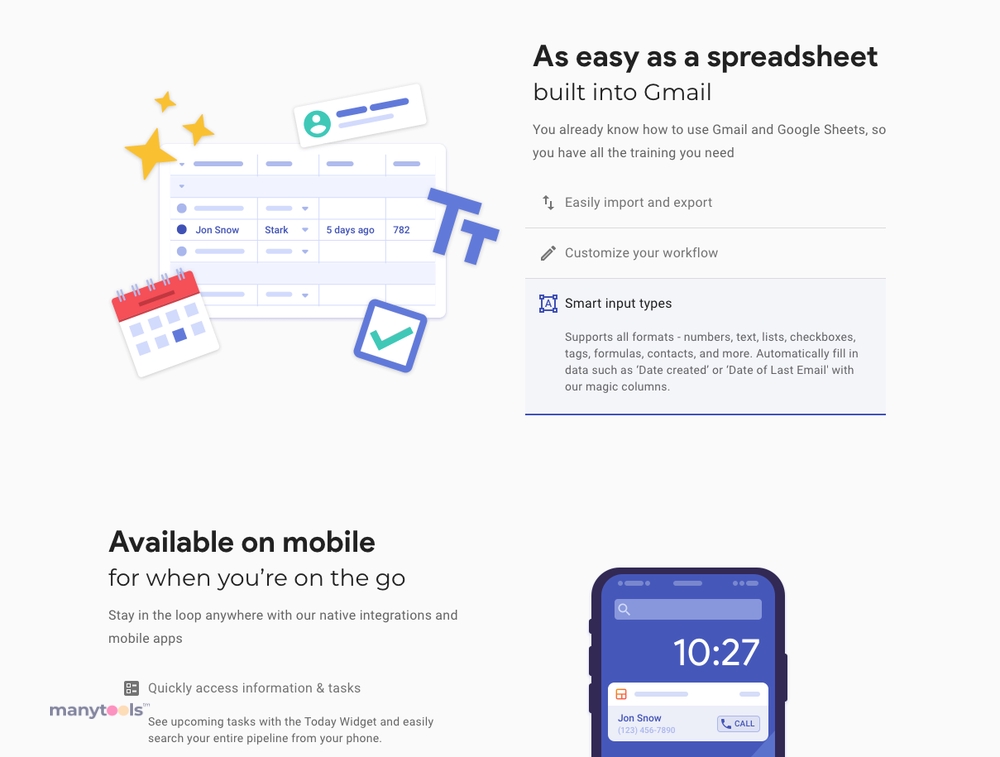 Unleashing the Power of Streak
With the digital landscape becoming more competitive, Streak - CRM for Gmail is a breath of fresh air for developers, designers, SEO gurus, webmasters, affiliate marketers, growth hackers, data analysts, and content creators. It is a multi-faceted tool that brings a host of features designed to streamline and enhance your workflow.
Simplifying Collaboration
One of Streak's greatest strengths lies in its collaboration features. It allows teams to share contacts, emails, files, and any other essential resources with just a single click. This seamless sharing capability eliminates the hassle of juggling multiple platforms, making teamwork more efficient and productive.
Multipurpose Management
Beyond collaboration, Streak excels in managing multiple tasks within Gmail. Whether it's dealing with your support queue, managing deals, or handling any other task, Streak has you covered. It is designed to replace multiple external systems, thus making it a one-stop solution for all your management needs.
Seamless Integration with Google Apps
Streak's functionality extends to secure connection with Google Apps. It smoothly integrates with your existing Google account, thereby making it a go-to tool for Gmail users. It simplifies the process of managing your tasks, without the need for switching to multiple platforms.
User-Friendly Interface
With its user-friendly interface, Streak ensures that you don't need to be a tech expert to utilize its features. Its layout is intuitive and straightforward, ensuring a smooth user experience. Whether you're managing deals or sharing files, every feature is just a few clicks away.
Optimize Productivity
Streak is more than just a CRM. It's a productivity tool designed to optimize your workflow. It helps you manage tasks, collaborate with your team, and connect with Google Apps, all within your Gmail account. By consolidating all these functions into one platform, it allows you to focus on what matters most - growing your business.


A Valuable Tool for Digital Professionals
For digital professionals who are constantly on the lookout for tools that can enhance their productivity, Streak is a valuable find. Not only does it offer a wide range of features, but it also simplifies the process of managing and collaborating on tasks, making it a great addition to your digital toolkit.
In conclusion
Streak - CRM for Gmail is an all-in-one management and collaboration tool that integrates seamlessly with Google Apps. Its user-friendly interface, coupled with its wide range of features, makes it a must-have tool for digital professionals.
Streak CRM Review: Pricing, Pros & Cons of Streak for Gmail Chrome Extension
08 Feb 2022
Streak CRM is a customer relationship management tool designed to integrate seamlessly with Gmail and other Google Workplace (previously G Suite) applications. This CRM is particularly well-suited for freelancers, startups, and small businesses, as it offers a free plan and an affordable solo version. Streak CRM boasts a variety of beneficial CRM features and functionalities, which will be explored in depth in this review. For Gmail users seeking a CRM solution, Streak CRM is an excellent choice to optimize and streamline business processes.
Streak is a CRM solution that flawlessly connects with your Gmail inbox, allowing you to efficiently arrange your emails. This platform offers adaptable workflows that let you monitor various processes, such as sales, recruitment, and project management. Additionally, Streak assists you in managing diverse customer profiles by effectively organizing all pertinent contact information, personal details, and associated files.
Other Tools Like
Streak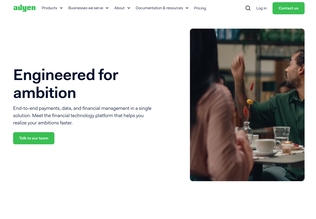 Adyen
adyen.com
Paid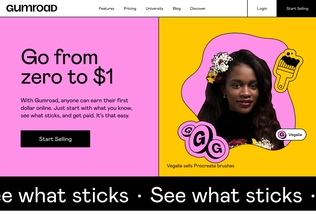 Gumroad
gumroad.com
Paid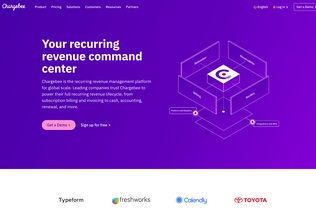 Chargebee
chargebee.com
Trial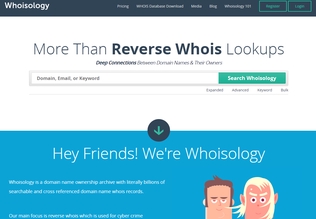 Whoisology
whoisology.com
Trial
Comments