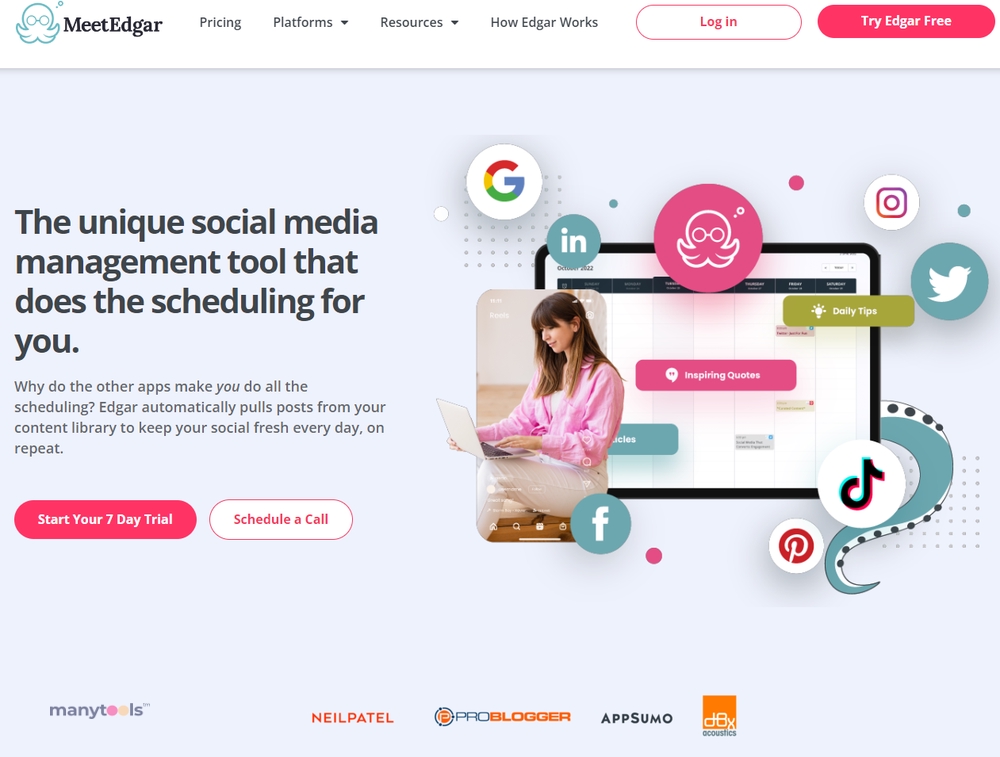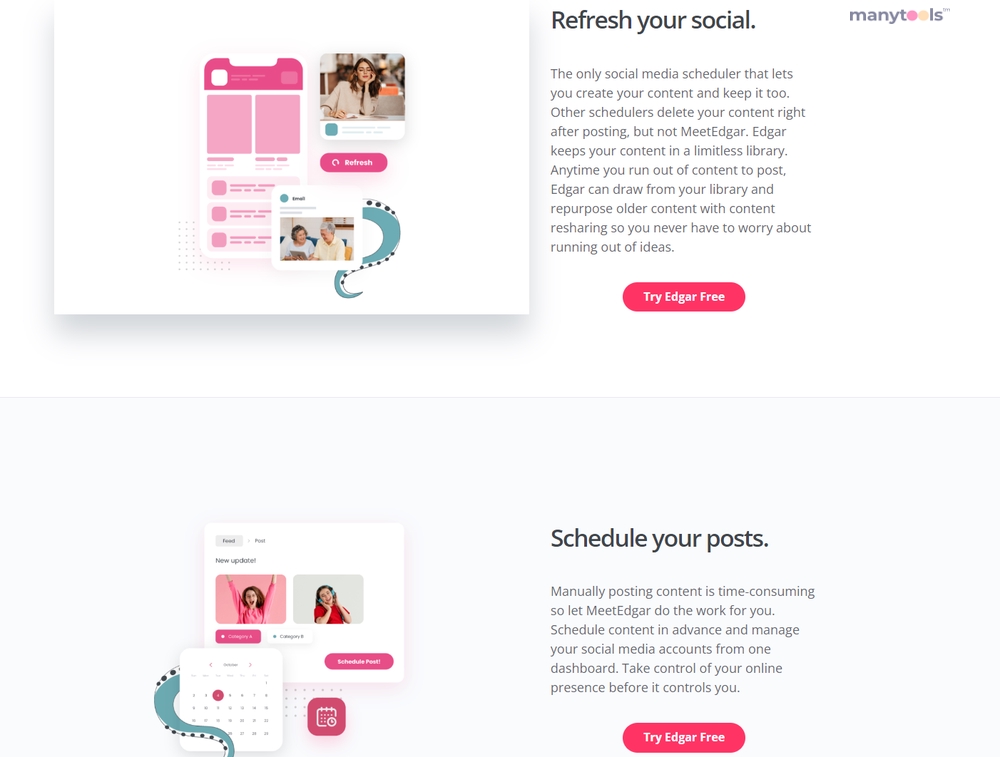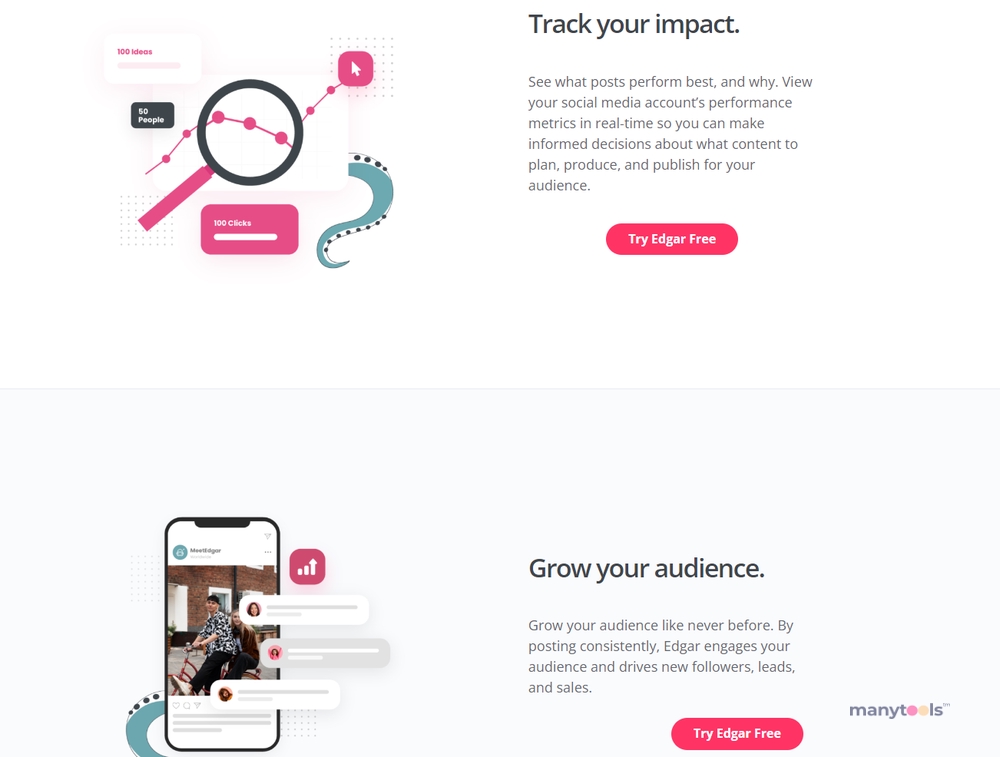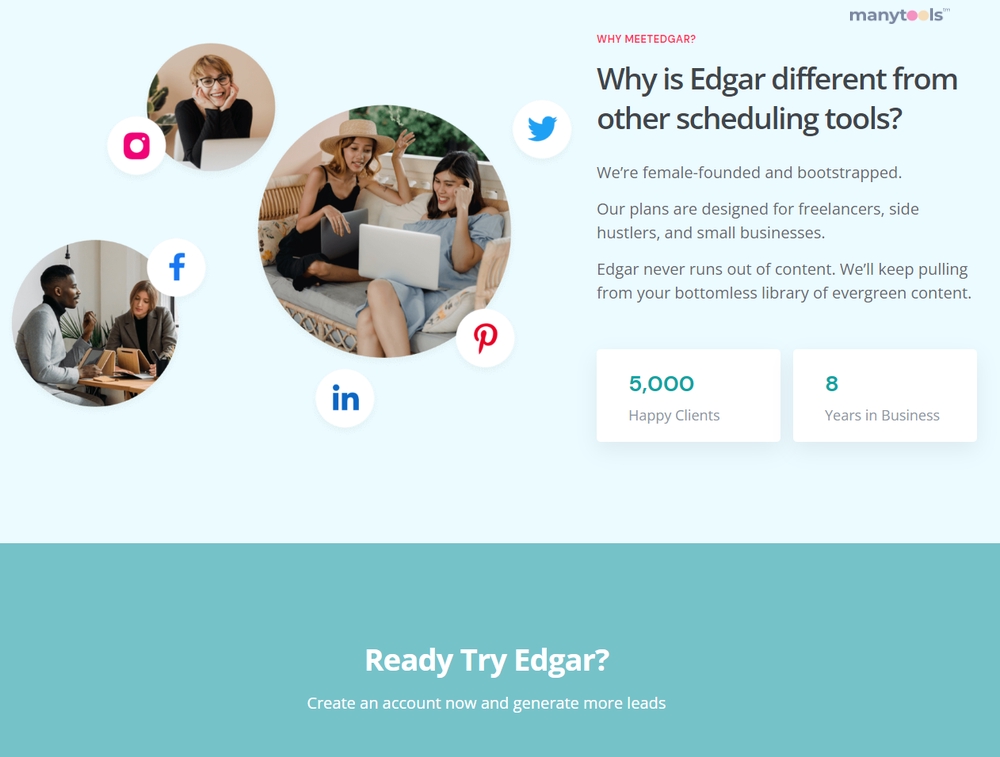 MeetEdgar: A Social Media Powerhouse
MeetEdgar stands out as an innovative tool in the realm of social media scheduling. It goes a notch higher to provide smart evergreen automation and an unlimited content library, making it an all-encompassing solution for your social media needs. It's all about maximizing impact, minimizing effort, and saving time.
Smart Evergreen Automation
What sets MeetEdgar apart is its smart evergreen automation. It's like having a personal assistant who never sleeps. The tool automatically shares your old posts, breathing new life into them and ensuring your content never goes unnoticed. It's a game-changer for businesses wanting to engage their audience consistently without the hassle of daily manual posting.
Unlimited Content Library
MeetEdgar serves as a one-stop content library. It allows you to store, categorize, and schedule posts all in one place. You can add, edit, and bulk upload your content to ensure a steady stream of fresh posts on your social media channels. This feature is a real time-saver and a godsend for anyone with a busy schedule.
User-Friendly Interface
The user interface of MeetEdgar is easy to navigate, intuitive, and visually appealing. It's designed to make your social media management as effortless as possible. Even if you're not tech-savvy, you'll find your way around the tool in no time, leaving you more time to focus on creating engaging content.
Enhanced Engagement
MeetEdgar is not just about scheduling posts. It's geared towards enhancing engagement and boosting your social media presence. The tool has a built-in feature to create variations of posts to keep your content fresh and engaging. This feature can help increase your reach and engagement rates.
Cost-Effective Solution
MeetEdgar offers a cost-effective solution for anyone looking to automate their social media management. With all these features packed into one tool, you can save a significant amount of money on hiring additional staff or using multiple tools. It's an investment worth making for the long-term growth and success of your online presence.
Final Thoughts
MeetEdgar is more than just a social media scheduling tool. It's a powerhouse that offers smart automation, an unlimited content library, and a user-friendly interface. It's designed to streamline your social media management and maximize your online presence. With MeetEdgar, you can focus less on the logistics and more on creating engaging content that resonates with your audience.
Complete Review of MeetEdgar (Is It The Right Solution?)
MeetEdgar stands out in the realm of social scheduling, ensuring that you stay on course while significantly reducing the time spent each week on content curation and post timing. If you seek a platform to maintain your focus and even take on some of the workload for your social media accounts, MeetEdgar is the ultimate choice.
MeetEdgar Review
27 Mar 2023
MeetEdgar's approach focuses on enhancing crucial social media scheduling activities and making the most of your current content through automation and machine learning. The platform's user interface is user-friendly, offering a transparent view of how your content strategy is being executed. MeetEdgar sets a higher standard by proactively addressing your requirements instead of merely waiting for your directives – precisely what you would anticipate from an octopus-like office aide.
MEET EDGAR REVIEW: SET YOUR SOCIAL MEDIA MANAGEMENT ON AUTO-PILOT
10 Mar 2022
Meet Edgar is a social media automation tool that truly delivers on its promises, and then some. However, like most productivity tools, it may not be suitable for everyone. Meet Edgar streamlines social media management, which can be a relief for many entrepreneurs who prefer to focus their attention elsewhere. There's nothing wrong with this preference. On the other hand, some entrepreneurs thoroughly enjoy using social media as an extension of themselves, relishing the opportunity to share random thoughts and updates. If this describes you, perhaps Meet Edgar isn't the best fit for your needs. For those who find social media challenging and even detrimental to their job satisfaction, Meet Edgar could be the solution you've been seeking. Not only does it allow you to revive old content, but it also enables you to publish new content and store it in your library for future use.
Other Tools Like
MeetEdgar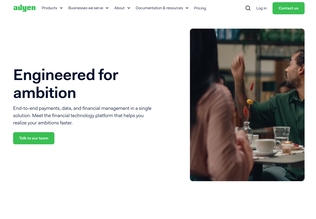 Adyen
adyen.com
Paid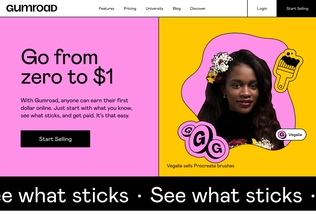 Gumroad
gumroad.com
Paid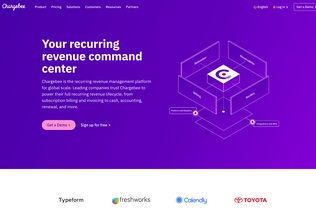 Chargebee
chargebee.com
Trial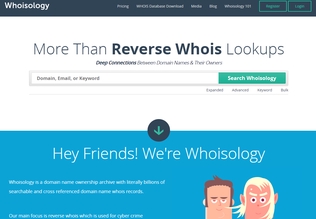 Whoisology
whoisology.com
Trial
Comments