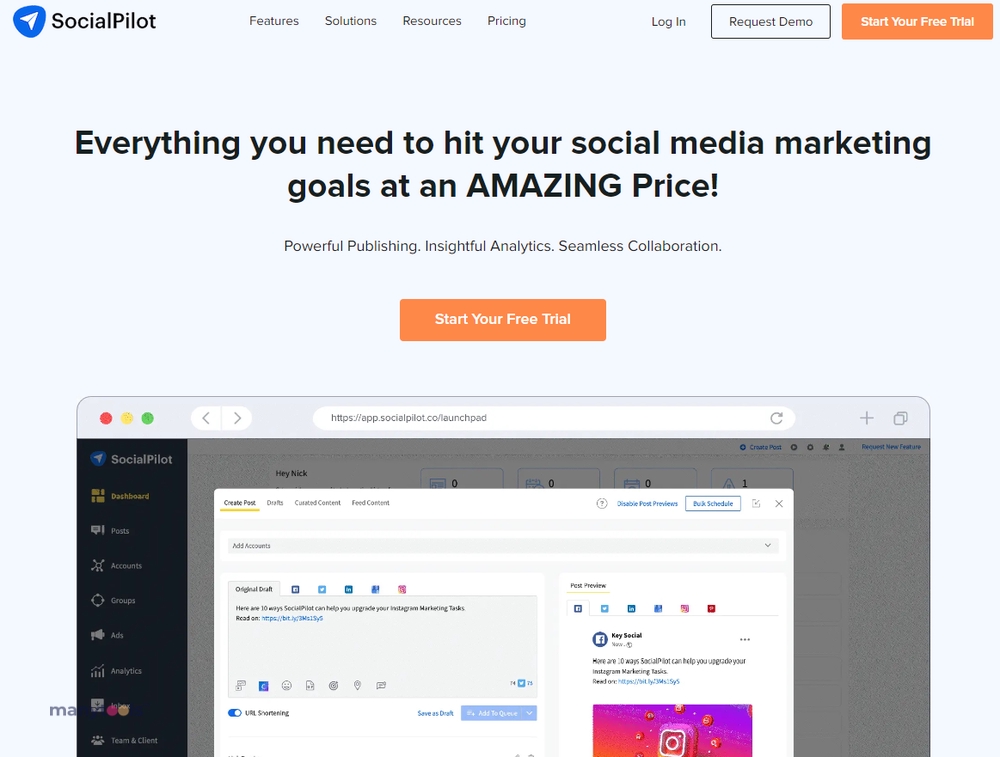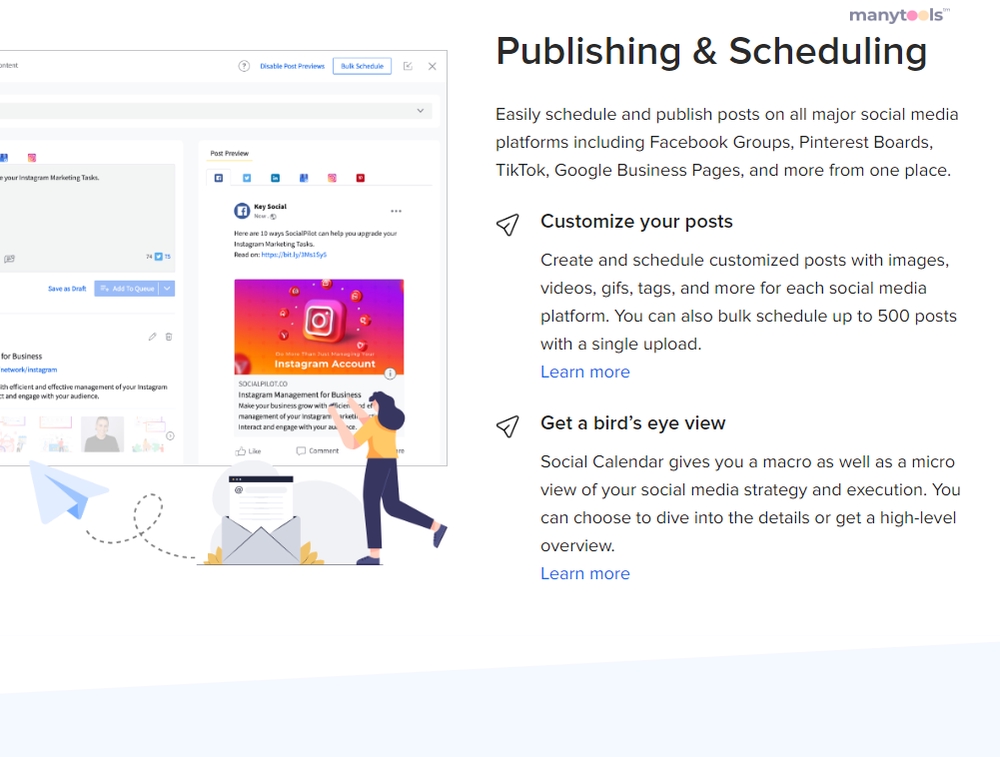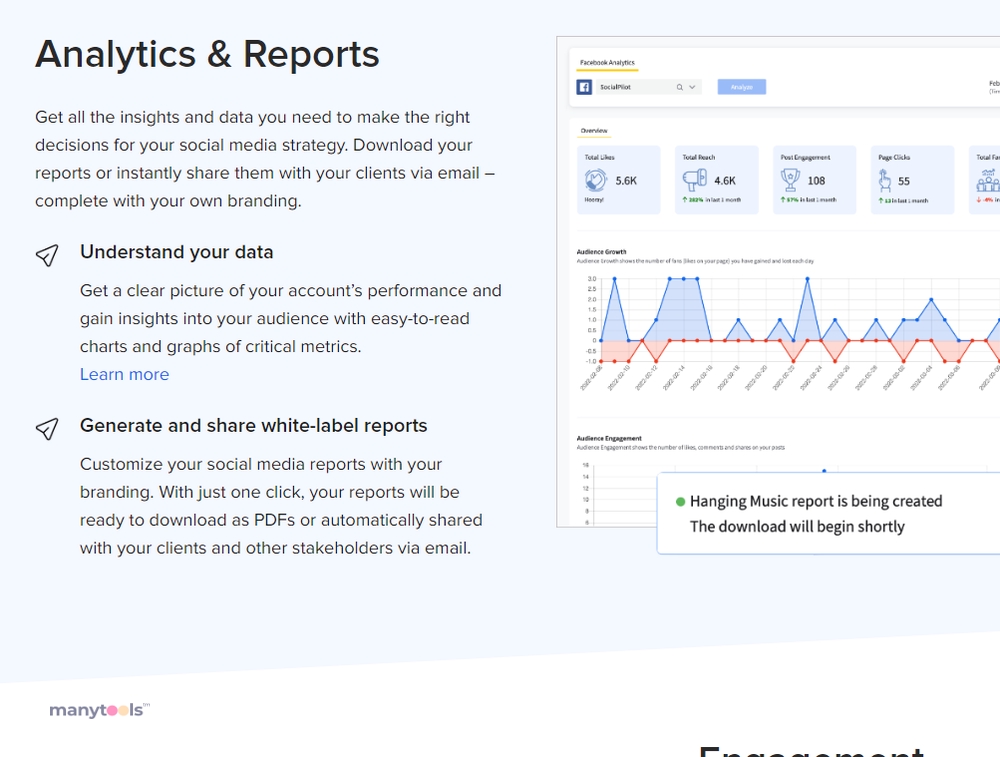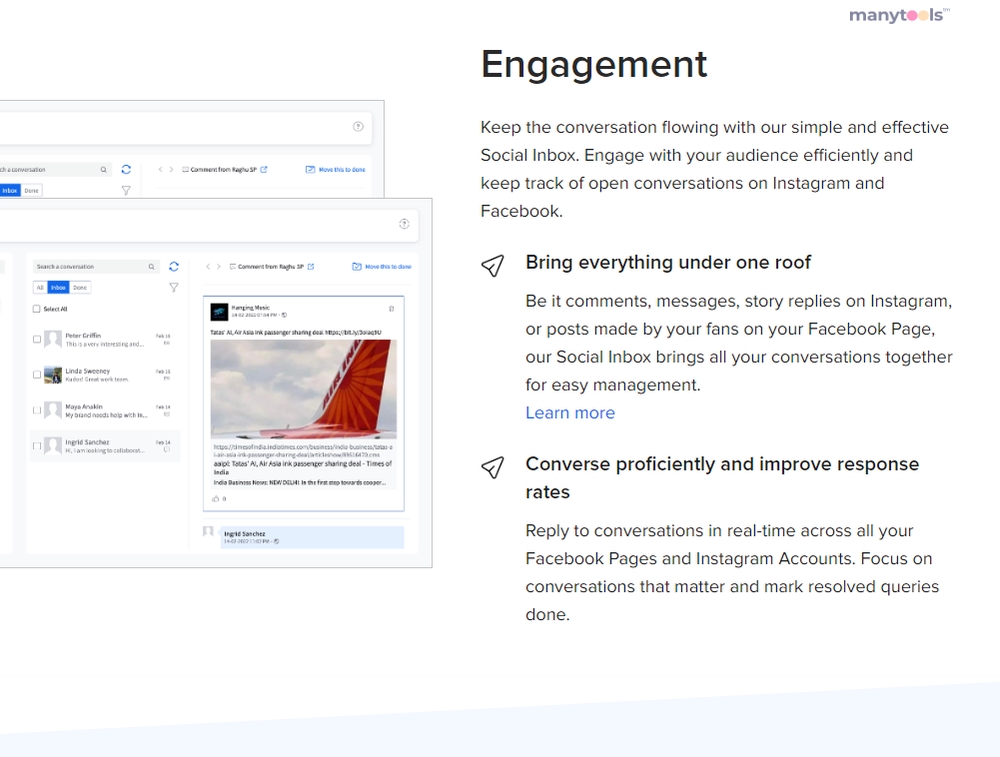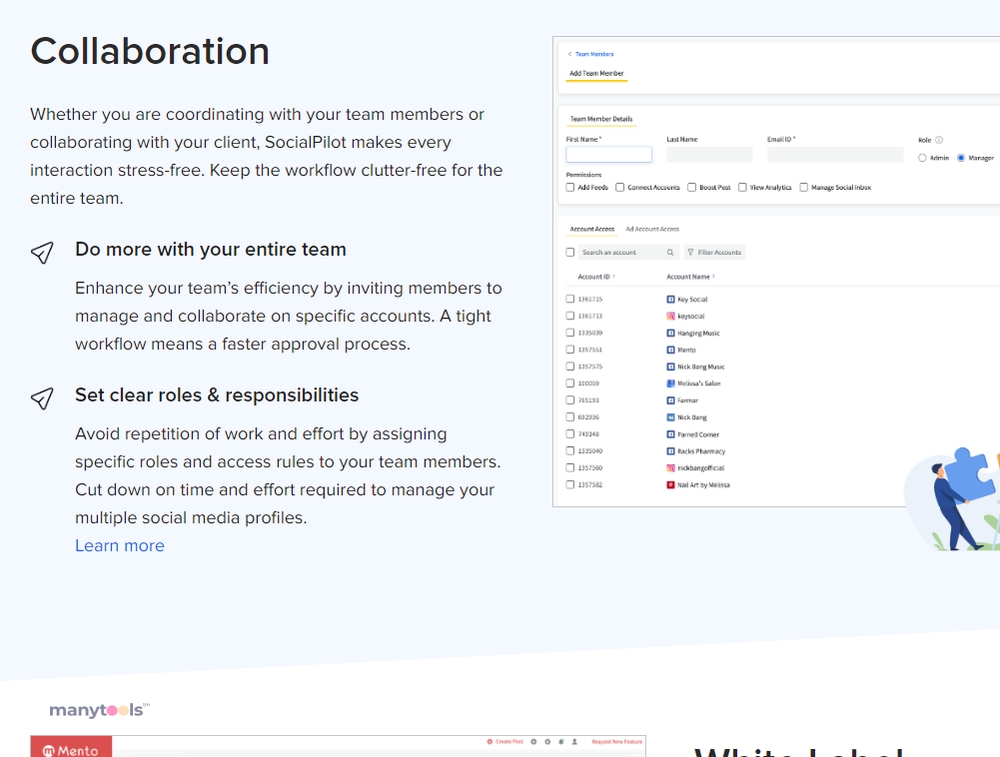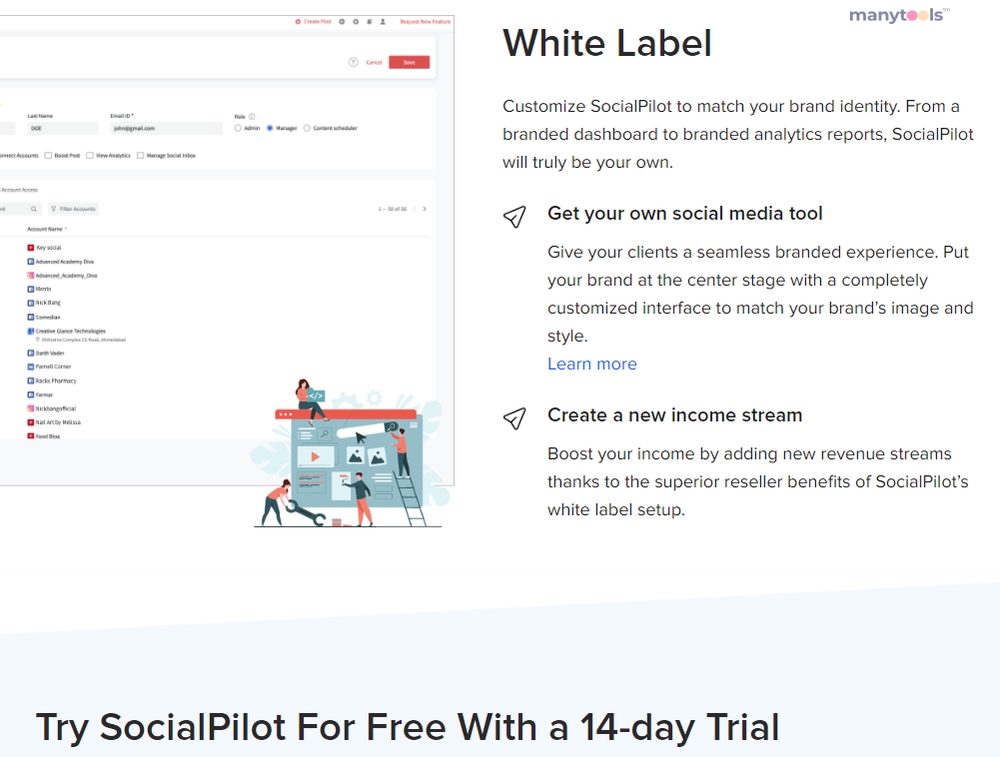 A Powerhouse of Social Media Management
Get ready to supercharge your social media presence with SocialPilot, a dynamic tool that takes digital marketing to a whole new level. It's not just a tool; it's an entire platform that provides a comprehensive solution for all your social media marketing needs.
Automate and Schedule Posts with Ease
One of the key features of SocialPilot is its robust scheduling and automation capabilities. You can plan your posts in advance, choosing the best times and platforms for maximum impact. This feature ensures your social media presence remains consistent, even when you're busy with other aspects of your business.
Unleash the Power of Analytics
Data is the key to effective marketing, and SocialPilot understands this. The tool's analytics feature provides detailed insights into your social media performance. Now, it's easy to understand what's working and what's not, helping you create a more effective and targeted marketing strategy.
Keep Your Brand in the Spotlight
With SocialPilot, you can increase your brand awareness like never before. The tool's features are designed to put your brand in the spotlight, driving more traffic and engagement. Whether you're a small start-up or a large enterprise, SocialPilot is the tool you need to make your mark in the social media world.
Tailored Solutions for Marketers
SocialPilot understands that every marketer has unique requirements. This is why it offers tailored solutions, providing a customized experience that perfectly suits your marketing goals. It's like having a personal assistant for your social media activities!
A Tool for Every Digital Professional
Whether you're a developer, designer, SEO guru, webmaster, affiliate marketer, growth hacker, data analyst, or content creator, SocialPilot has something for you. It's a comprehensive resource for digital professionals of all kinds, helping you achieve your social media marketing goals.
Engaging and Easy to Use
Despite its advanced features, SocialPilot is user-friendly and easy to use. Its intuitive interface makes it easy for anyone to navigate and utilize its features, no matter their level of technical expertise.
Final Thoughts
All in all, SocialPilot is a powerful tool that can revolutionize your social media marketing strategy. With its automation, analytics, and customization features, it's a comprehensive solution for digital professionals looking to elevate their social media game. Give SocialPilot a try and experience the difference it can make for your brand.
SocialPilot Review
27 Mar 2023
In the competitive landscape of social media management software, SocialPilot stands out by taking a unique approach. This platform is designed specifically for social media professionals who need to manage a large number of social networks and accounts from one interface, all for a reasonable monthly subscription fee. However, SocialPilot does not include advanced features such as social listening or chatbot creation, making it potentially less suitable for large corporations seeking the latest in social media innovation. Nonetheless, SocialPilot remains a strong contender in the market for its ability to cater to the needs of a diverse range of users.
REVIEWS AND EXPERT OPINION SocialPilot
27 Mar 2023
SocialPilot has proven to be an excellent social media management tool for teams and agencies. Users find it easy to set up, quick to schedule content, and appreciate the multiple options for keeping their social media streams populated. Additionally, it serves as an affordable alternative to some of the more expensive team plans offered by other social media tools.
SocialPilot Review 2023: Pros/Cons, Pricing & My Experience
26 Mar 2023
SocialPilot is recognized as a highly powerful social media scheduling tool, encompassing features such as collaboration and social media advertising software within its dashboard. It is ideal for those who wish to manage all their social media channels from a single centralized dashboard. With its affordable pricing and priority customer support, SocialPilot is suitable for businesses of all sizes, including bloggers, agencies, and individual publishers.
Other Tools Like
SocialPilot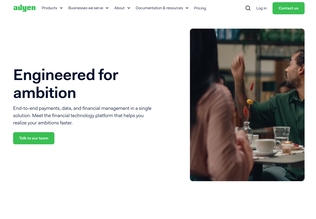 Adyen
adyen.com
Paid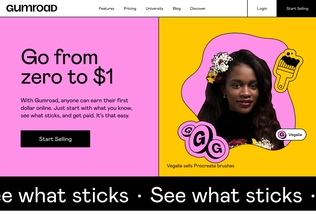 Gumroad
gumroad.com
Paid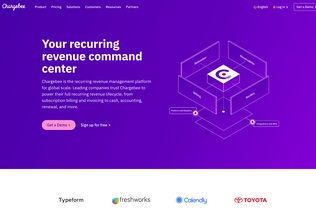 Chargebee
chargebee.com
Trial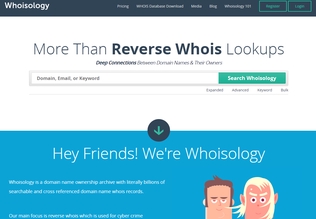 Whoisology
whoisology.com
Trial
Comments